When it rains it pours talent.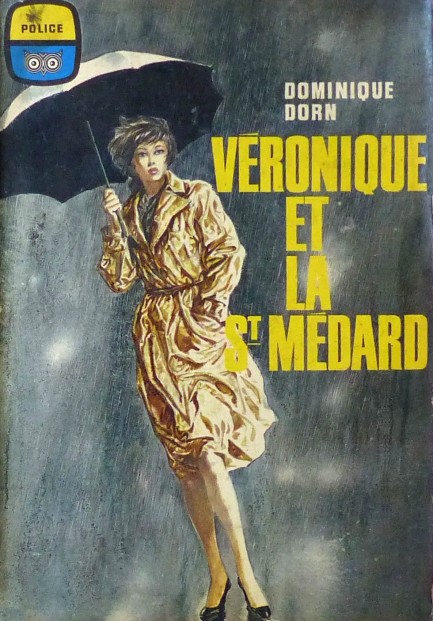 Giovanni Benvenuti was an illustrator of unique skill. We've posted a couple of wonderful collections of his covers (you can see those here and here, and we really recommend them because it's all very striking work), but have neglected him these last several years. That stops today, because he's a top tier artist. Above you see the cover he painted for Dominique Dorn's thriller Véronique et la St. Médard, published by Éditions Ditis for its Collection la Chouette in 1961. There's a lot to like about this piece, but we're most struck by the indistinct lights seen through the veil of rain. They're suggestive but could really be anything.


Dominque Dorn, appropriately, could really be anyone. It was the pen name of Marie-Anne Devillers, who also published as Mario Ropp, Maïa Walbert, Maïa de Villers, and Michèle Vaudois. That's a lot of names, and she used them to write a lot of books. Ropp was by far her most prolific pseudonym. She published more than one hundred novels under that identity. On the whole, Dorn churned out novels at an astounding rate, sometimes publishing six a year. That's a lot of output, so we'll probably run into her again. See another here.


---
Okay, I'll put it in neutral and you push. On one, two, and—whoops, had it in reverse. You alright back there?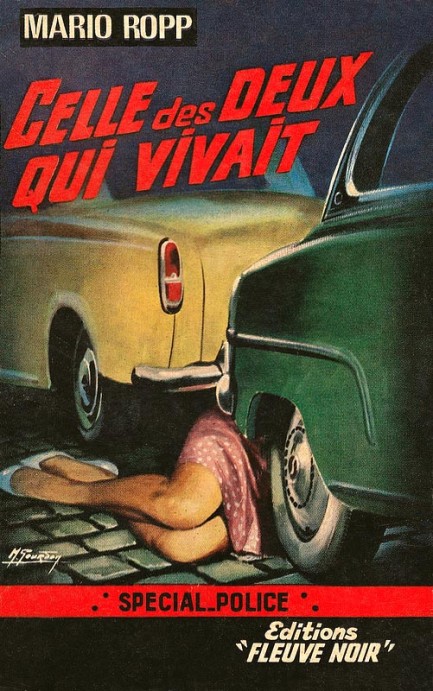 Here's an interesting cover for Mario Ropp's Celle des deux qui vivait, which means "which of the two lived." If we had to guess, we'd say it was the driver. Following standard practice for French crime authors, Ropp was actually a pseudonym for someone named Marie-Anne Devillers who wrote for twenty-seven years under various names, including Dominique Dorn, Maia Walbert, Maia de Villers, and Michèle Vaudois. The art here is by Michel Gourdon and it certainly qualifies as one of his quirkier efforts. See more Gourdon here and here.
---