Even one foot high she cuts an impressive figure.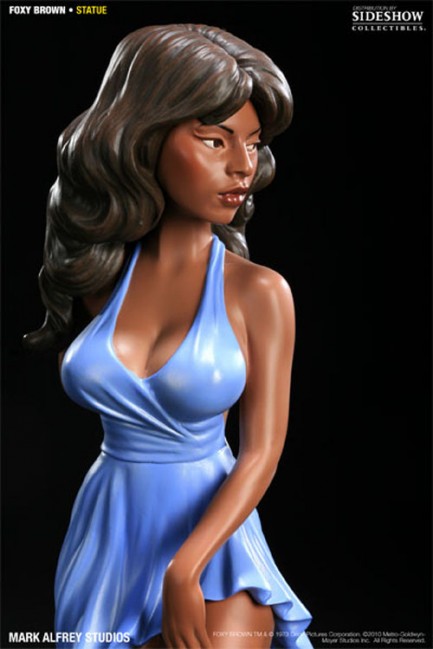 Here's a little something different—you're looking at a foot-high statuette of Pam Grier as Foxy Brown. It comes from Mark Alfrey Studios and goes for $70, or thereabouts. He also has a version of Grier as the immortal Coffy, seen below. They're done in stylized proportions, but amusingly, their extreme shapes are not too far off Grier's actual mid-20s physique—all praises to genetics. By the way, someone asked us recently why Coffy never had a last name. When you consider Grier has played such characters as Sheba Shayne, Friday Foster and Jackie Brown, Coffy no-last-name would seem to be a grave omission, but she actually does have a last name—it's Coffin (see what we did there with that "grave" omission thing?). Her character is called Coffy as a nickname, (much better than Coffin, considering she's a nurse), so what she actually lacks is a first name. It never occurs in the film.

Last time we watched Coffy we made a game of coming up with a first name. Her sister is named LuBelle, so that gave us a general sense of which way to go, but we settled on something ridiculous, owing to the brain-muddling influence of demon alcohol. Next time you watch the movie try some names on for size—it's kind of fun. Anyway, back to the figures, these things are licensed, so Alfrey got some signed by Grier, and those go for a cool $145. But for the blaxploitation fan who has everything price is no object. And for Grier, statuettes are great, but how about a star on the Walk of Fame? She's had far greater cultural impact than many of the recipients.

---