The court announces a sixty-minute recess so it can have—er, I mean speak—with the defendant in its chambers.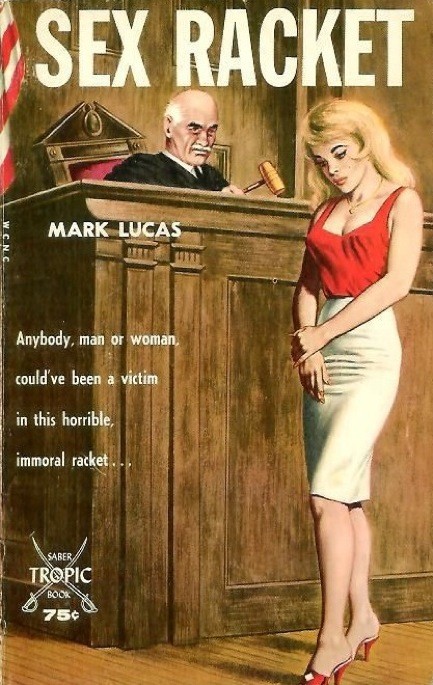 Sleaze from 1966, Sex Racket, from Saber, written by Mark Lucas. You wouldn't think so, but he wrote other books. The mole on the defendant's cheek gives this cover away as Bill Edwards art.
---
I'll kick your ass with one arm tied behind my back, bitch!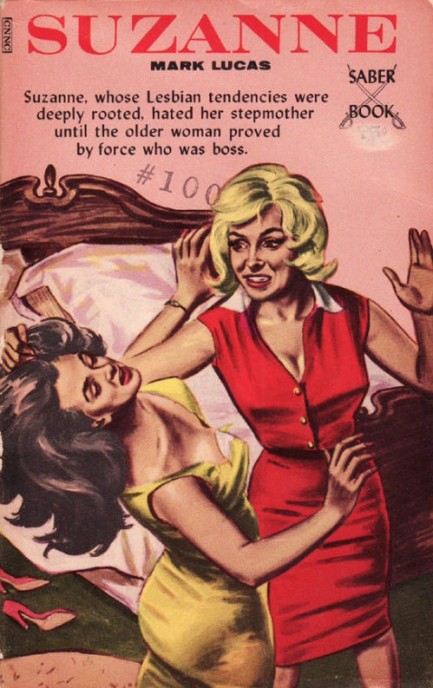 Like any art form, pulp illustration runs the gamut from scintillating to disastrous. Today, with Mark Lucas' lesbian sleaze novel Suzanne, we're confronted with a cover from the latter category. The book was published by the low rent imprint Saber, which was owned by Sanford Aday, and if you take a look at the art, you see a woman whose right arm is on backwards. Or who has two left arms, depending on how you prefer to describe it. Just about the time you start wondering if she has two left feet, too, everything suddenly resolves like an Escher and you see that the bizarro arm actually belongs to her adversary. But what an amusing failure this cover is. We have no idea who to blame, though. It's uncredited.
---