She doesn't meet the Vatican dress code but she does meet the man of her dreams.
We have two great posters to share today for Piero Costa's La ragazza di piazza San Pietro, aka The Girl of San Pietro Square, starring famed director Vittorio De Sica along with Walter Chiari, Susana Canales, and Mary Martin in the tale of a widower and his three children. The setting is in and around St. Peter's Square in Vatican City, where the main characters are souvenir sellers, and a chance meeting results in romance. The movie is widely available, including on YouTube, but our primary interest is in the art. It has a nice femme fatale look to it. The first poster is signed Crane, and the second, using the same elements, is unsigned but obviously is by the same person. Both are top efforts. We'll dig for more on this Crane character and see what we can find. La ragazza di piazza San Pietro premiered in Italy today in 1958.
---
Each day presents an ocean of possibilities.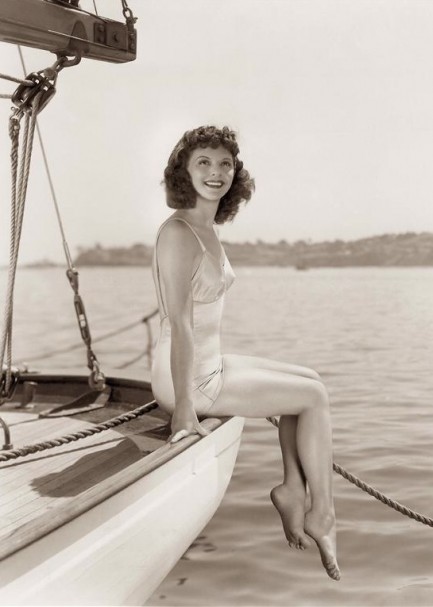 Texas-born actress Mary Martin enjoys some time on the water in this Paramount publicity photo. Though she had no idea at this moment, her film, stage and radio career would profit her two stars on the Hollywood Walk of Fame. Yes, you can receive two. Hers are for film and radio, and we assume that puts her in rare company. This shot is from 1940.
---