John Payne goes to hell and back for loot and love.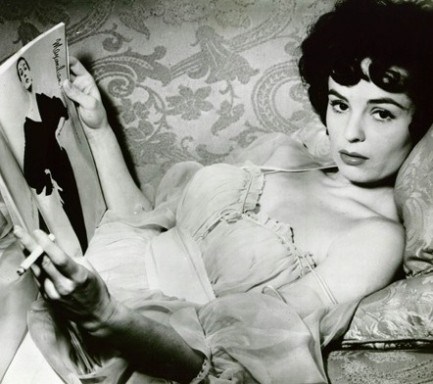 The film we talked about Sunday, 1944's Bermuda Mystery, was an island thriller in name only, but Hell's Island actually works hard to create a Caribbean mood—though it was shot in Southern California. John Payne is hired to fly to the mythical island of Santo Rosario and retrieve a priceless ruby in the possession of his former girlfriend. The girlfriend, Mary Murphy, ran away to the island after jilting the hero to marry a rich islander. Payne arrives and finds that moneybags is imprisoned for life for murder, and Murphy now lives alone in a big mansion, pining for her incarcerated husband. But did he actually commit the crime?
Murphy wants Payne to help her husband escape, and Payne agrees because supposedly only the husband knows where the ruby is. This is all a pretty fertile set-up for a thriller, and while the filmmakers don't get every element right, they end up with a passably engrossing final product. Some websites call Hell's Island a film noir, which it is in terms of story elements, mood, and characterizations—but it's shot in Technicolor, which for some may put it in another category visually. In the end, think of it as a passable vintage crime flick with a few twists and turns, a conveniently placed alligator pit, plenty of swanky menswear, lots of corpses, and one very elusive ruby. Hell's Island opened today in 1955.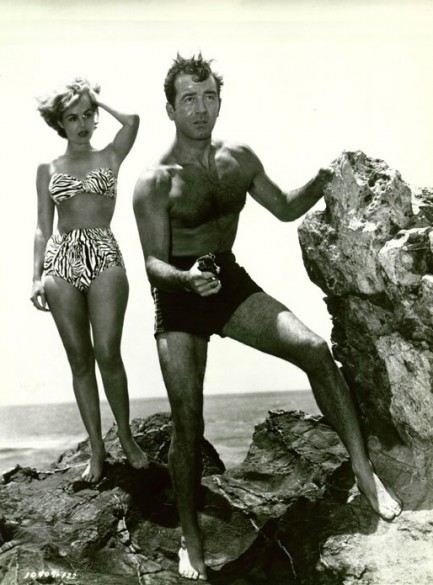 ---
Oh this? It hasn't caught on yet, but one day everyone will carry one, believe me.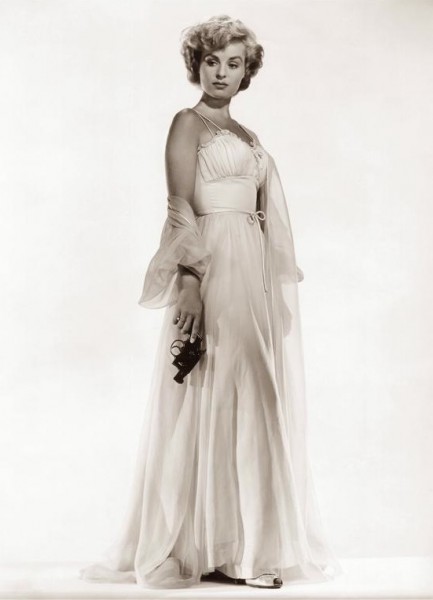 Mary Murphy, not to be confused with her many famous namesakes, was an American actress best known for co-starring with Marlon Brando in The Wild One. She played a virginal small-town girl, yin to Brando's vagabond rebel yang. And what a pair they made. In this photo Murphy has a more mature yet still innocent look, gun accessorized. No date, but assume late 1950s.
---
I will not open up and say ahh, Marlon, and FYI you're not funny.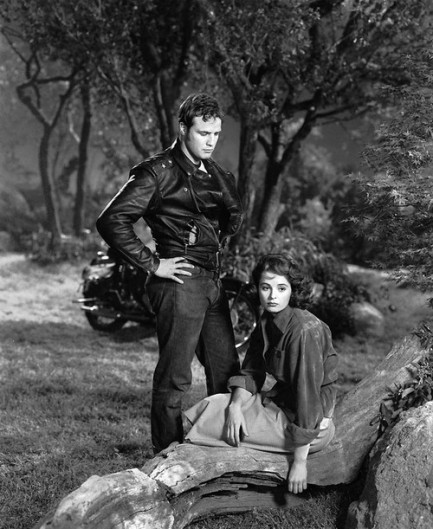 Promo photo of Marlon Brando seriously invading Mary Murphy's personal space on the set of The Wild One, 1953. See two more stills from the movie here.
---