Everything in this jungle bites—including the script.

This poster for White Huntress, aka Golden Ivory, did its job—as soon as we saw it we had to watch the movie. We figured this must be fun. But looks can deceive. Despite the art of a woman in sexy rags fighting a python, what you actually get is a staid period piece set in 1890 in which two brothers venture into the Masai territory of what was then British East Africa in search of Kayanga, the legendary meeting place of the elephants. Their plan is to—wait for it—kill the animals and reap tons of ivory worth a fortune. Owing to its period setting the movie has the feel of a western, and in fact the subplot involves Brits venturing into the wild frontier in covered wagons like Sooners to take over native lands. So what you have here is a hybrid—part western, and part colonials-in-Africa movie. It's cheaply made, poorly written, and overall is a cringeworthy effort, filled with the self serving entitlement of invaders ascribing all sorts of moral and philosophical justifications to their thieving and slaughtering. But let's not get too deeply into it. Films are always of their era, moral flaws and all, and we're able to enjoy ones about colonial Africa as long as they're good, but White Huntress isn't. It premiered in Britain today in 1954.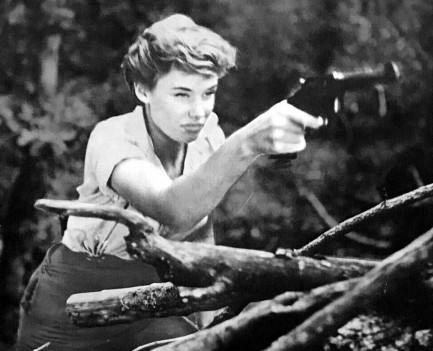 ---
She was one of the year's best point and shoot models.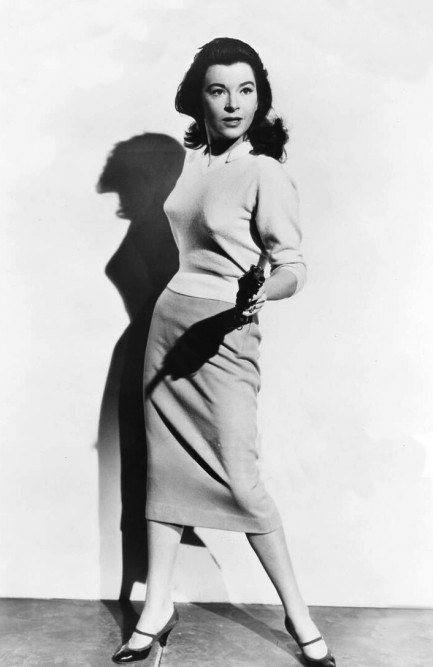 You see the above person identified on scores of websites as Lisa Montell, but that's another IRE™ (internet replication error). The photo actually shows Kenya born British actress Maureen Connell. Her first movie was, fittingly, 1954's The White Huntress, about British settlers in Kenya. Connell went on to appear in The Abominable Snowman, Port Afrique, and more than twenty television shows. This shot was made when she was filming 1957's Kill Her Gently. Note the amazing shadows of the gun and Connell's body the photographer created. For us, this is one of the better armed femme fatale photos we've seen. We'll revisit Connell soon.


---