Always be careful what you say to a tabloid.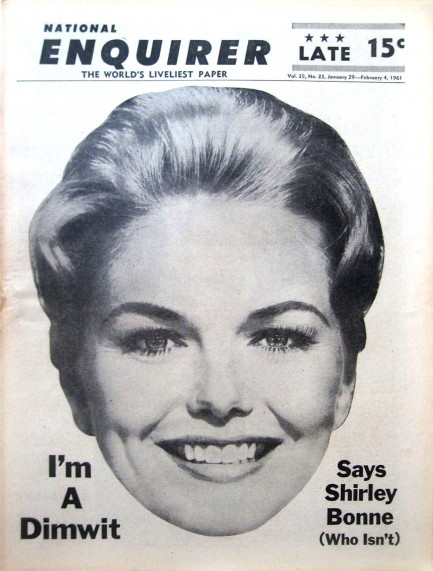 This National Enquirer published today in 1963 features the free-floating head of U.S. actress Shirley Bonne with a quote where she calls herself a "dimwit." Enquirer often splashed shocking, sexual, or confessional quotes from stars across its covers. We have little doubt Bonne was just joshing around, if she ever said it, which we tend to doubt. She isn't well known today. Though she amassed hundreds of magazine covers, as an actress she had zero credited cinematic roles. All her credits, including movies, were on television, where she appeared on shows such as Bonanza, That Girl, Medical Center, starred in the sitcom My Sister Eileen, and was in the all-time dog of a television horror flick It's Alive. Her zenith, at least in terms being appreciated by a fandom, is having guest starred in one of the best Star Trek episodes ever—1966's "Shore Leave." That's the one where the Enterprise crew land on a planet that makes anything they think about come true. Kirk thinks about a long lost love and Shirley Bonne appears—head, body, and all. Pretty smart thinking.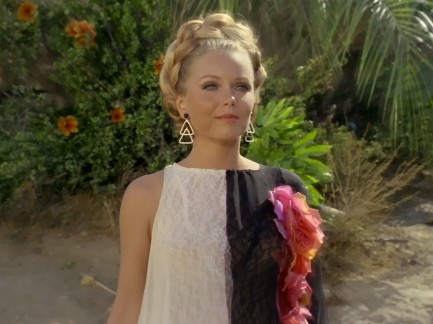 ---
They always said she was beautiful inside and out.
We bet you can correctly guess what this is within three tries. Obviously, it's a woman's chest x-ray. But whose x-ray would people be so obsessed with they'd buy it at auction? We're sure you came up with Marilyn Monroe pretty quickly. Yes, it was today in 1954 that she was admitted to Cedars-Sinai Medical Center in Los Angeles for surgery for endometriosis, a condition of the womb which caused her a lot of physical pain. She was admitted as Marilyn DiMaggio, interestingly.

This image of her chest was made by a radiology resident, and when that student later became a doctor and taught at the school he would show this to his students, which we guess was a good way to keep them interested during a lecture. Eventually the scan "migrated" into private hands (those of the doctor's daughter), and it went up for
auction and sold for $45,000 in 2010. That makes us about seven years late on this story, but the image so interested us we thought we'd post it anyway. If beauty were measured this way we have a funny feeling Monroe would still set the standard.
---
Chris Brown's career turned upside down by assault accusation.
Between Michael Phelps and Alex Rodriguez, it had already been quite a month for damaged images. But as details of pop singer Chris Brown's arrest trickle out from various sources, a once bright future looks seriously clouded. Multiple sources now confirm that the woman Brown is accused of assaulting is mega-popular Barbadian singer Rihanna.

The incident occurred Sunday morning, when police were called to a silver Lamborghini parked in the Los Angeles neighborhood of Hancock Park. Brown had left the scene, but police found Rihanna with visible injuries, including a bloody nose and bite marks on her arm and fingers. Asked who attacked her she identified Brown. Brown turned himself into police Monday morning and, after posting $50,000 bail, retained celebrity lawyer Mark Geragos.

The fallout for Brown has already been severe—and deserved if the charges are true. After backing out of the Grammy Awards, where both he and Rihanna were nominated and scheduled to perform, he then cancelled a scheduled appearance at the upcoming NBA All Star weekend. Additionally, Wrigley's Gum has suspended advertising featuring Brown.

As for Rihanna, she refused treatment at the scene, but her injuries were photographed by police, and she later received medical care at Cedars-Sinai Medical Center. No further information has been available from her publicist, other than that the singer is "well."
---