Even without a baton the musicians follow her just fine.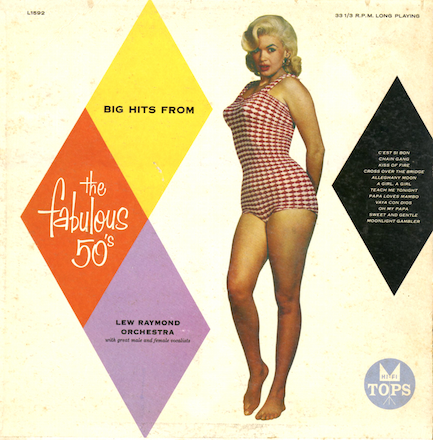 Speaking of beautiful covers, we move into the music realm with this sleeve for Lew Raymond's

Big Hits from The Fabulous 50s, which was put out by Tops Records in 1957. And of course that's Jayne Mansfield trying to look beachy wearing a tablecloth from a pizza restaurant. This was still early in her career, before she was Mansfield with a capital everything. The album features Raymond and his orchestra backing various contemporary vocalists, including Mimi Martel, the Laine Sisters, and Lola Grey, as they render classics like "Allegheny Moon" and "Teach Me Tonight." But of course the attraction is Jayne, so we've cropped her below (as well as the fabulous 50s font, which we kinda want to put in our sidebar). If you're interested in hearing this music—and who wouldn't be a little curious?—you can sample songs here, here, and here, while the links last.

---