Don't let her name fool you—she wreaks Havoc all year round.
Above, a very nice promo photo of Vancouver born actress June Havoc from her 1949 drama The Story of Molly X. Also among her long list of films were Gentleman's Agreement, Once a Thief, Lady Possessed, and The Iron Curtain. Though her real name obviously wasn't Havoc, it was close—she was originally Ellen June Hovick. Molly X looks interesting, so we'll see if we can track that down and report back.


---
Marie Forså indulges in a summer of ecstasy.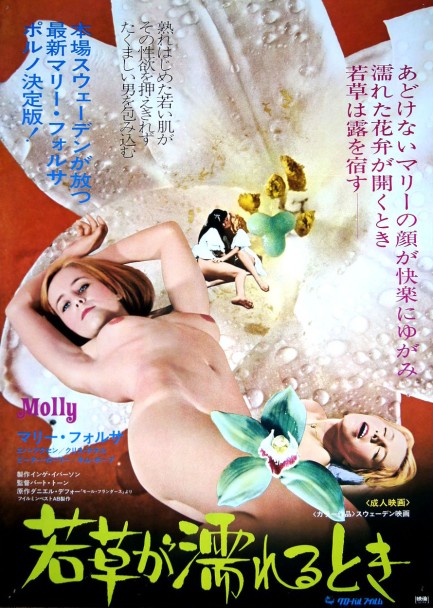 Marie Forså appears above on yet another beautiful Japanese promo, this time for Molly, aka Sex in Sweden, a sexploitation flick based—very loosely we think—on Moll Flanders. The only similarity seems to be that the main character is away from home (in the Côte d'Azur, poor tortured thing) and undergoes a sexual awakening. The version we watched was fully hardcore, with scenes performed by Anne Magle and others. Forså's sex scene is shot with a body double, which is a little strange considering she already had an x-rated magazine spread to her credit, but it was a very obscure Swedish publication, which is a whole different ball game, so to speak, from doing the same for international cinema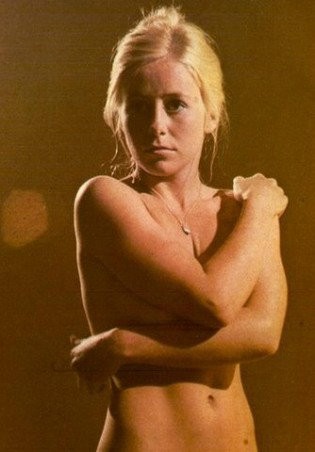 audiences. Without her sex scene and the several others scattered at intervals Molly would be maybe 40 minutes long, and that should tell you exactly what to expect in terms of plot—dubious Moll Flanders connection notwithstanding.
We usually post screenshots or production stills when we write about a film, but we won't bother with that here because our copy's image quality was blurrier than your vision after several hits of the aforementioned ecstasy. Instead we decided to share the below image of Forså. It's rare, and with Forså covering her furry bits it reminds us of the many Japanese promos we've uploaded. We think it's a beautiful shot, but others—possibly our girlfriends among them—may disagree. Well, if they have any serious objections about our website it's way too late to register them now. We're going to talk about one more of Forså's movies before consigning her to the completed bin, so look for that a bit later. You can see our other posts on her movies by clicking her keywords at bottom. Molly opened in Sweden in 1977 and premiered in Japan today in 1978.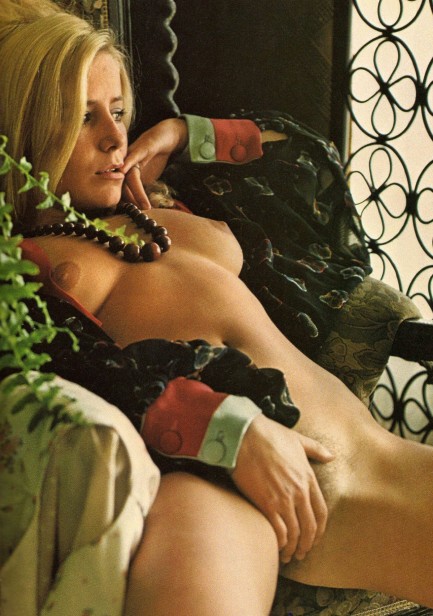 ---
Raquel Welch represents a high water mark for the low rent National Spotlite.
Her body drives men wild. But it isn't Raquel Welch being quoted on the cover of this National Spotlite published today in 1967, though the juxtaposition of text makes it seem so. No, the line came from a little known actress named Donna Selby, who National Spotlite scribe Hugh Wells interviewed in London. The story is rather amusing, as Wells tells readers how Selby appeared in only a bathrobe, made a pass at him, gave him an unwanted kiss and even licked his ear. He claims to have fled the room, saying to the actress, "I predict that you'll go places—and quickly too!" But he was wrong about that—try as we might, we can't find mention of an actress named Donna Selby anywhere.
But getting back to Raquel Welch, the cover shot comes from one of her most famous photo sessions, the same one that produced this excellent image and many others. Welch had gone briefly blonde, and the resultant photos are the only ones we've seen of her with golden hair. You know what would make her presence here even better? An interview. But no such luck. National Spotlite is simply making good use of a handout photo. Moving on, readers are treated to a nice shot of Patsy Ann Noble, aka Trisha Noble, just below, who we discussed back in 2009, and also

appearing in the issue is German actress Dagmar Hank, who acted in several movies between 1958 and 1965. Lastly, in the centerfold you get Molly Peters, who was a Harrison Marks model and whose most notable cinematic output was a bit part in
Thunderball
.
You have to give National Spotlite credit—unlike many middle tier tabloids of the period this one managed to actually feature relevant and semi-relevant personalities. That comes as a surprise, since it was owned by the infamous Beta Publications of Spotlite Extra and Close-Up Extra fame. But as the flagship paper, National Spotlite doubtless had a higher budget. The masthead tells us it even had offices in New York City and Montreal, which is kind of impressive. Within a few more years, though, the paper regressed to the same form as Beta's cheaper imprints and was reduced to putting out issues like this one. Like Marlon Brando in On the Waterfront, for a while National Spotlite coulda been a contenduh. It just never quite made it.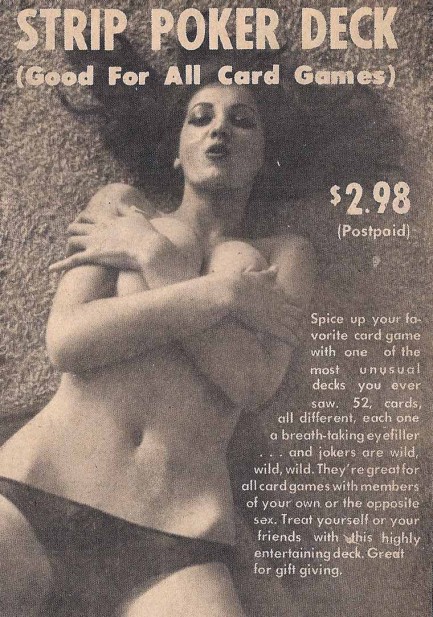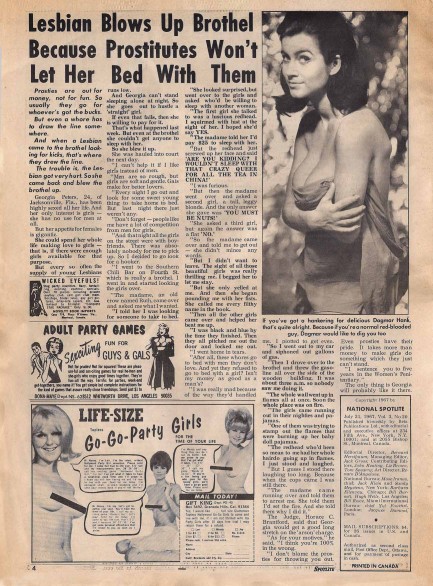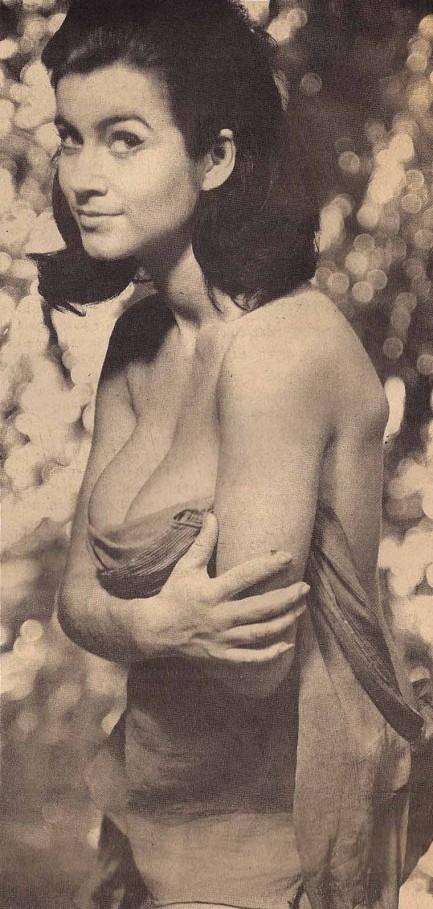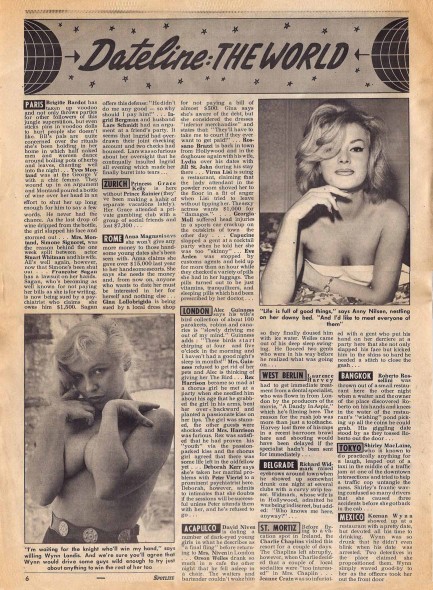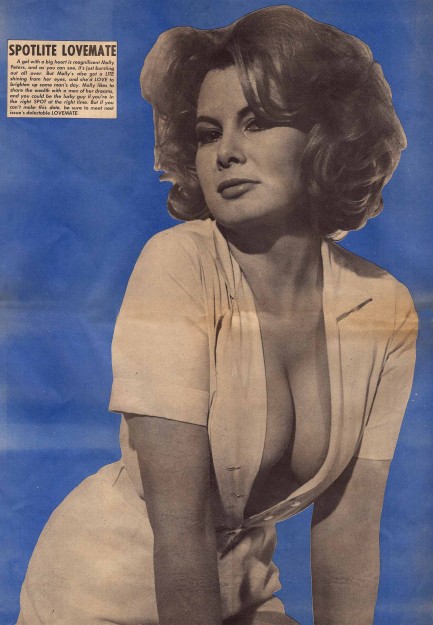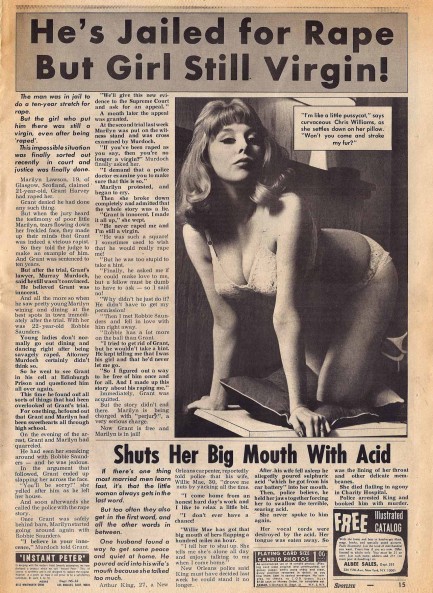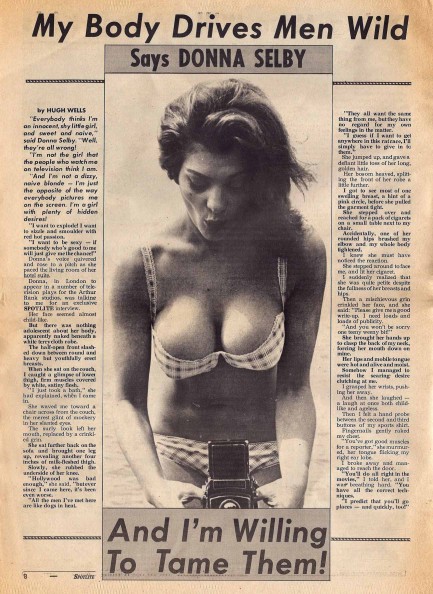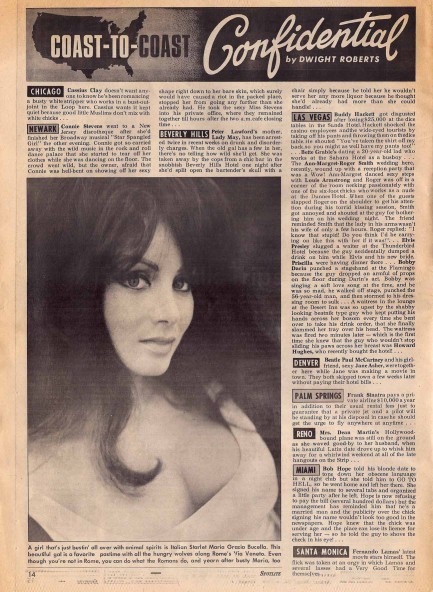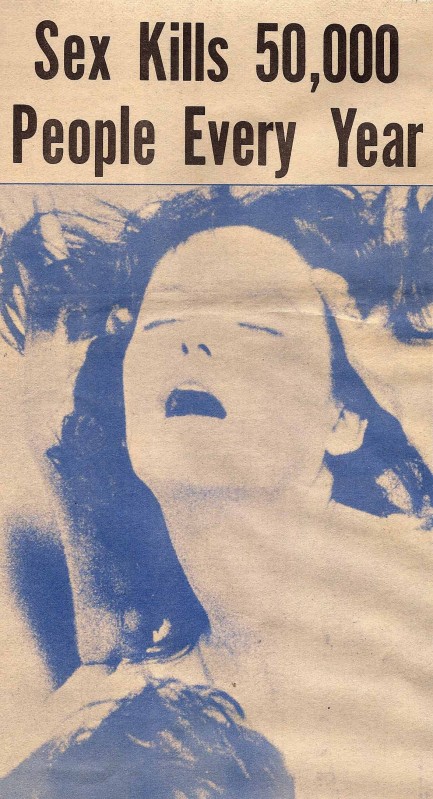 ---