Like the mysterious Da Vinci painting we can't figure out this piece of art.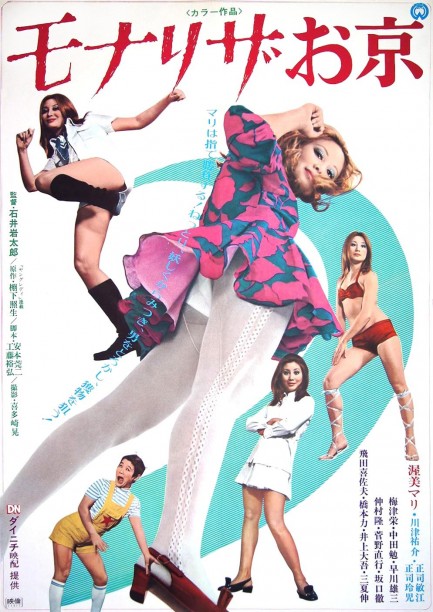 Above and below are two posters for Iwataro Ishii's Mona Riza okyo, which was based on the graphic novel of the same name by Teruo Tanashita, and stars Mari Atsumi as a pickpocket trying to get her hands on a valuable but elusive diamond pin called the Star of the Sea. Strangely, the word "Kyoto" clearly appears in the poster titles—it's the last symbol on both—but all the sources we checked said the film is called Mona Riza okyo. It's a mystery too deep for us to solve, but if any of you can shed some light on it please drop us a line. Mona Riza okyo premiered in Japan today in 1971.

Update: David W. writes in and tells us: "Indeed the last word on each poster is Okyo, not Kyoto."
Mystery solved. Thanks, David, for your help.

Update 2: NelC offers a more detailed explanation of the title. Here's what he wrote: The transliteration of the subject line is indeed Mona Lisa O-Kyō. The proper name for Kyōto is 京都市, "Kyōto-shi" or "Kyoto City" in English. 京都 is "Kyōto." 京 is "Kyō." 京 by itself means "capital" as in "capital city," and お is an honorific, so お京 might be read as "the capital." (モナリサ is, of course, "Mona Lisa.")
So the title might be read as "The Capital Mona Lisa." The significance of this is beyond my meagre abilities in Japanese, though. A colloquialism for "the great," maybe, as in Wodehouse-era British English? I don't know.
Thank you NelC. Your excellent explanation is more than we could have reasonably hoped for. Mystery solved, again.
---