You can't keep a good moonshiner down.
Home brew and rednecks, fast cars and dusty roads, shotguns and lots of banjo music are what you get in Moonshine Country Express, all of which is probably abundantly clear from a glance at the U.S. promo poster. You also get star Susan Howard, b-movie stud John Saxon, and support from Playboy centerfold Claudia Jennings, which means all the ingredients for a good time are here. The protagonists are righteous, the villains wily, and there's never any doubt that the family oriented 'shiners are going to upend the unctuous local strongman in this nearly scriptless flick about a daughter trying to sell her murdered father's stash of a-grade whiskey. We could say there's a metaphor here for small business versus big conglomerates, or liberty loving sovereigns versus the corrupt and connected, but we'd be making that shit up. It's just a mindless chase movie. It's hard to believe it would take another two years before this highly profitable formula finally moved to television in the form of 1979's The Dukes of Hazzard. We like to think Moonshine County Express was the eureka moment when someone realized it would work. If you watch this one, expect no more and no less than a Dukes episode in long form, but without the confederate flag, mercifully.
---
Next stop—the b-movie circuit.
In Hollywood Boulevard Candice Rialson arrives in Tinseltown with dreams of stardom and is immediately conned into being the getaway driver for a robbery. As she screeches away from the bank with alarms wailing, she asks her partners in crime, "But where are the cameras?" That pretty much sets the tone of the film. She later becomes a stuntwoman and bumbles her way from one bizarre scenario to the next. There are some laughs here, but the same way you would laugh at a vaudeville routine, or a favorite uncle's oft-repeated fishing story—i.e., you understand it's supposed to be funny, and that alone is a bit amusing, but mostly it's just tiring. Surprisingly, Rialson went on to appear in Moonshine County Express, Chatterbox (yes, it's about a talking vagina), and other exercises in '70s schlock. That's a testament to Rialson's talent, or sheer luck, or both, because Hollywood Boulevard would have killed most actress's careers. It premiered in the U.S. today in 1976.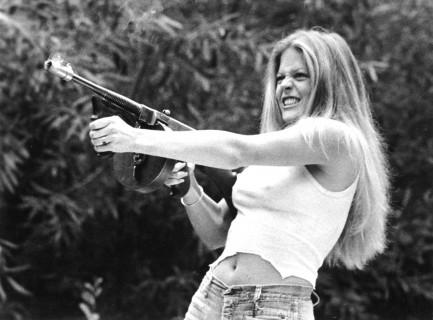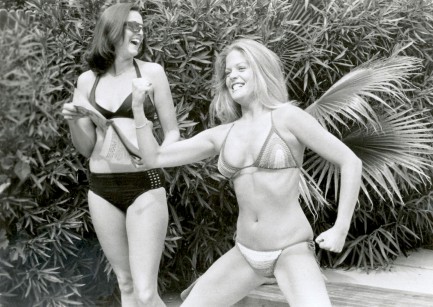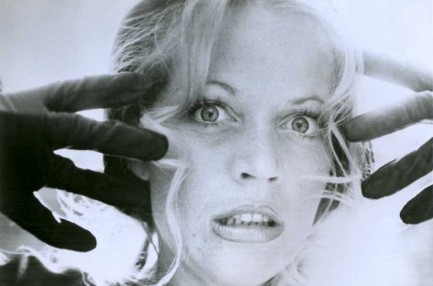 ---