Scenes from a marriage.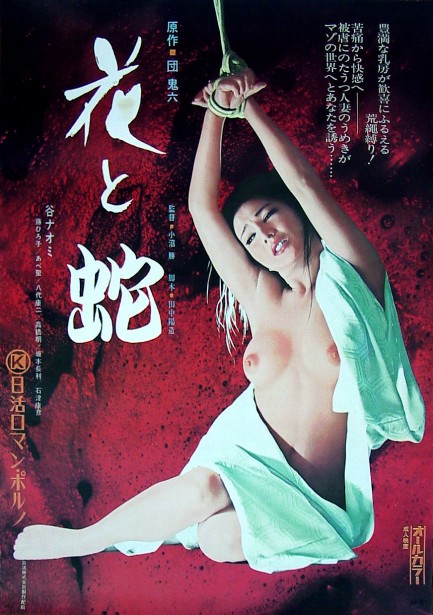 If there's one indisputably true statement about Japanese cinema, it's this: they will try anything. 1974's Hana to hebi, aka Flower and Snake, is a bondage comedy based on a novel by Oniroku Dan, who specialized in S&M fiction. For the screen version, Nikkatsu Studios recruited reliable sexploitation queen Naomi Tani, who had already appeared in a previous version of the same film entitled Hana to hebi yori: niku no shiiku, aka Flower and Snake: Rearing the Flesh. Where that version was a mere pinku film, this new version would be a Roman porno—which simply meant Nikkatsu would spend more money in an effort to elevate the genre into something mainstream Japanese would accept. In the film, Tani plays an aristocratic wife who asks for a divorce but instead is forced into bondage and submission by a man hired for the task by her husband. She experiences a sexual awakening, the employee forms an emotional bond, and complications ensue from there. We haven't read the novel, but apparently it's very different from the film and its adaptation was a source of friction between studio and author. But it didn't matter—Hana to hebi was a smash. It was the first of Nikkatsu's many Roman porno flicks, and the first of what would become a Hana to hebi franchise. It premiered in Japan today in 1974.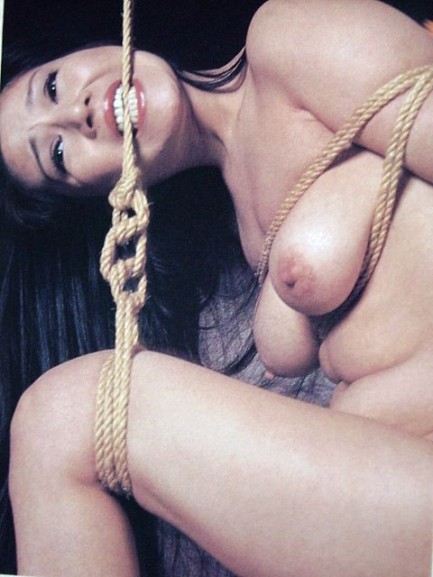 ---
Stuck in a moment and you can't get out of it.
Are you getting a sense of déjà vu? Well, you're not crazy. This does have an identical bondage theme and color palette as a poster we shared last week. The main difference is that this victim has shaved her armpits, which is good, because you always want to look your best for a torturing. The film here is Kifujin shibari tsubo, aka Noble Lady Bound Vase, and it stars Naomi Tani, who we're going to get know real well on this site. She was Japan's queen of bondage cinema, garnering notoriety for her roles in flicks like Wife To Be Sacrificed and Colorful Bed of Violent Desire, before retiring to become a restaurant owner. As we mentioned before, though we like pinku films, harder ones are not exactly our cup of T&A. We do realize that rope bondage is considered fine art in Japan, but as Americans—even ones who have spent years abroad—we can't completely shake a lifetime of conditioning that makes us see something weird here. But on the other hand, we seriously doubt the Japanese can understand why we glorify violence to such an extent in American cinema. So we won't judge them if they don't judge us. One of the reasons we started this site was to explore how art varies from culture to culture, and so of course we'll keep discussing these films, but we'll also be looking seriously into the Japanese bondage arts kinbaku-bi and shibari. Hope you're looking forward to that. Now we have to go shoot some people. Kifujin shibari tsubo opened in Japan today in 1977.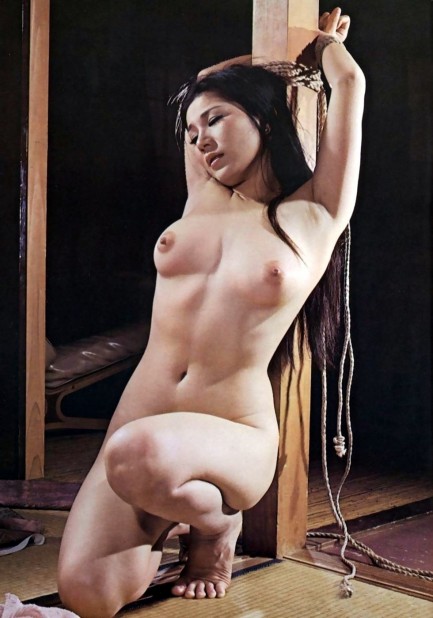 ---
Just keep reminding yourself it's only a movie.
The above promo art is for the Japanese sexploitation flick Dan Oniroku nawa to hada, aka Rope and Skin. It's one of many films based on the work of S&M author Oniroku Dan. This one concerns a card-dealing employee of a yakuza clan who plans to leave her criminal life behind and marry a chef. And that's all fine and dandy, but when she exposes the leader of a rival clan as a card cheat, his revenge leaves her love murdered. Things get worse when she attempts to free a girl from prostitution, but ends up captured and tortured. But you can't keep a good avenging angel down, and that means eventually she's sprung and of course immediately sets about getting a little payback—toplessly, with mucho arterial spray. Rope and Skin would be Tani's last film after a career that included such efforts as Wet Vase, A New Wife's Hell, and She-Beasts & Warm Bodies. Whenever we watch these gorefests we're both repelled (there's a lot of torture) and attracted (there's a lot of nudity), but mostly just amazed (did we mention that torture thing?). Rope and Skin/Dan Oniroku nawa to hada premiered in Japan today in 1979.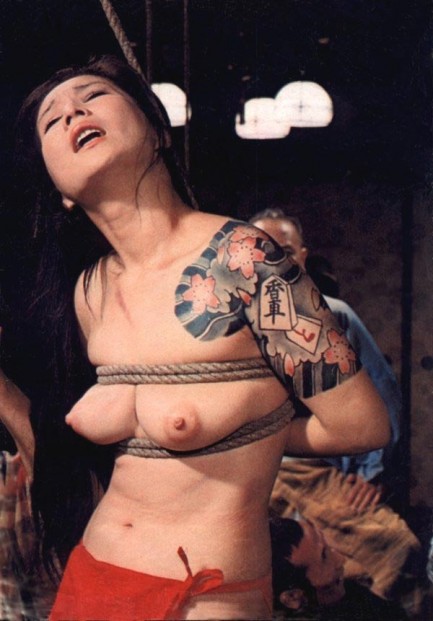 ---