National Spotlite isn't exactly illuminating but at least it's entertaining.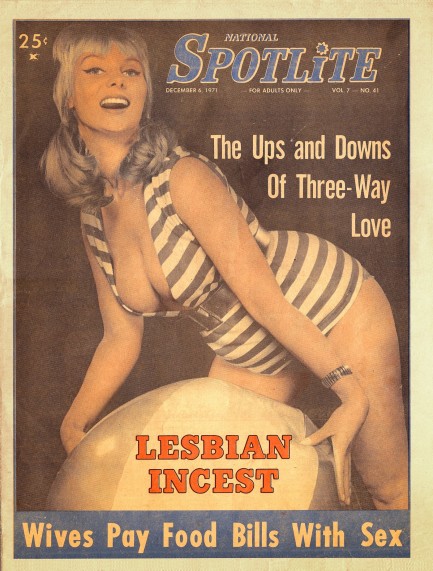 This National Spotlite was published today in 1971. Betty Flenders graces the cover and centerfold, the beautiful Mary Weston, aka Venecia Day, brags about her sexual prowess inside, burlesque dancers Ava Braniff, Gid-Jet, and Rita Atlanta pose for insets, and Swede Barbara Klingered tries to keep her balance on a Zündapp motorcyle in a photo that gives us a trifecta of rare images from that session. The issue concludes with a sexual horoscope from resident seer Celestia. For more from the rare National Spotlite click its keywords at bottom.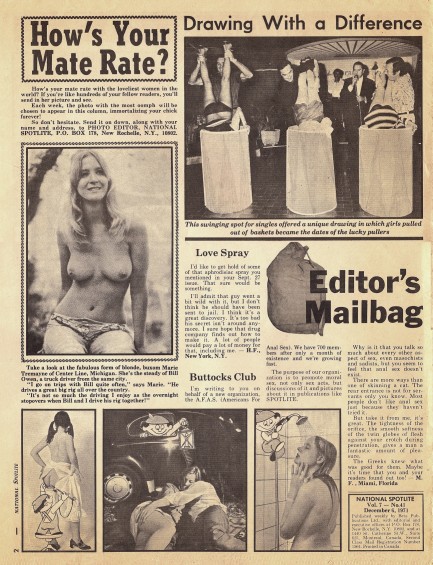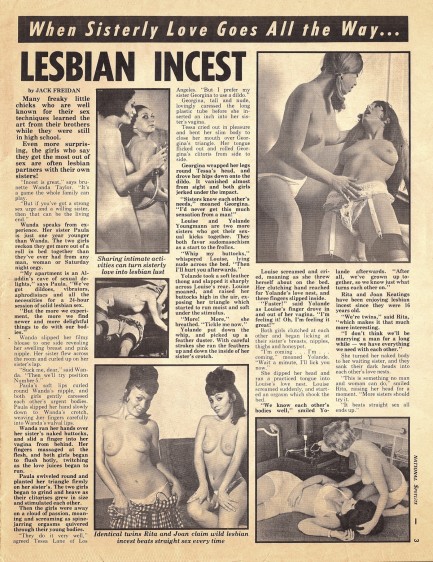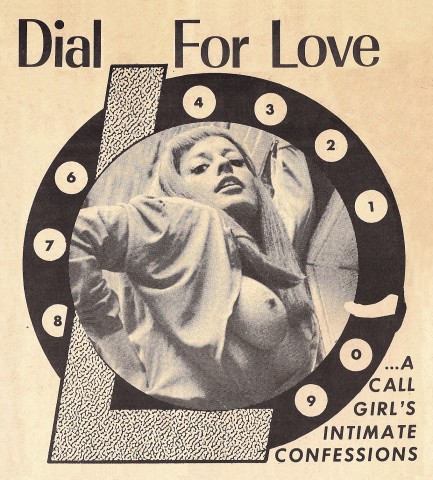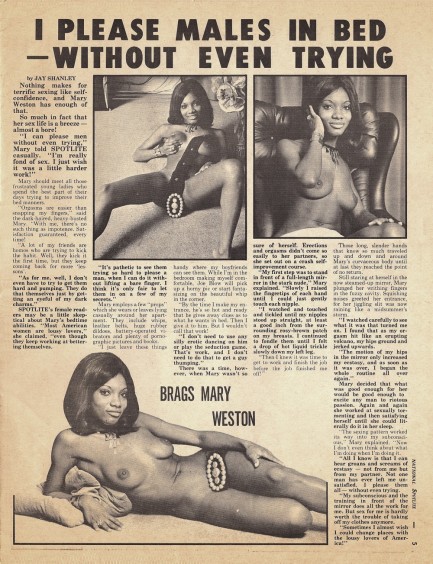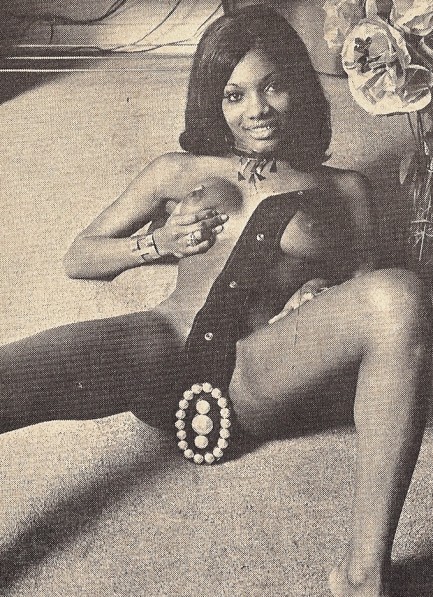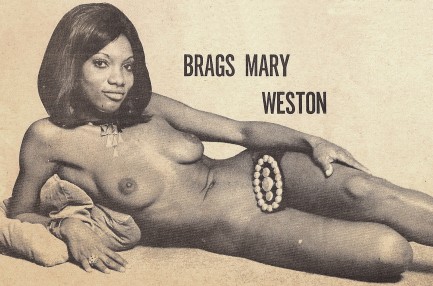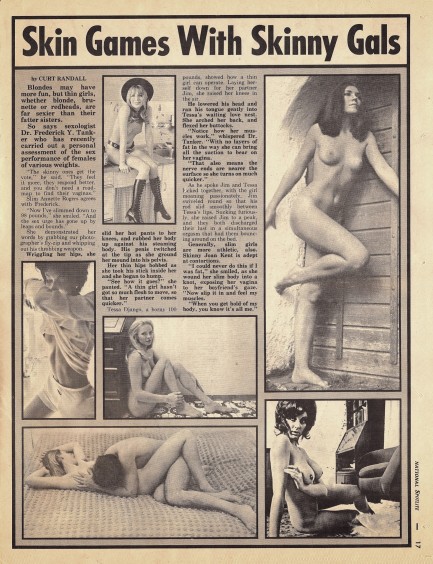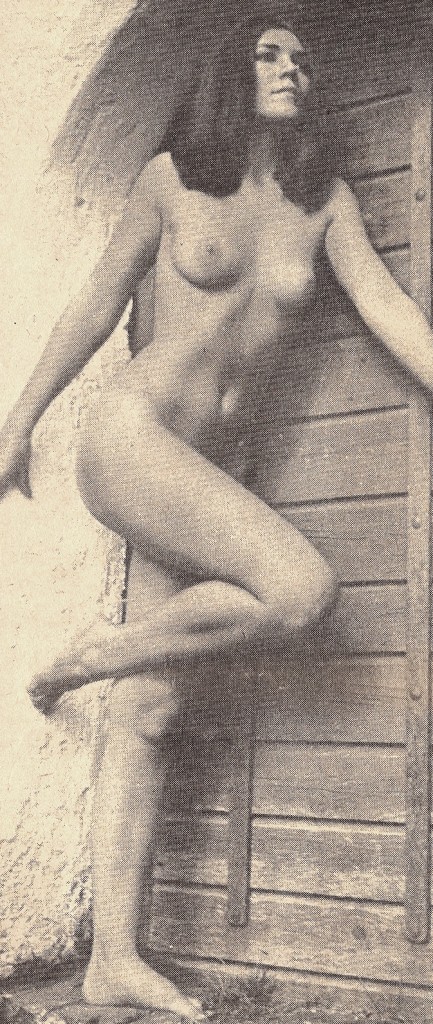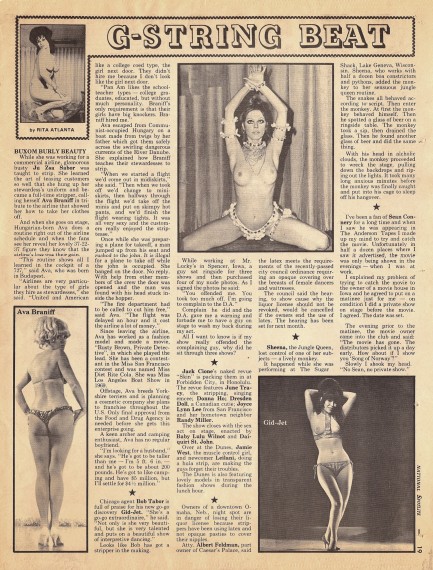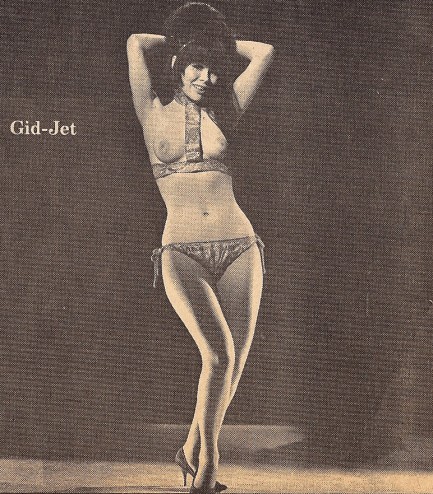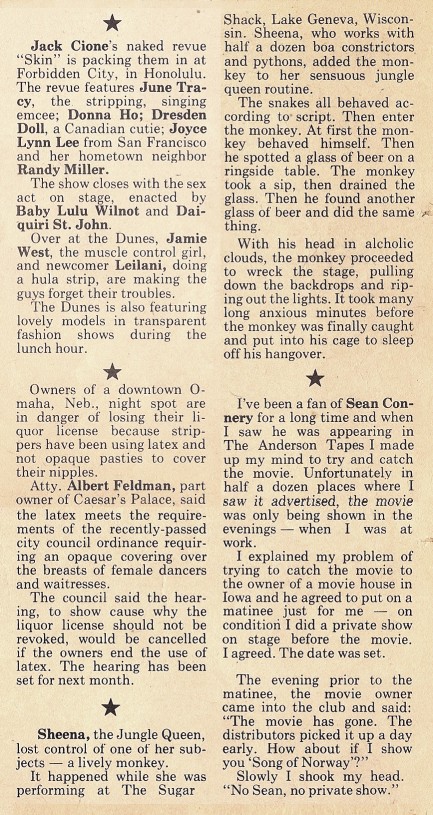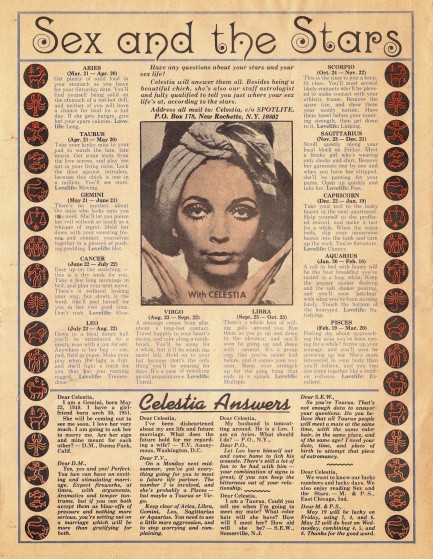 ---
Raquel Welch represents a high water mark for the low rent National Spotlite.
Her body drives men wild. But it isn't Raquel Welch being quoted on the cover of this National Spotlite published today in 1967, though the juxtaposition of text makes it seem so. No, the line came from a little known actress named Donna Selby, who National Spotlite scribe Hugh Wells interviewed in London. The story is rather amusing, as Wells tells readers how Selby appeared in only a bathrobe, made a pass at him, gave him an unwanted kiss and even licked his ear. He claims to have fled the room, saying to the actress, "I predict that you'll go places—and quickly too!" But he was wrong about that—try as we might, we can't find mention of an actress named Donna Selby anywhere.
But getting back to Raquel Welch, the cover shot comes from one of her most famous photo sessions, the same one that produced this excellent image and many others. Welch had gone briefly blonde, and the resultant photos are the only ones we've seen of her with golden hair. You know what would make her presence here even better? An interview. But no such luck. National Spotlite is simply making good use of a handout photo. Moving on, readers are treated to a nice shot of Patsy Ann Noble, aka Trisha Noble, just below, who we discussed back in 2009, and also

appearing in the issue is German actress Dagmar Hank, who acted in several movies between 1958 and 1965. Lastly, in the centerfold you get Molly Peters, who was a Harrison Marks model and whose most notable cinematic output was a bit part in
Thunderball
.
You have to give National Spotlite credit—unlike many middle tier tabloids of the period this one managed to actually feature relevant and semi-relevant personalities. That comes as a surprise, since it was owned by the infamous Beta Publications of Spotlite Extra and Close-Up Extra fame. But as the flagship paper, National Spotlite doubtless had a higher budget. The masthead tells us it even had offices in New York City and Montreal, which is kind of impressive. Within a few more years, though, the paper regressed to the same form as Beta's cheaper imprints and was reduced to putting out issues like this one. Like Marlon Brando in On the Waterfront, for a while National Spotlite coulda been a contenduh. It just never quite made it.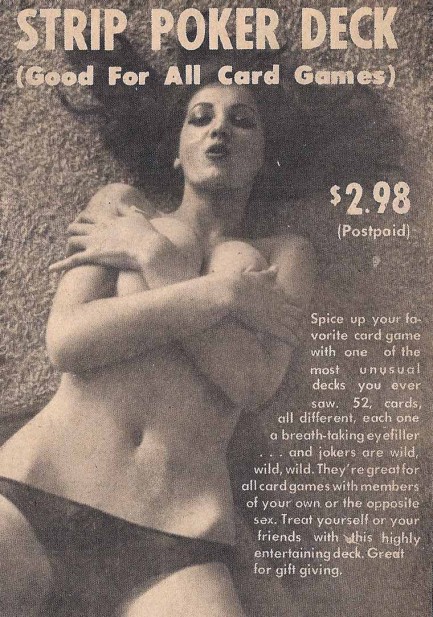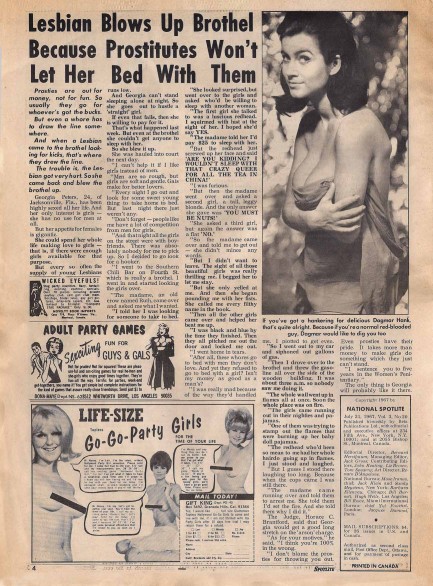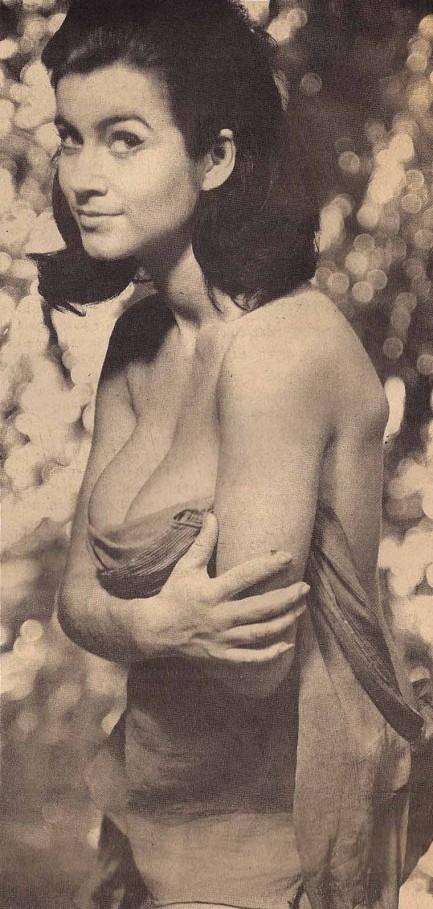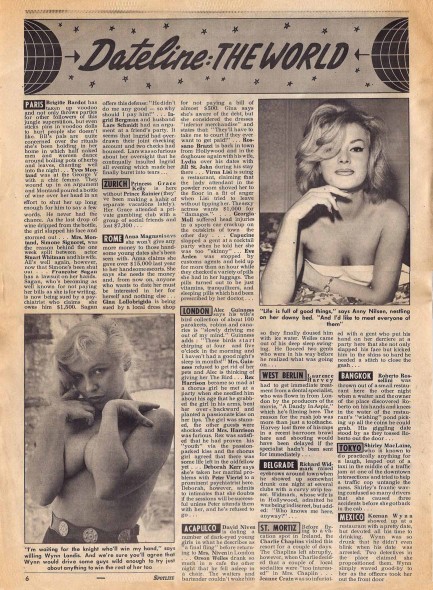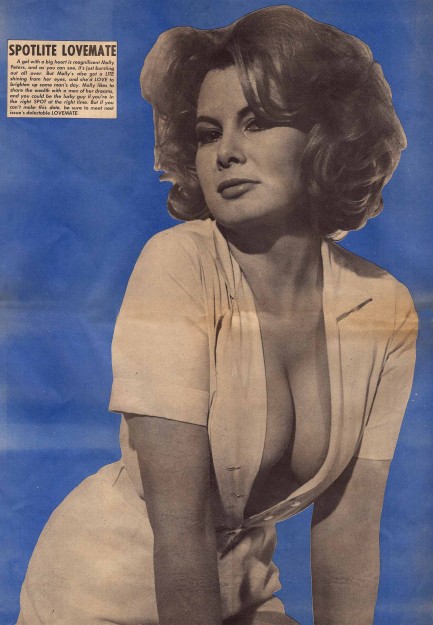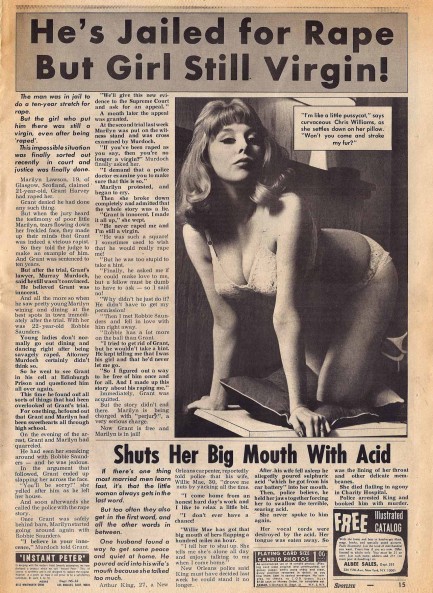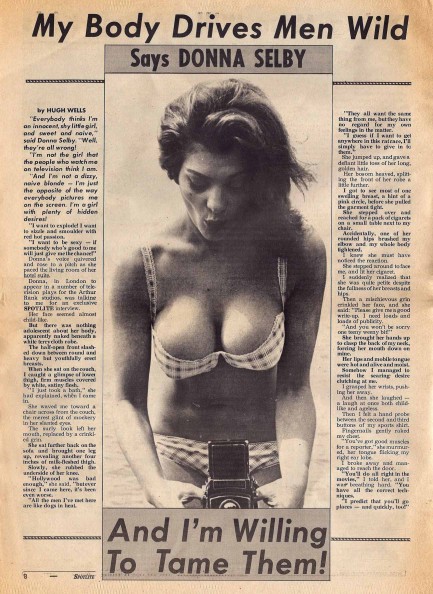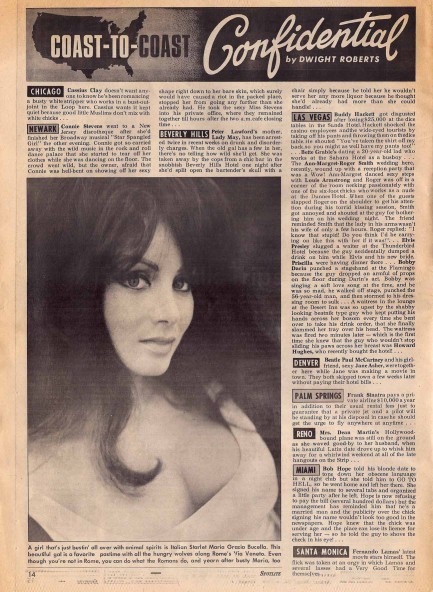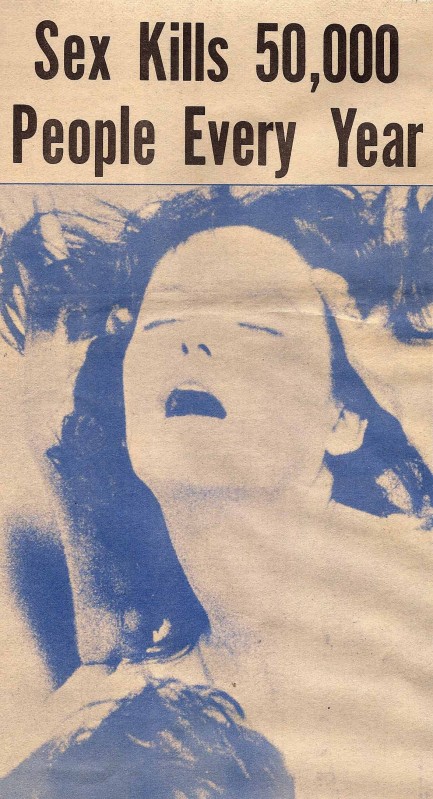 ---
The possibilities were simply endless.
At National Spotlite

headquarters, probably about a week before this issue hit the streets, the editors were in crisis mode. They had no ideas for the cover. None at all. They had a photo. It's the photo you see above. But they were blocked for headers.
Editor 1: "Woman desperate for husband says she'll parade naked through town until someone marries her!"
Editor-in-Chief: "The Lady Godiva routine's been done. Show some imagination. What the fuck am I paying you for?"
Editor 1: "This white beauty only makes love to blacks!"
Editor-in-Chief: "What, do you live in a cave? Can't you see we've finally achieved a post-racial utopia where people don't even see ethnic differences? Hell, I banged practically a rainbow of girls at last week's love-in."
Editor 2: "Doctors baffled! White beauty's breasts give chocolate milk!"
Editor-in-Chief: "What did I just say?"
Editor 2: "But I'm emphasizing the science angle more than—"
Editor 1: "How about this idea? Hitler's secret hippie granddaughter Sunflower Braun."
Editor-in-Chief: "Bold, but Hitler doesn't push sales anymore. Listen, what do I always explain? The photo tells the story. The girl is already naked, right, so how did she get that way?"
Editor 1: "Well, because that photographer guy Morty told her she needed nude shots if she was ever gonna break onto Broadway."
Editor 2: "Pro photographer reveals ways you can lie to make desperate actresses strip for dirty pictures!"
Editor-in-Chief: "Not bad. Now listen to me edit-in-chief it. Take out "lie" and "desperate actresses."
Editor 1: "Genius, boss."
Editor-in-Chief: "Yup. That right there is why I make the big bucks."


---