Midnight twice in the same day.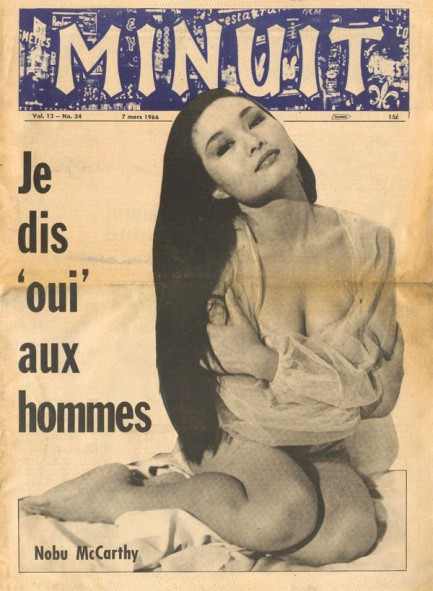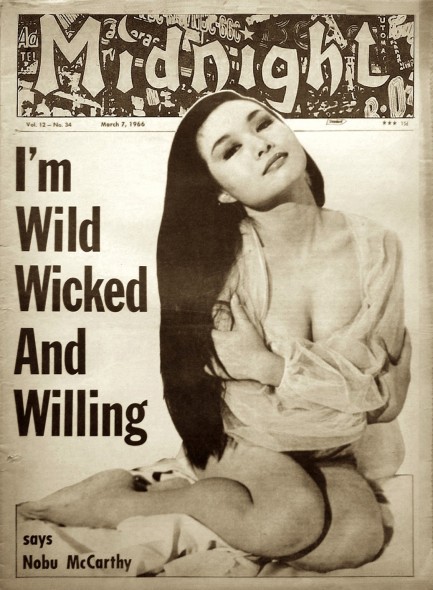 We mentioned a while back that the cheapie tabloid Midnight was printed in Montreal, which made it more of a Canadian than American publication. Above you see a rare cover of Minuit, which was the Canadian Midnight. This hit newsstands today in 1966, and it's basically a duplicate of the Nobu McCarthy cover we shared on this day last year. Well, not an exact duplicate. As you can see by looking at the image on the right, the cover text on the U.S. version says: "I'm wild, wicked, and willing," but on Minuit McCarthy says, "Je dis 'oui' aux hommes," which means, "I say 'yes' to men." The sentiment is the same, but we're reasonably sure both lines were made up by Midnight—and Minuit—editors.
---
She may well have been wild, wicked and willing but we doubt she ever said it to Midnight.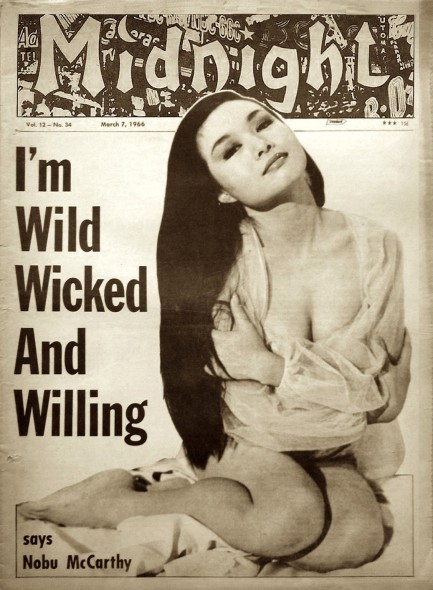 Above, a Midnight from today 1966 with cover star Nobu McCarthy, wild, wicked and willing. Or so Midnight claims. Born Nobu Atsumi in Canada of Japanese extraction, McCarthy won the 1955 Miss Tokyo pageant, and later parlayed a chance Los Angeles encounter with a talent agent into a television and theater career dotted with film roles. As far as Midnight's suggestion of availability goes, McCarthy was already married with children by 1966, and probably already too well-known to have to stoop to cheap publicity techniques on the covers of second rate tabloids. Which means we're putting this quote entirely on the editors. After many years on screen and stage, McCarthy died of an aortal aneurysm while filming Gaijin—Ama-me Como Sou in 2002. Below is a still of her from her first credited film role in the 1958 Jerry Lewis comedy The Geisha Boy.
---