Reiko Ike's pelvic floor exercises pay off big time.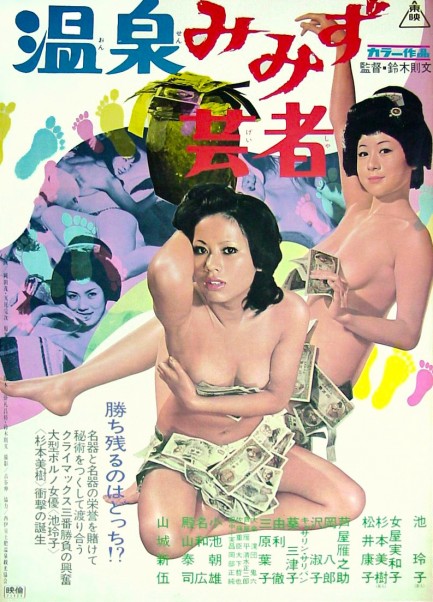 Onsen mimizu geisha, which premiered today in 1971, stars an eighteen-year-old Reiko Ike, along with Miki Sugimoto and Junkô Tôda, in yet another tale centered on a Japanese hot spring—Toi Onsen on the Izu Peninsula. So what is this about specifically? Basically, in order to avoid losing the family's ancestral burial plot to debt collectors, Ike is forced to become a geisha, which turns out to be a natural choice because of the muscle control she has over her vagina. The extraordinarily pleasurable sensation she creates in there is akin to that of worms writhing. Yes, you read that right—worms. Warm ones, of course. And this is where the title of the movie comes from—Onsen mimizu geisha, or "hot springs earthworm geisha." Do you need to know more? This is a classic, with a lot of goofy humor, plenty of bare skin and bikinis, a strong visual style from director Noribumi Suzuki, and some bizarrely aggressive octopi. And most importantly it has Ike, who's radiant throughout, never more so than when flashing the viewer during the naughty opening credit montage. Maybe not for everybody, this one, but it certainly worked for us.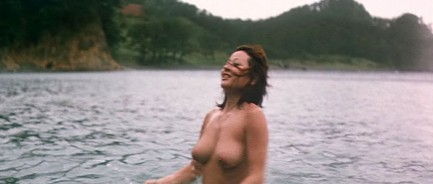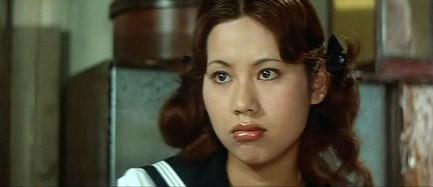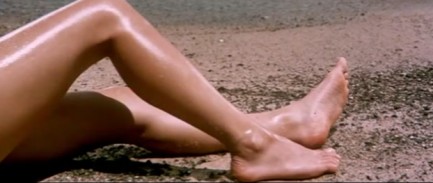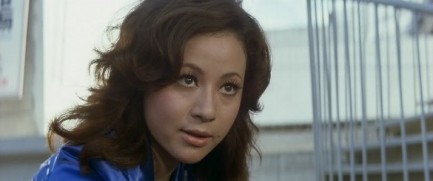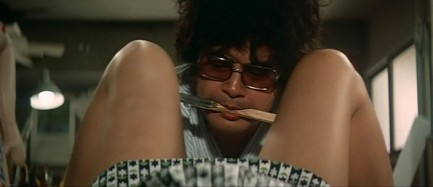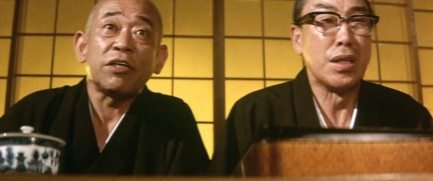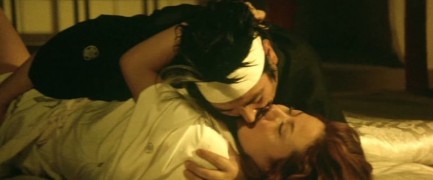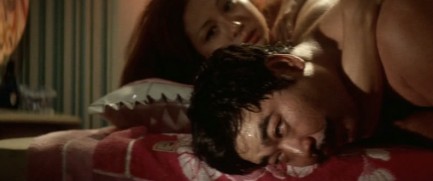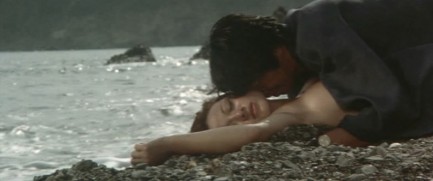 ---
Reiko Ike and Sandra Julien get together and sparks fly.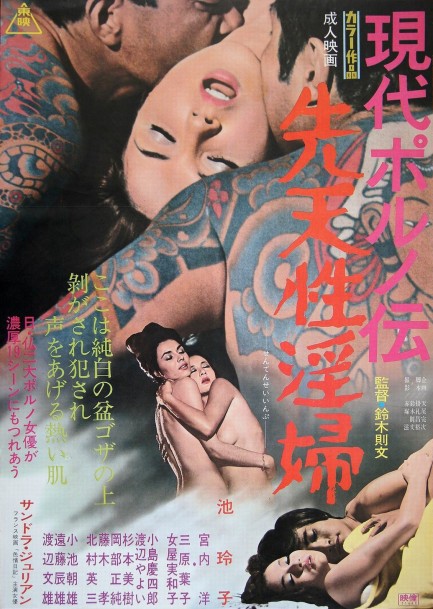 Gendai poruno-den: Sentensei inpu, aka Modern Porno Tale: Inherited Sex Mania, aka The Insatiable is a Noribumi Suzuki-directed tale of sexual awakening, but we bet most viewers don't awaken until co-stars Reiko Ike and Sandra Julien end up in the show

er together. Pretty steamy stuff, and as a bonus the two migrate into bed, which you see in the photo below. Prefacing that agreeable sequence are less agreeable but standard pinku elements, including legions of slimy horndogs, shameful voyeurism, forced de-virginization, a drugging, and an alcohol fueled orgy. The only good thing that happens is that Ike falls into bed with Pulp Intl. fave Miki Sugimoto. Actually, that's nearly the opening sequence, which is nice because it lets you know exactly where the movie plans to take you. But that interlude aside, other aspects of Reiko's life really suck, and her escalating problems eventually lead to a brawl which she escapes by hiding in a parked car. The man who owns that car seems to be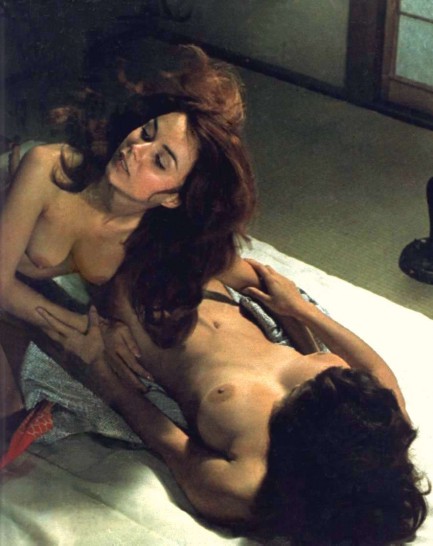 the person destined to save her from the sordid club girl life she's made for herself. Or is he? He slaps her within minutes of their initial meeting, but can you blame the guy? She was trying to kiss him. We can't pretend to truly understand these movies, and since there are no real reviews of this one online we're flying blind with our interpretation, but the message seems to be that sluttiness is genetic. In any case, we love the two posters at top. We also love the two promo images below of Ike and Julien. Gendai poruno-den: Sentensei inpu opened in Japan today in 1971.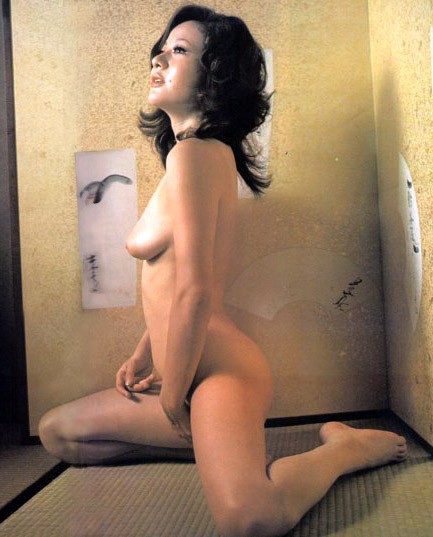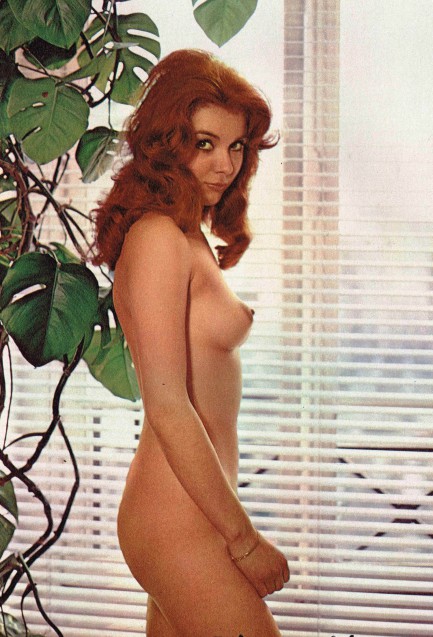 ---
Butt on the other hand...

Above, a poster for Noribumi Suzuki's Ero shogun to nijuichi nin no aisho, aka Lustful Shogun and His 21 Mistresses, aka The Erotic Shogun and His Twenty-One Prostitutes, which starred Tôru Abe, Yasumori Hikita, and also features three of our favorite pinku actresses, Reiko Ike, Yayoi Watanabe, and Miki Sugimoto. We had a bit of a debate here at Pulp HQ as to the actual number of buns 21 women possess. Would it be 21 or 42? The PI girlfriends just rolled their eyes at this question, by the way. But it's worth exploring. In the strictly physical sense, a bun possesses two halves, right? Thus one woman has one bun, comprising two halves, each of which might be useful for an open face sandwich, perhaps, but which cannot by itself constitute a whole. Alternatively, when referring to a person's backside, you might observe that she has nice buns. More to the point, if there were, say, a tattoo there, you might say, "She has a tattoo on her right bun." Actually, first you might say, "Poor girl. That looks really frickin' trashy and she has no idea." But then you'd say she has a tattoo on her right bun. Or left bun, as the case may be. Or saddest of all, across both buns. All of which would seem to imply that 21 women have 42 buns. The PI girlfriends suggested we go with the British term "bum," which is not in any way ambiguous, but also doesn't rhyme with "gun," which was really the whole point. Actually, it technically could rhyme with gun, depending on how loose your interpretation of rhyming is. Certainly, a rapper would agree that bum rhymes with gun, but we don't rap, so in the end, we went with bun. That is, one woman has one bun. All pretty confusing, truthfully. At this point we'd normally do a quick review, maybe show you some still shots of these 21 mistresses that populate Ero shogun to nijuichi nin no aisho, maybe even mention that it premiered in Japan today in 1972, but after dragging you through the cramped, dark spider hole of our editorial process, the least we can do is show you an/some actual bun/buns. So there's Reiko's below. Hooray!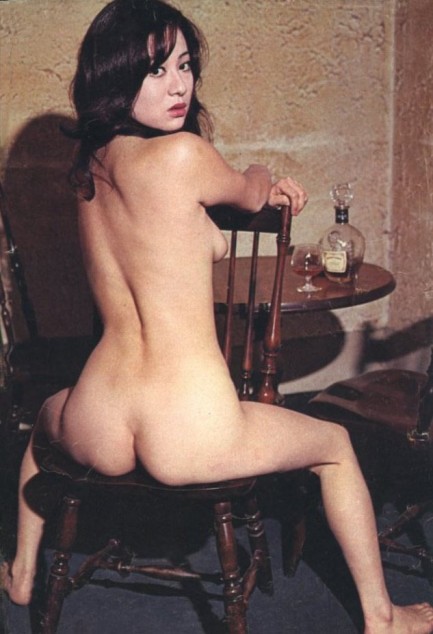 ---