The Depression-era magazine Hot Dog had two sides—and so did its editor.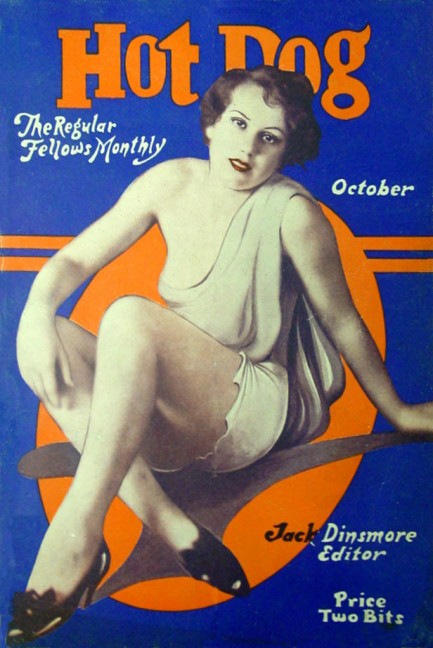 Hot Dog was a humor monthly published out of Cleveland, Ohio during the 1920s and 1930s, and distributed throughout the Great Lakes states. It began as little more than a pamphlet, but quickly expanded to the digest you see above. It's formula for success? Largely, it seemed to be stupid ethnic jokes and bawdy limericks mixed with photos of showgirls and actresses. At least, that's mostly what we got out of this October 1931 issue.
But thanks to a little research, we discovered Hot Dog also had a serious side, positioning itself as a foe of prohibitionists and moral watchdogs of every stripe. You'll notice that editor Jack Dinsmore gave himself billing on the cover. Dinsmore was a pseudonym. We learned this from a rather beautiful 1996 New York Times article written by a woman who goes searching for traces of a father that died when she was seven.
Her father was Jack Dinsmore, and the author is shocked to discover he edited Hot Dog, a magazine that, as the Great Depression wore on, became more and more insulting toward Jews even though Dinsmore was Jewish. But we all know nothing makes a man compromise himself more quickly than the threat of joblessness, and in 1930s America that possibility would have been staring an unimportant Midwestern editor—and millions more people barely hanging on—right in the face.
Anyway, the Times piece is long and serious, but recommended. It teaches a lesson: nothing we write is ever truly lost. We'll keep looking for more Hot Dogs, and if we find any we'll definitely share them.
---
1954 murder results in fifty-year legal battle.
In this January 1965 issue of The Lowdown, editors take up the cudgel for convicted murderer Dr. Sam Sheppard, who was serving a life sentence for the bludgeoning murder of his wife, Marilyn. Dr. Sheppard claimed that, during the early morning hours of July 4, 1954, he was in his home sleeping on a downstairs daybed, when he awoke to his wife's screams. He ran to her aid and was attacked by a "bushy-haired man" and knocked out. When he came to he chased the man outside, fought him again, and was again knocked out. When he awoke once more, the intruder was gone and his wife was dead, having been severely beaten and apparently sexually assaulted. Police searched for the bushy-haired suspect, but eventually decided their perp was the good doctor himself. At a trial later that year a jury agreed, and Sheppard was sent up for life.
By the time Lowdown

began advocating for Sheppard, he had already been granted a writ of habeas corpas, and was about to be granted a new trial due to massive publicity surrounding the first that may have tainted the original jury pool. When Sheppard was retried the next year—with none other than a young F. Lee Bailey acting as his defense lawyer—he was acquitted on the basis of reasonable doubt. However, the verdict did not clear Sheppard's name to the satisfaction of some family members. Efforts to do that continued all the way until 2002, complete with DNA testing on the exhumed corpses of Sheppard, his wife, and her unborn fetus. Results: inconclusive.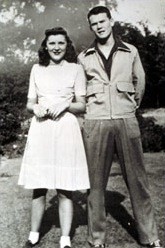 So you must be wondering why police focused on Sheppard in the first place. It wasn't just because he was the husband, and his marriage was unhappy. Police investigators are very much like statisticians. Certain types of cases share certain traits, and the more traits a particular case shares with a certain category of cases, the more probable a certain conclusion begins to seem. An example: a home invader will nearly always immobilize the gravest threat first, meaning the man of the house; but in a staged domestic murder the man nearly always, somehow, is overlooked by the intruder, leading to a heroic rescue attempt that fails and results in injuries that are, somehow, never life-threatening. Another example: in a staged domestic murder the man will often remove clothing from the victim to imply that the motive was sexual assault by an intruder; but the rape is never consummated, for obvious reasons.
The list goes on. Suffice it to say, to the cops Marilyn Sheppard's killing seemed like a textbook staged domestic homicide, and they proceeded based on that assumption. But regardless, the evidence was never there for a conviction. Of that, there's little dispute. Today, Sheppard's innocence or guilt remains a hot topic in the Ohio town where he lived. And it probably always will be, if only because people there are reminded of the case every time The Fugitive appears on television. That's right—if certain details of the story seem familiar, it's because both the series and movie took inspiration from the Sheppard case. And there was one more important result. It catapulted F. Lee Bailey to national prominence as an attorney, a position he has held ever since in defending everyone from Patty Hearst to O.J. Simpson.


---