They're not really going anywhere but they look mighty good doing it.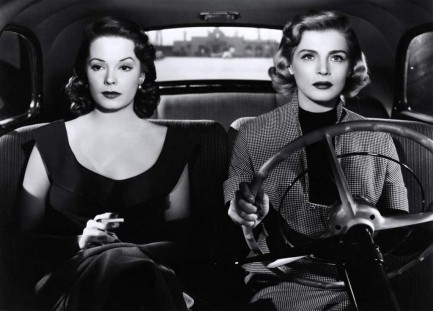 What's a period drama without a fake driving scene? Nearly all such sequences were shot in movie studios using two techniques—rear projection, which was standard for daytime driving, and both rear projection and lighting effects for simulating night driving. Many movie studios made production images of those scenes. For example, above you see Jane Greer and Lizabeth Scott, neither looking happy, going for a fake spin around Los Angeles in 1951's The Company She Keeps. We decided to make a collection of similar shots, so below we have more than twenty other examples (plus a couple of high quality screen grabs) with top stars such as Humphrey Bogart, Ingrid Bergman, Barbara Stanwyck, Robert Mitchum, and Raquel Welch. We've only scratched the surface of this theme, which means you can probably expect a second collection somewhere down the road. Incidentally, if you want to see Bogart at his coolest behind the wheel look here, and just because it's such a wonderful shot, look here for Elke Sommer as a passenger. Enjoy today's rides.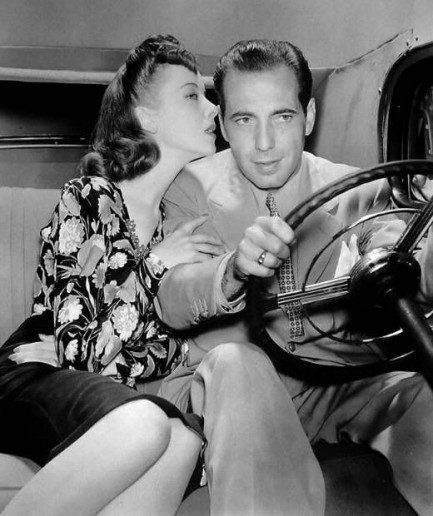 Humphrey Bogart tries to fake drive with Ida Lupino in his ear in 1941's High Sierra.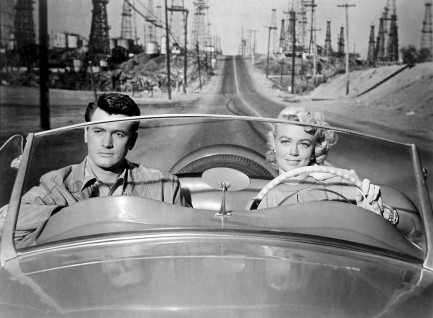 Dorothy Malone, Rock Hudson, and a rear projection of Long Beach, in 1956's Written on the Wind.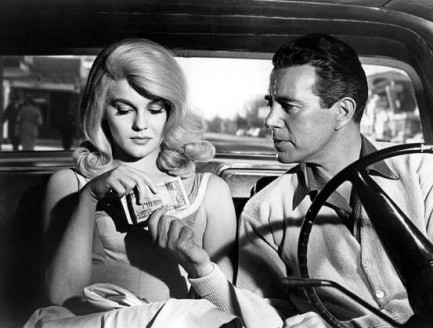 Ann-Margret and John Forsythe in Kitten with a Whip. We think they were parked at this point, but that's fine.
Two shots from 1946's The Postman Always Rings Twice with John Garfield and Lana Turner, followed by of shot of them with soon-to-be murdered Cecil Kellaway.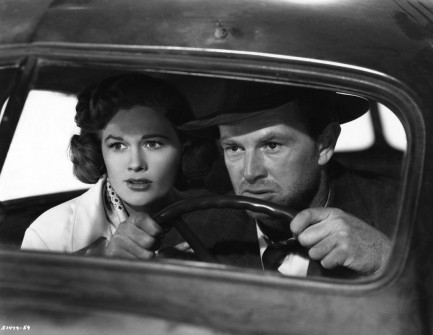 Shelley Winters, looking quite lovely here, fawns over dapper William Powell during a night drive in 1949's Take One False Step.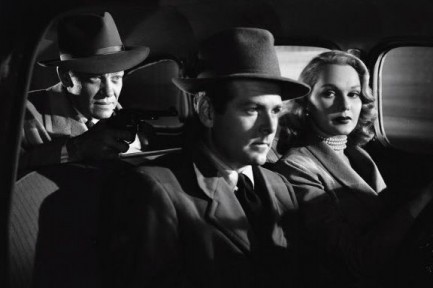 William Talman, James Flavin, and Adele Jergens share a tense ride in 1950's Armored Car Robbery.
William Bendix rages in 1949's The Big Steal.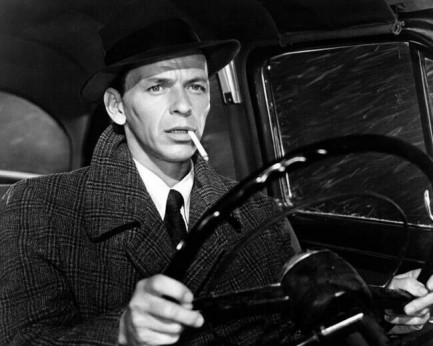 Frank Sinatra drives contemplatively in Young at Heart, from 1954.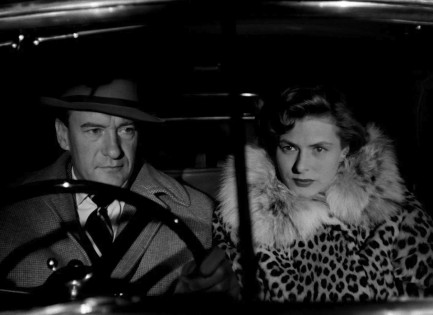 George Sanders drives Ingrid Bergman through Italy, and she returns the favor, in 1954's Viaggio in Italia.
Harold Huber, Lyle Talbot, Barbara Stanwyck and her little dog too, from 1933's Ladies They Talk About.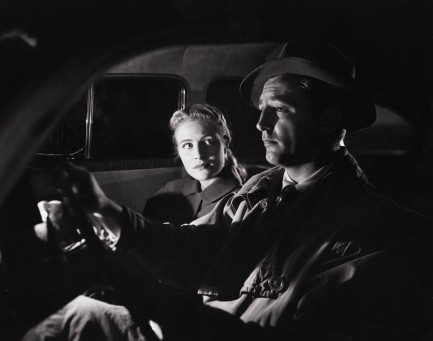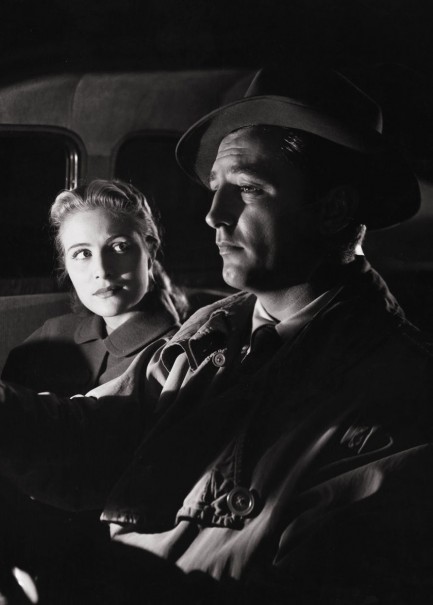 Virginia Huston tells Robert Mitchum his profile should be cast in bronze in 1947's Out of the Past.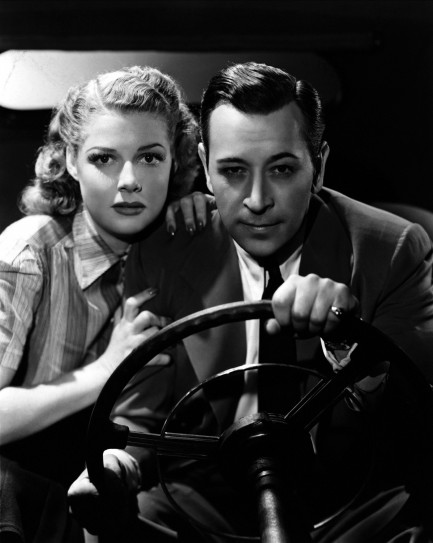 Ann Sheridan hangs onto to an intense George Raft in 1940's They Drive by Night.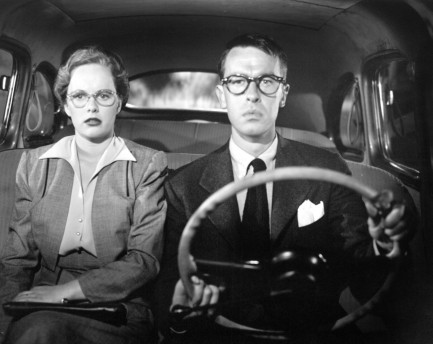 Peggy Cummins and John Dall suddenly realize they're wearing each other's glasses in 1950's Gun Crazy, a film that famously featured a real driving sequence, though not the one above.
John Ireland and Mercedes McCambridge in 1951's The Scarf.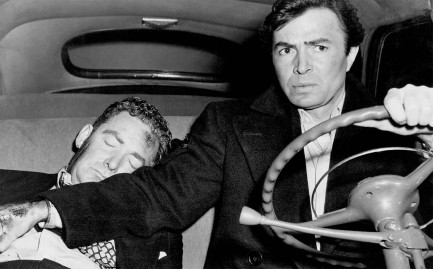 James Mason drives an unconscious Henry O'Neill in 1949's The Reckless Moment. Hopefully they're headed to an emergency room.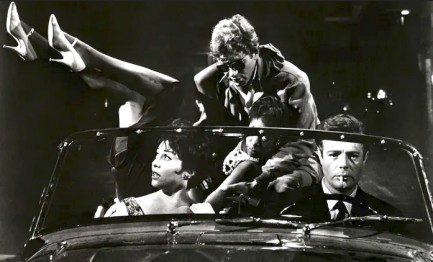 Marcello Mastroianni driving Walter Santesso, Mary Janes, and an unknown in 1960's La dolce vita.
Tony Curtis thrills Piper Laurie with his convertible in 1954's Johnny Dark.
Janet Leigh drives distracted by worries, with no idea she should be thinking less about traffic and cops than cross-dressing psychos in 1960's Psycho.
We're not sure who the passengers are in this one (the shot is from 1960's On the Double, and deals with Danny Kaye impersonating Wilfrid Hyde-White) but the driver is Diana Dors.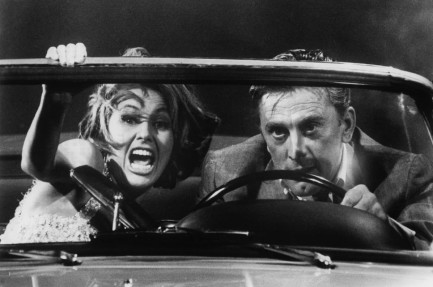 Kirk Douglas scares the bejesus out of Raquel Welch in 1962's Two Weeks in Another Town. We're familiar with her reaction, which is why we're glad the Pulp Intl. girlfriends don't need to drive here in Europe.
Robert Mitchum again, this time in the passenger seat, with Jane Greer driving (and William Bendix tailing them—already seen in panel ten), in 1949's The Big Steal. The film is notable for its many real driving scenes.
James Mason keeps cool as Jack Elam threatens him as Märta Torén watches from the passenger seat in 1950's One Way Street.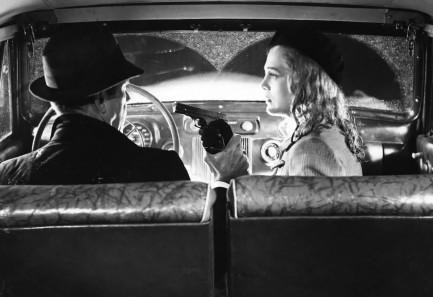 And finally, to take a new perspective on the subject, here's Bogart and Lizabeth Scott in 1947's Dead Reckoning.


---