One of these days these boots are gonna walk all over you.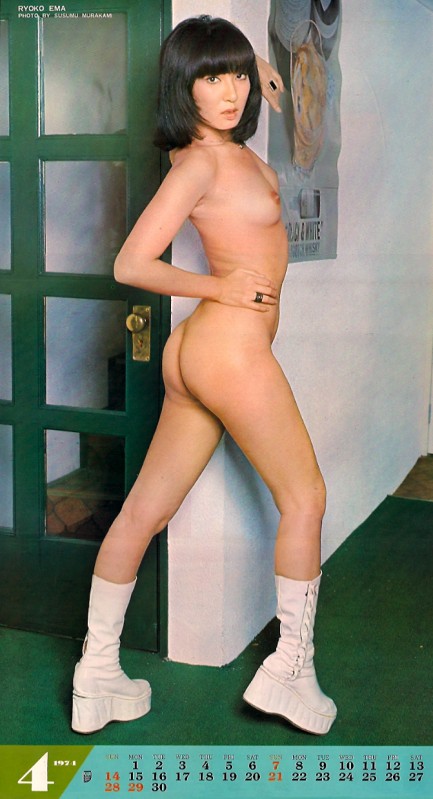 This image made by Susumu Murakami comes from an issue of the magazine Heibon Punch and is a large foldout we scanned in three pieces and put together in Photoshop. You're welcome. It shows Japanese actress Ryôko Ema, who appeared in such pinku epics as Onsen suppon geisha, Sukeban gerira, and 1973's all-time classic Furyô anego den: Inoshika Ochô, aka Sex and Fury. We've discussed all those movies, but Ema was a supporting character, which is why we never mentioned her before. Omission remedied.


---
Hope Springs eternal in the human breast.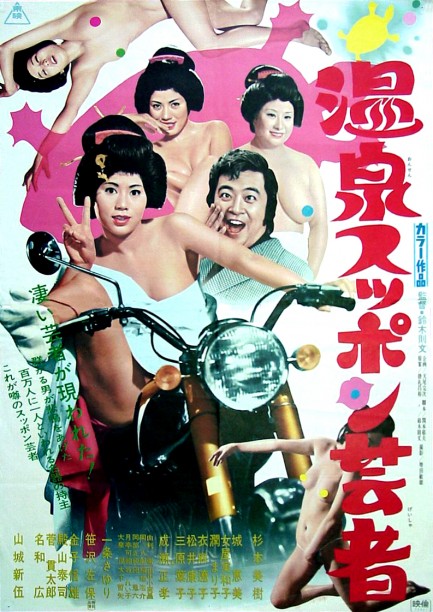 We've been watching a lot of these old Japanese films lately because, well, they're usually pretty fun. Today we have Toei Studios' comedic romp Onsen suppon geisha, aka Hot Springs Kiss Geisha, and to cut right to the chase here, Miki Sugimioto stars as a character known as Prostitute with Strong Vagina Muscles. Seriously. But it's all in good fun. Which reminds us, we feel we've been remiss in pointing out to those unfamiliar with pinku, roman porno and the like that these flicks aren't pornographic. Sexually discomfitting? Yes. Absurd? Usually. In terrible taste? Almost always. But they aren't pornographic. Everything is accomplished through suggestion, camera angles, and clever editing. Onsen suppon geisha was part of a Hot Springs series, with Sugimoto having debuted in the first installment in 1971. In this one, she's so good at using that super strong vagina of hers that she can fuck guys to death. In the end, she's pitted against a sexual superman and a showdown ensues. There's also a subplot about a mad scientist type who needs vaginal juices to create a potion designed to turn Japanese girls black—see below. Is this where the ganguro trend began? We have no idea. Onsen suppon geisha opened in Japan today in 1972.

---