Monroe may wobble but she won't fall down.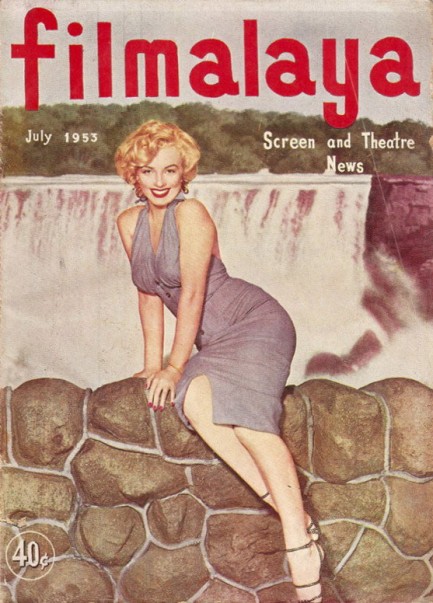 Marilyn Monroe shows up just about everywhere, and here she is yet again where we didn't expect to see her—fronting a Malaysian film publication that appeared today in 1953. The magazine, called Filmalaya, is in English, which marks it as aimed at the British colonial community that occupied the upper stratum of society in Malaysia and Singapore. The cover photo is from a publicity series made when Monroe filmed the movie Niagara in Ontario, Canada in late 1952, and let's just assume her perch is not as precarious as it seems and there's a handy ledge or lawn behind her in case she goes heels up. But if she does, there are other stars in the magazine, such as Joan Collins, Betty Grable, Rhonda Fleming, Ava Gardner, and Nat King Cole.
Filmalaya represents an interesting snapshot into colonial society, as in the article about Queen Elizabeth's coronation in London, which describes the thrills and excitement in Malaysia during the event. Doubtless, the mood around the Commonwealth probably seemed festive when viewed from inside the colonial bubble, but we doubt actual Malaysians were particularly moved. Needless to say, this magazine is rare, but luckily items from Asia are often a bargain, so this cost a mere six U.S. dollars. While the inside is nothing special visually speaking, that doesn't matter when the magazine has this great cover and is such an informative slice of history. We've uploaded a few of the best pages below. Enjoy.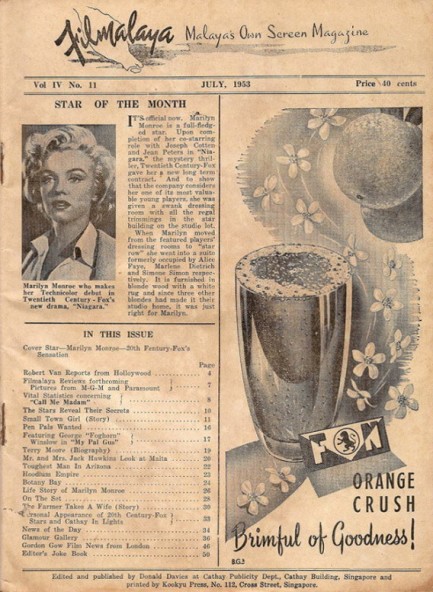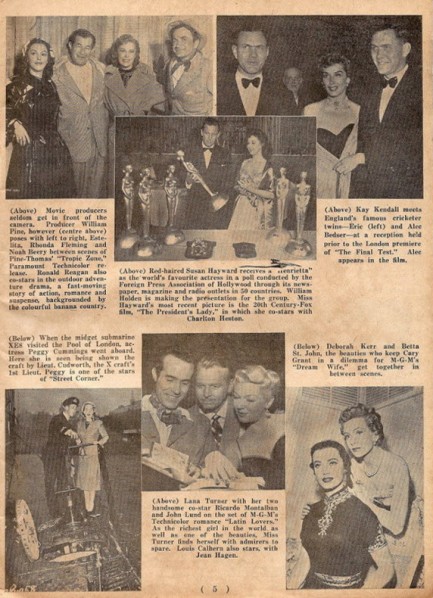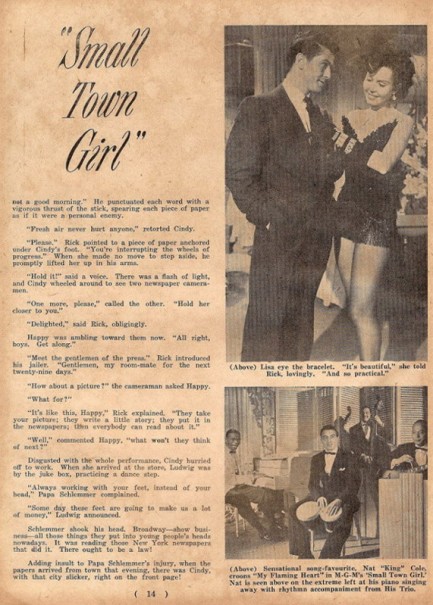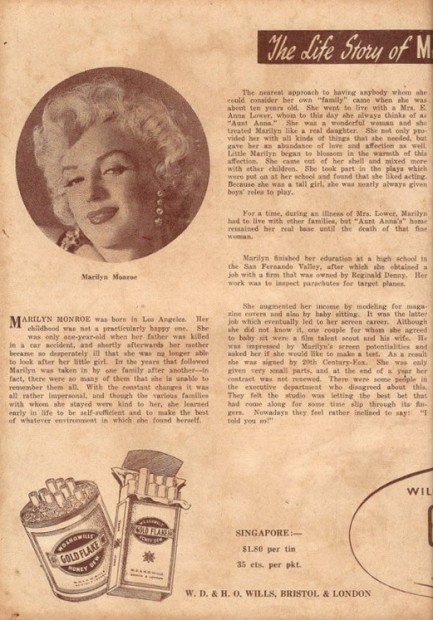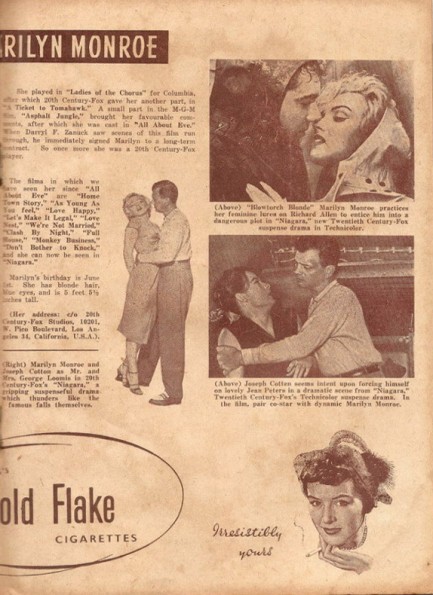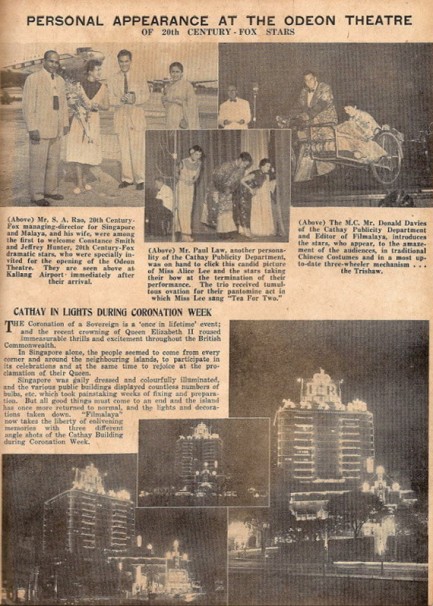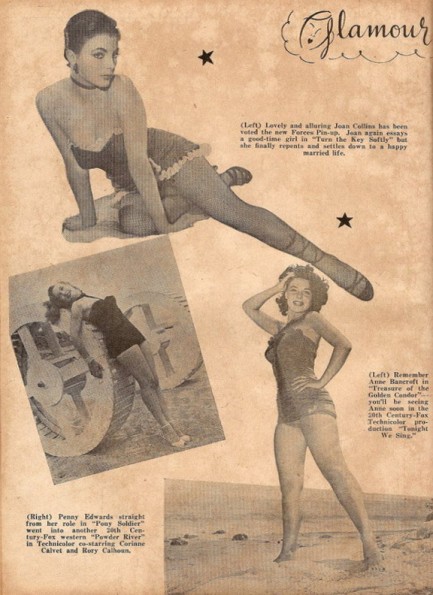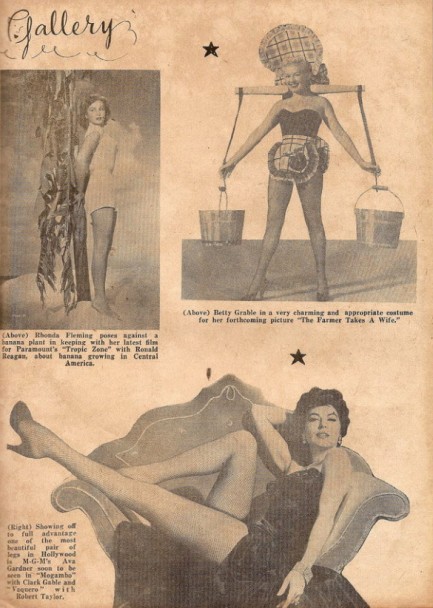 ---
I love them. But how do I stop?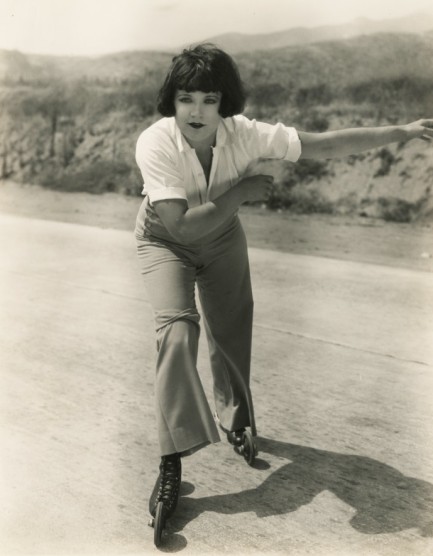 Remember when inline skates were invented and everyone thought they were new? Not so much. They date back to the 1780s, and these two-wheeled inline skates are from 1935. They're attached to the feet of Canadian actress Marie Prevost, who made more than one-hundred films during her Hollywood career. Prevost said of her skates that they were almost as much fun as the ice skates of her youth in Ontario. After many years of hitting the bottle, Prevost died of acute alcoholism two years after this carefree photo was taken.
---
Bubble dancer decals would make any drink an adult beverage.
Here's a sheet of "decal" transfer decorations (the term decal is apparently a trademark—who knew?) picked up for a couple of bucks in an Ontario antique shop. According to the directions on the reverse, these decals, design code 899-C, were made by Canada Decalcomania Co. Ltd., Toronto-Montreal. A code on the back, 47-9-48, may or may not indicate their vintage. The directions say there are two more designs available to complete this set. The search continues!
Submitted by Dave Lamb
Thanks for the share, Dave. These speak to a quintessential truth about men and alcohol—if a girl isn't as beautiful as these decals by the first drink, she will be by the sixth.
---