Giger retrospective taps into sexual obsessions and primal fears.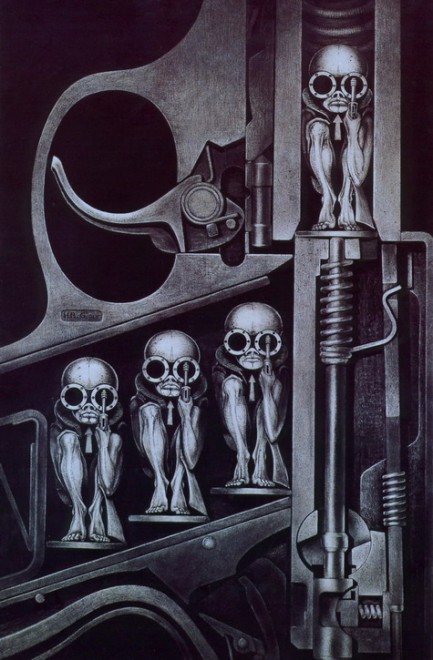 We've always liked the work of biomechanical airbursh artist H.R. Giger—it reminds us of high school, and the anguished sexual obsessions of that time. Most people associate his art with the Alien

franchise because he did the production design for the original film, and all the sequels have built upon that foundation. But Giger is about more than just slimy, vicious monsters. For instance, the piece you see above, "Birth Machine," is quintessential Giger. The crucial clue to its meaning comes from the title. And as we look closely at the piece, we see a pistol in which the bullets are half human creatures who themselves are holding pistols. If we assume each of their pistols in turn contain little bullet men with more guns loaded with more bullet men, we understand that Giger is making a statement about us killing ourselves through overpopulation. In a sense, each of us is a weapon, loaded with deadly ammunition and lacking any sense of restraint that might help us see that our state of perpetual war and environmental destruction derives from the fact that there are simply too damned many of us. Or something like that.
We bring all this up because we saw a Giger exhibit in person at the Kuba Art Gallery in Donostia-San Sebastián, Spain, and the pieces were extremely interesting. They're otherworldly, yes. Biologically weird, certainly. Relentlessly vaginal, absolutely. Giger is well known for those things. But there's also a darkness and density to the pieces that is very impressive in person. Their geometry and the physics implied within are Lovecraftian in a sense, which is why we weren't surprised when we saw that two of Giger's early pieces were in fact representations from the great horror writer H.P. Lovecraft's fiction. The exhibit also included a larger than life movie alien menacingly perched on a wall, as well as a macabre dinner table with six biomechanical chairs. If a Giger exhibit ever comes to your town, by all means, go. Any effort will be worth the time and energy spent to see this unique master's nightmarish work in person. We have more images below, and we apologize for their blurriness, but we were too terrified by the art to focus.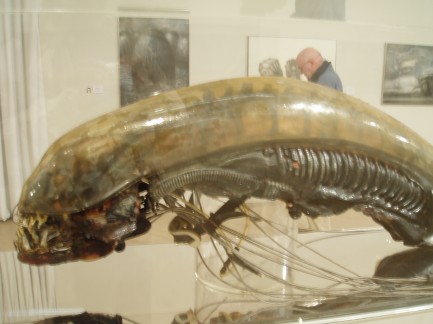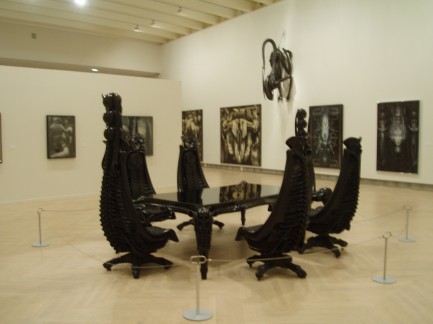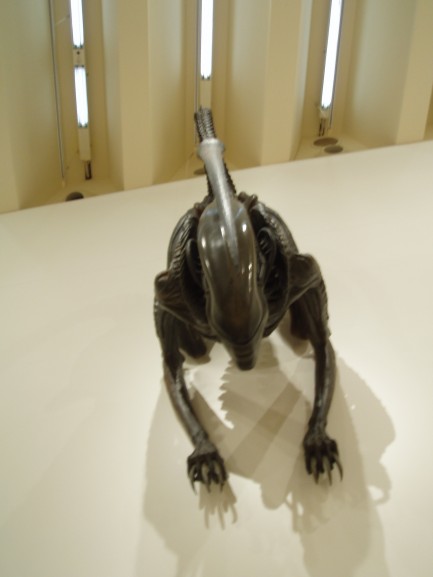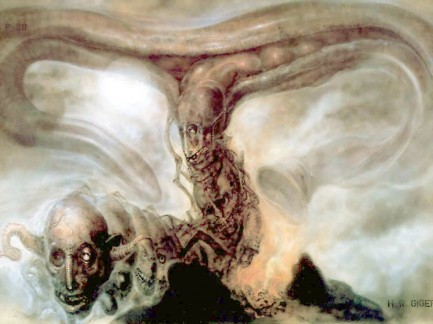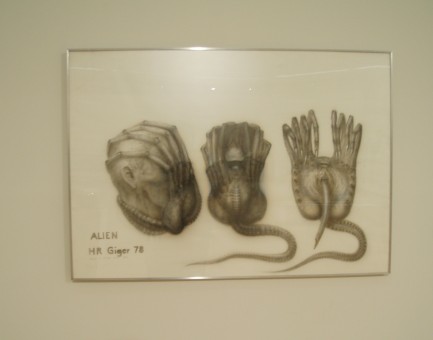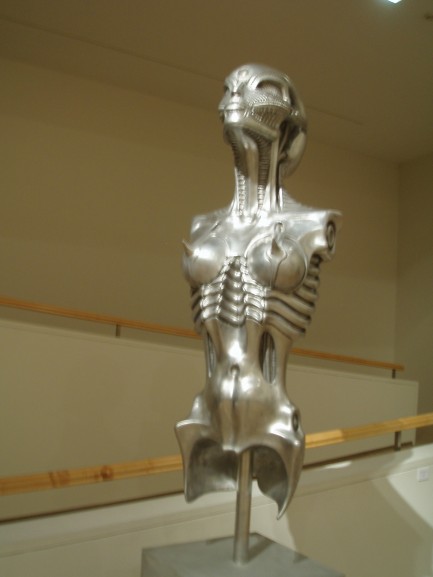 ---
The slings and arrows of outrageous fortune.
Here's a little piece of modern pulp we found in a bar in Donostia-San Sebastián, Spain. We had just finished a round of tasty apple-flavored shots, and there it was on the bartop at a place called Akerbeltz. The magazine is called Gehitu, and it's published by a GLBT rights organization based in Northern Spain. The magazine is nicely put together, promotes a cause we respect, and is filled with events information, but what interests us most is their usage of an iconic photo of Ursula Andress, who they've given winglike appendages and depicted as wounded but unbowed. If we assume this is a visual reference to Hamlet's famous "To Be or Not To Be" soliloquy, then it's a poignant and clever rebranding. Since we started this website we've discovered that small magazines, flyers and pamphlets are goldmines of pulp styled art. In those media we tend to find creators who truly get what pulp is about. We've been picking up these bits and pieces, and with today's post have shared one of our many finds. We'll have more for you down the line.
---