There's no shelter from a storm this bad.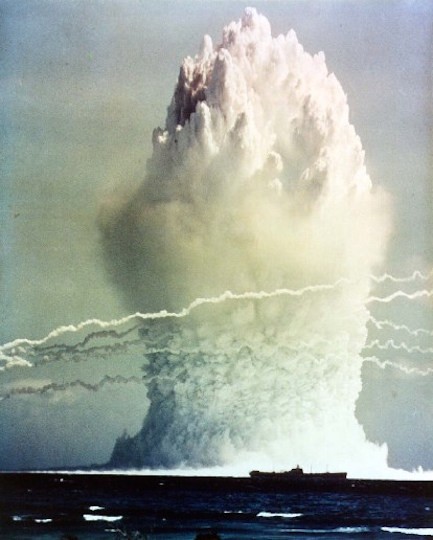 Above is a photo of the underwater nuclear test codenamed Umbrella, which was part of the Hardtack series of tests conducted by the U.S. in the Pacific Proving Grounds—aka Marshall Islands—in the South Pacific. The test happened today in 1958.


---
Just wait until she shows her face.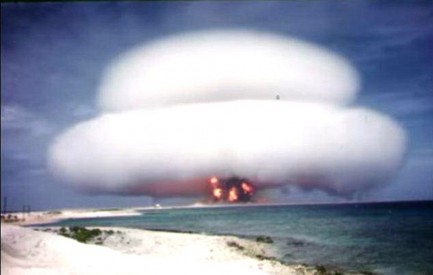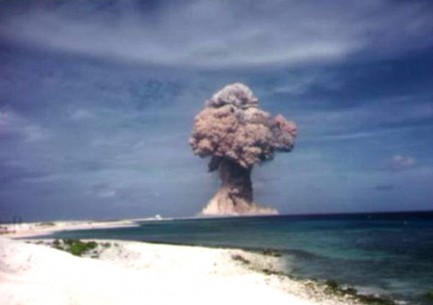 The explosion captured in these two photos is the Nutmeg nuclear test conducted on Eneman Island, part of the Marshall Islands chain, in the South Pacific between Hawaii and the Philippines. The first shows the bomb just after detonation surrounded by what is known as a Wilson Cloud, moisture condensed out of humid air by shock waves. The second photo shows the explosion about fifteen seconds later, with the obscuring moisture burned off. These images were taken from a collection of movies declassified by the U.S. and released by the National Laboratory in March. Everyone seems much more worried about nuclear weapons of late. Well, guess what? It was never a good idea to stop worrying. News outlets always say global warming is the greatest threat to human existence. It isn't. These are. And they will be as long as they exist. The images date from today, 1958
---
The years of living dangerously.
Operation Greenhouse took place on Enewetak Atoll at the Pacific Proving Grounds, with the aim of exploring methods for expanding the destructive capacity of nuclear weapons while reducing the amount of fissile material needed. There were four tests—above you see an image of the third of those, codenamed George. It occurred today (some sources say yesterday due to the time difference) in 1951.
---