1957 crime farce offers Slim pickings—at least until Dominique Wilms comes along.
We were busy little beavers last night. We watched a second vintage drama. At least, we thought it was a drama. Above you see an Italian poster for Slim Callaghan... il duro, which was originally made in France as Et par ici la sortie. It had no English title since it never had an English language release, but it was adapted from a novel by British author Peter Cheyney, who made a career of imitating American hard boiled detective novels. As many reviews of his fiction note, the vernacular was tricky for a guy who'd spent little if any time Stateside, making for some clunky prose at times.
When you watch Et par ici la sortie, it's clear that French filmmaker Willy Rozier picked up on the quirkiness of Cheyney's writing and decided to inject heavy doses of comedy into his film version. Thus in addition to gunplay there's a cream pie fight, a slapfest of attrition between Dany Dauberson and Pascale Roberts, a comedic brawl on a passenger airliner that almost results in a crash, and another brawl features that hoary vaudeville classic—seltzer water sprayed in the face. Much of this is hilarious, though not in the way Rozier and Co. intended—you'll laugh out of amazement.
The plot involves a Scotland Yard detective who is the virtual double of a criminal arms dealer, and decides he can infiltrate and bust the arms gang by relying upon this resemblance. But the arms dealer likewise realizes the resemblance and embarks on his own scheme to take advantage. Sounds positively scintillating, doesn't it? Erm... maybe not. But the movie isn't a total loss. Dominique Wilms gets a co-starring role here as the femme fatale Myrna de Maripasula. Think she isn't reason enough to watch? Think again. Et par ici la sortie premiered in France today in 1957.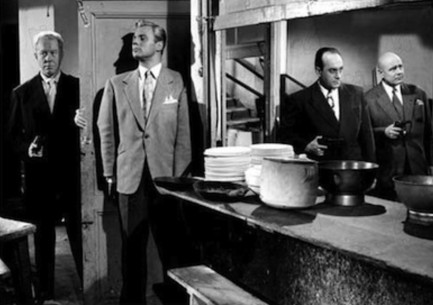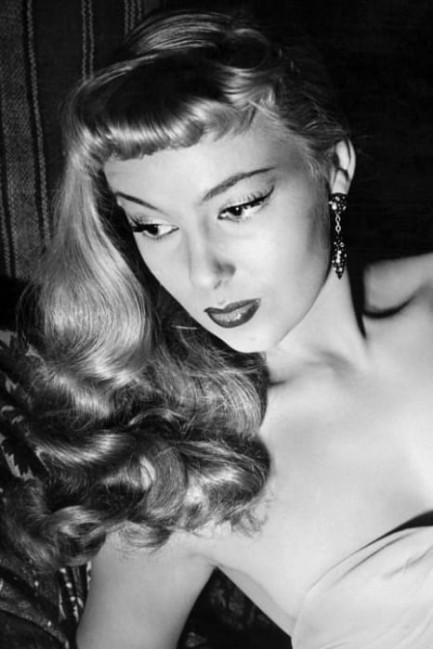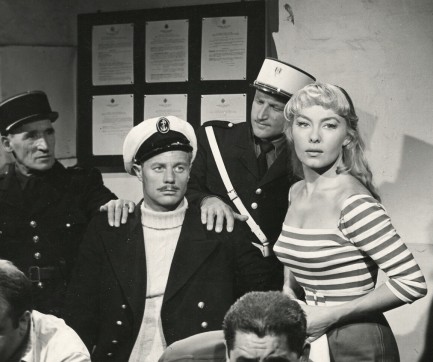 ---
I find plants ideal for alleviating stress. I've already successfully killed three ferns, a cactus, and four pots of posies.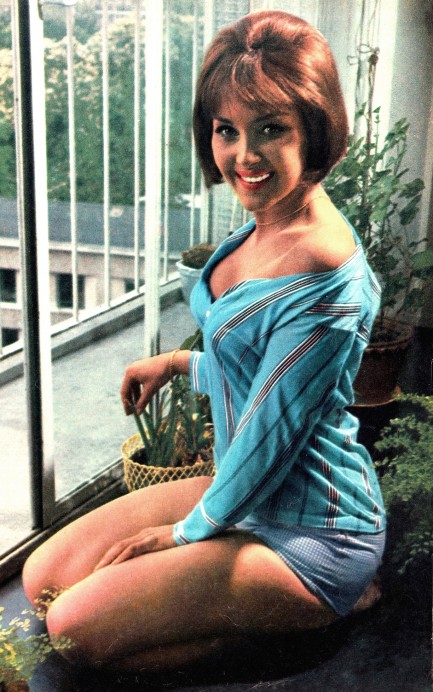 A Pascal is a physics unit that measures, among other things, internal pressure or stress, and it's pretty clear that Pascale Roberts is feeling none of that. She's a César Award nominated French actress who appeared in such films as Weiße Fracht für Hongkong, aka Mystery of the Red Jungle, and the television series Allô police. This shot of her tending some unlucky plants appeared in Belgian film magazine Ciné-Revue in 1964.


---
This particular Gondel is filled with unidentified passengers.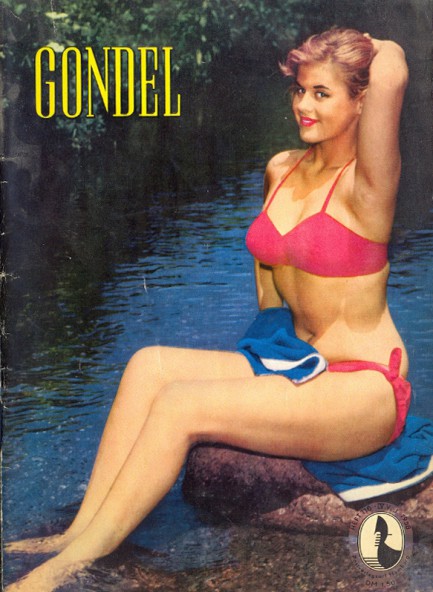 Back in 2010 we showed you some covers of the West German movie magazine Gondel, named of course after Venice's famed banana-shaped boats. Which is fitting because Gondel later began to dedicate itself to a completely different type of banana shape by turning into a porn magazine. You see, because a banana and an erect penis are both… er… filled with potassium… *someone turns on a blender behind the bar* Anyway, it was in the 1970s when Gondel shifted gears, and theirs wasn't an uncommon evolution among magazines around that time, as we've talked about before regarding the men's adventure publication Male.
Above you see the front of an issue that hit newsstands this month in 1958, and below are the interiors. The cover model is credited as Marlon Rota, as you can see by looking at masthead page where it says "titelfoto," but no person so named ever appeared in movies. It's possible her name is spelled wrong, because others are, but we checked similar names such as Marilyn Rota and Marlene Rota and came up blank. It's also possible she's just too obscure to register on the internet. So that's another of History's Little Mysteries™.
There are others. Inside the issue you get full-page shots of, top to bottom, Anne Heywood, Merry Anders, Rita Pizzy, Clark Gable with Jean Kay, Maggie McGrath, Elga Andersen, Nuccia Morelli, Yvonne de Carlo with Robert Morgan, unknown, Margarete Neumann, Linda Cristal, Karin Himboldt, Joan Collins, unknown, Pascale Roberts, Belinda Lee with unknown, Annie Gorassini, Anne Heyworth, Mamie Van Doren, unknown, and Arlene Dahl. Got any idea who the mystery passengers are? Let us know, and meanwhile check out the Gondel covers at this link.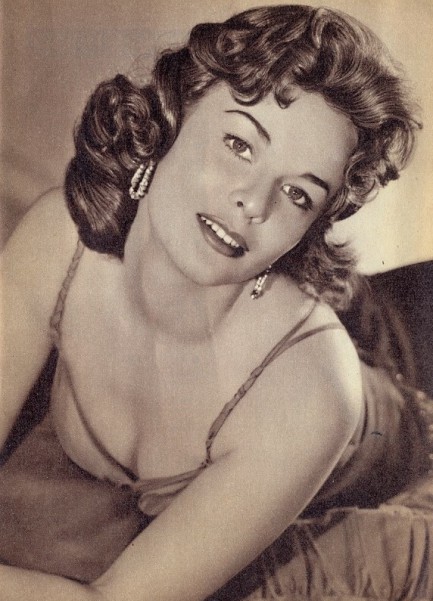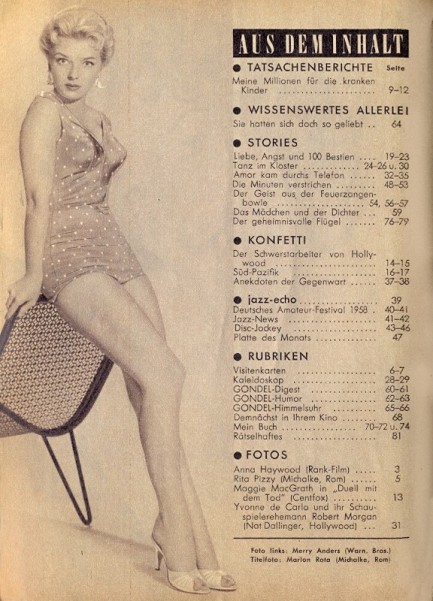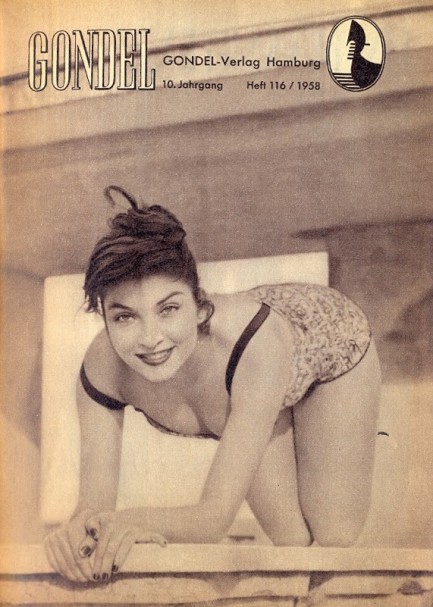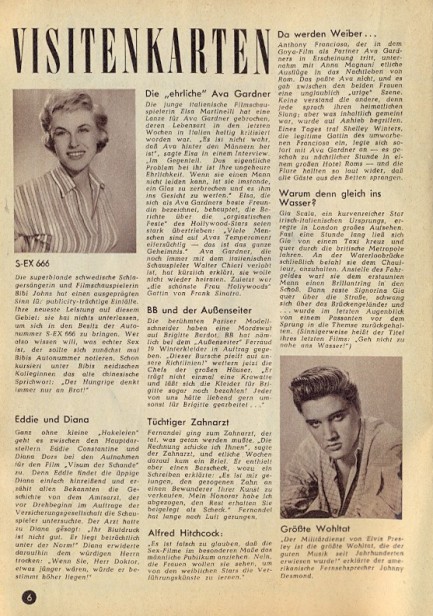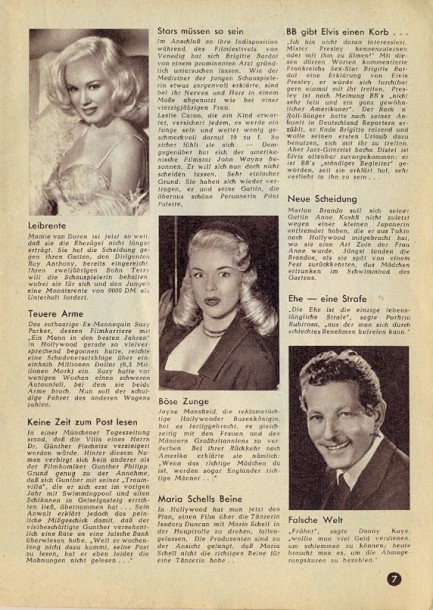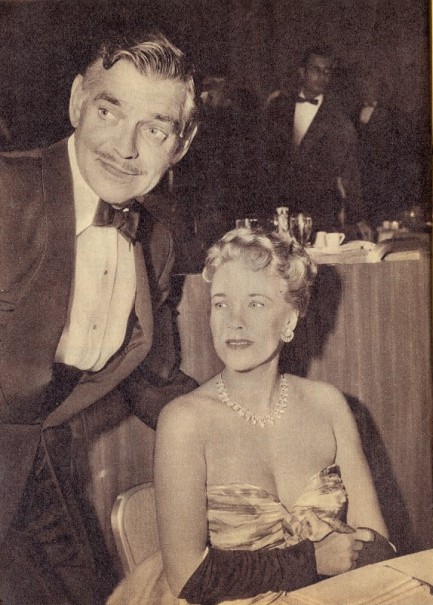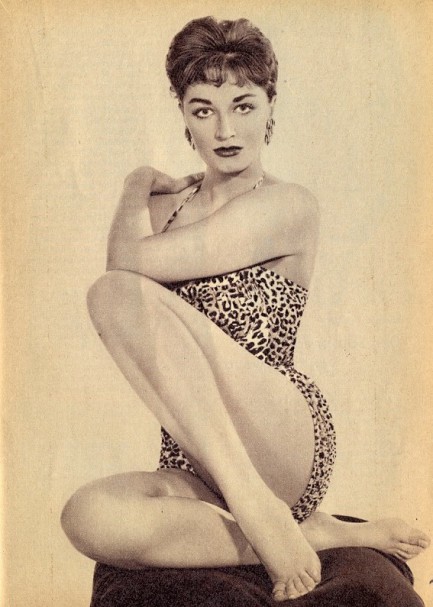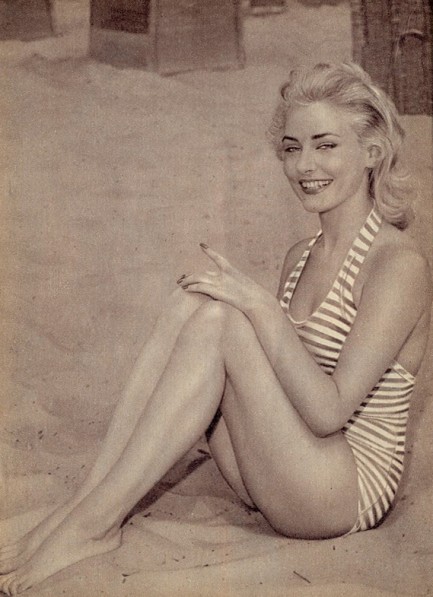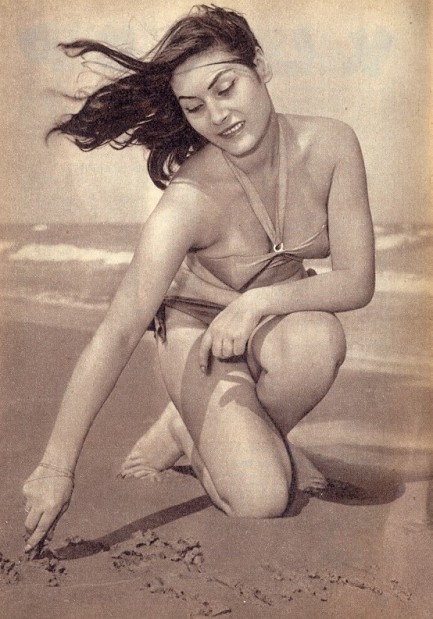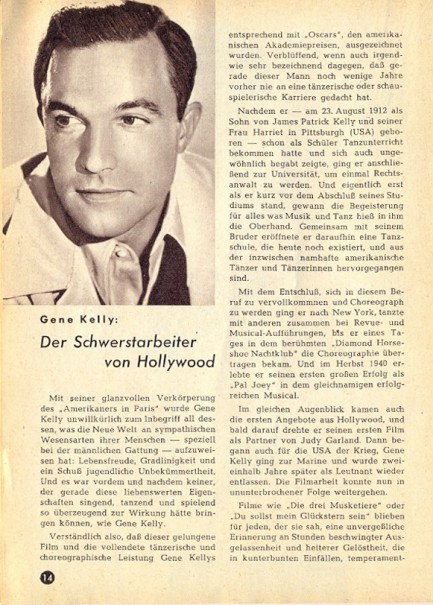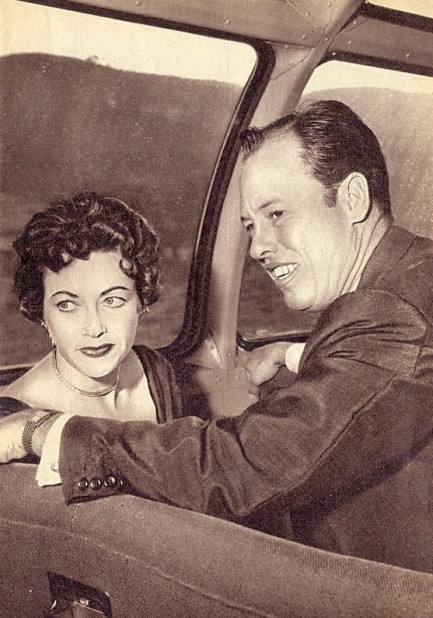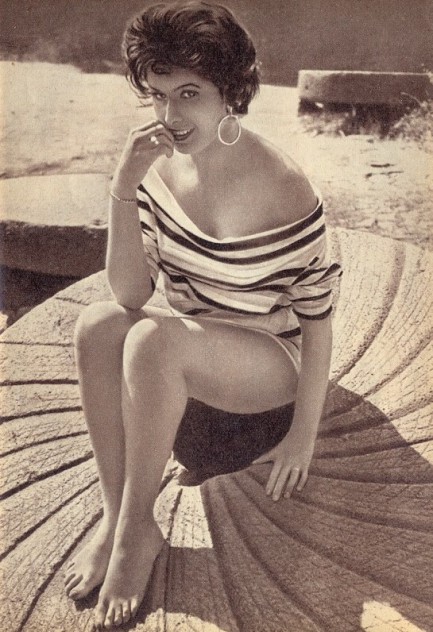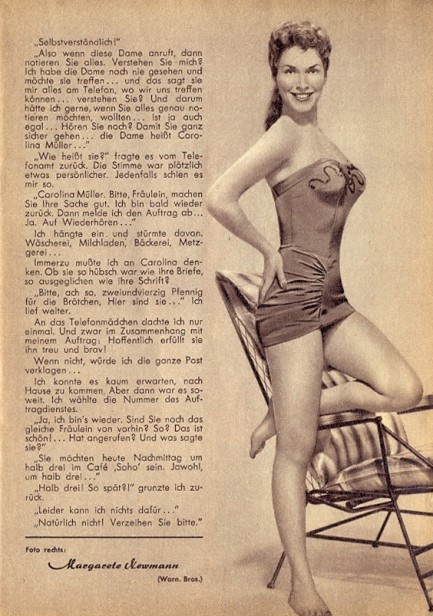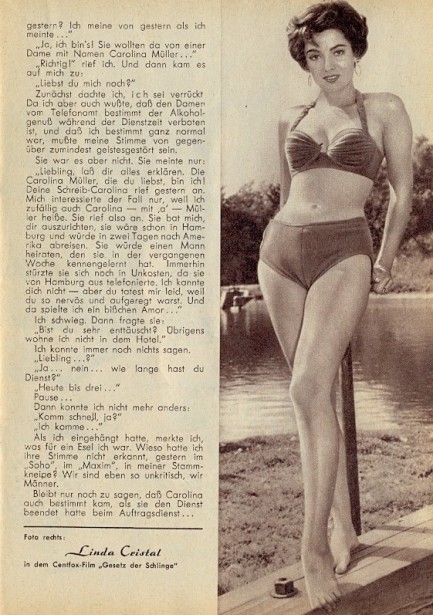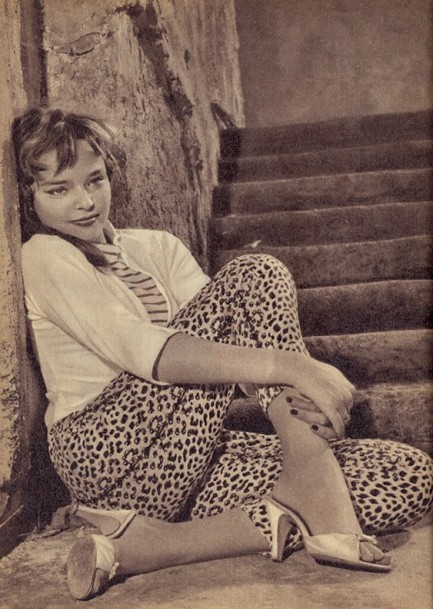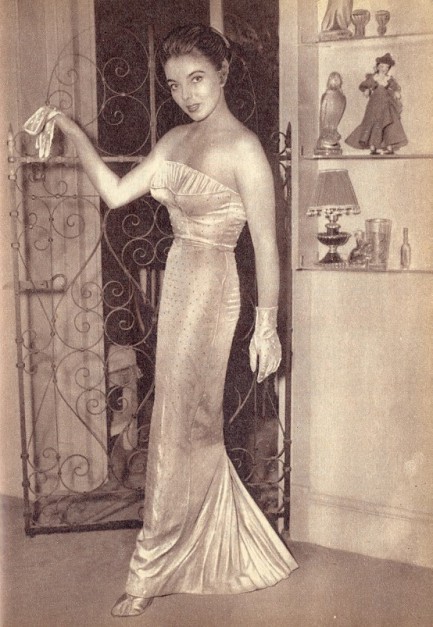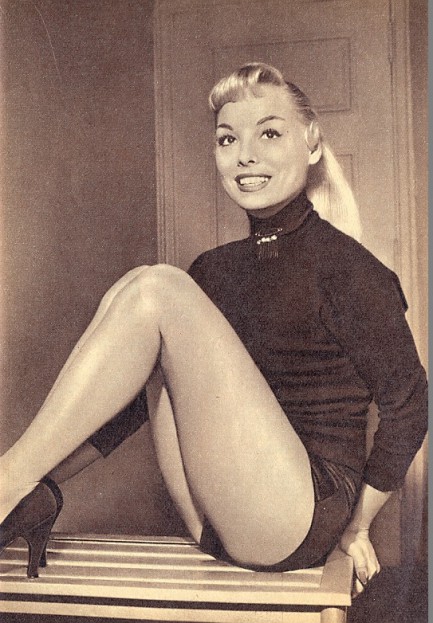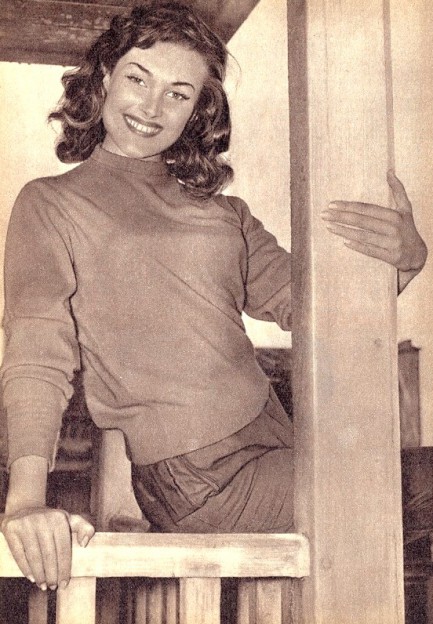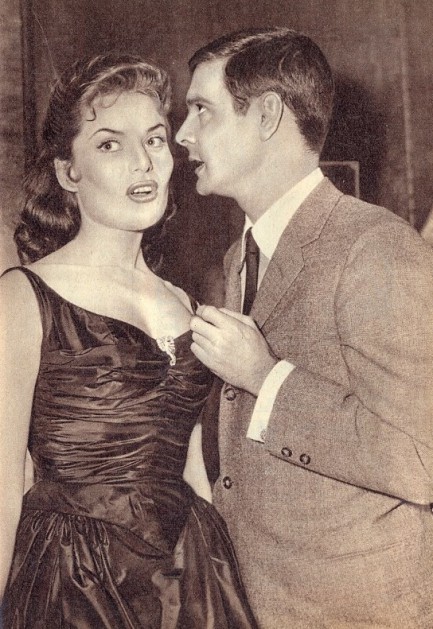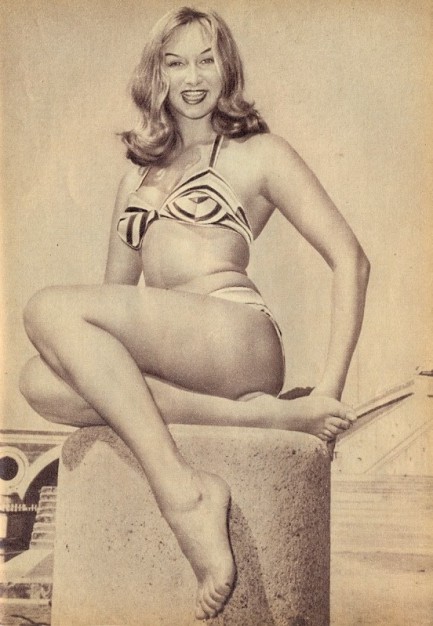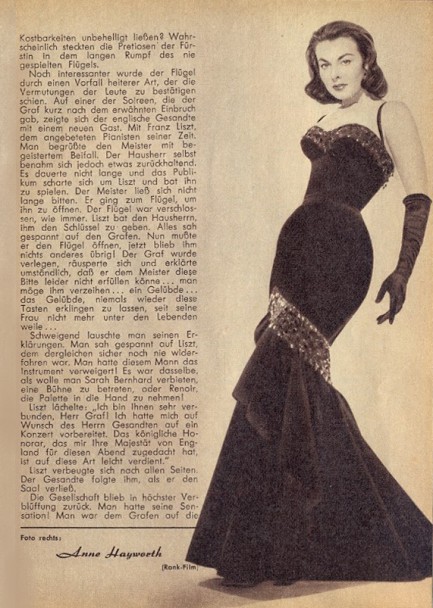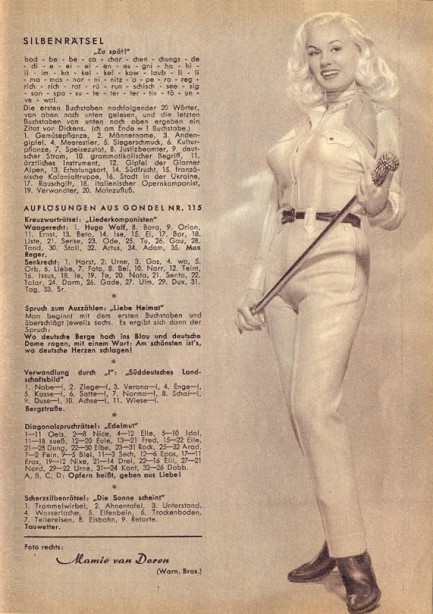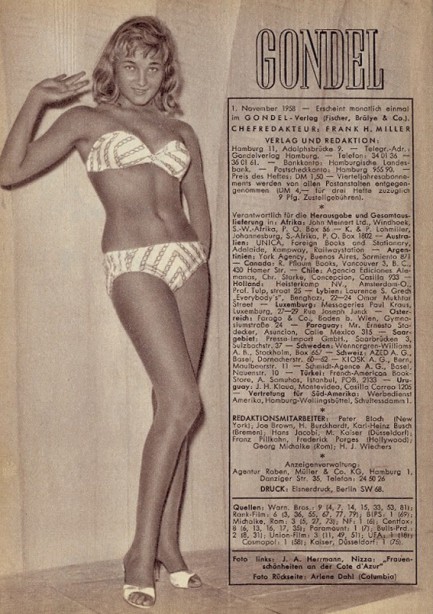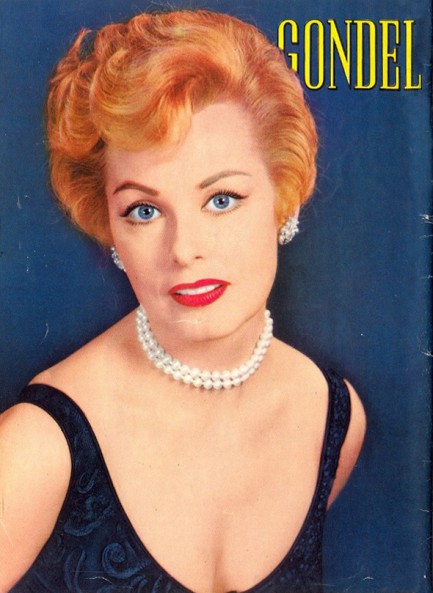 ---