Aww, we can't believe how big she's gotten.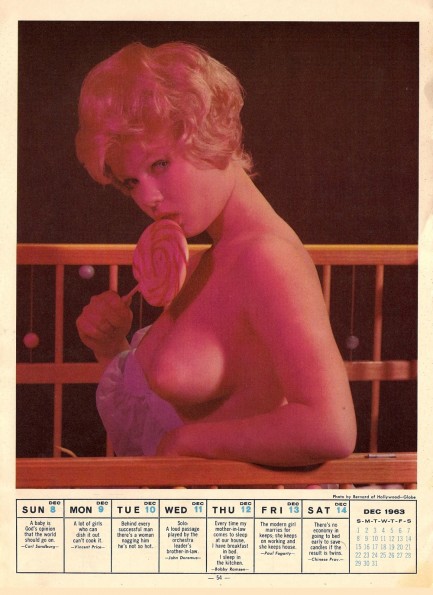 A naked woman in a baby crib? From our 2012 perspective we think the whole idea is a bit deviant, but in 1963 presumably this photo from Bruno Bernard, aka Bernard of Hollywood, was totally innocuous, right? No, we didn't think so either. Nude photography runs the gamut. Sometimes it depicts women as strong or even domineering, but more often it suggests that the perfect woman is pliant and childlike, so to us at least, going the extra step and putting the model in a crib is just a bit too overt for good taste. But we were not even zygotes in 1963 so we're not trying to judge. The photo is pretty, and that's really all we can say. The week's quips, with observations from poet Carl Sandburg and actor Vincent Price, are below.
Dec 8: "A baby is God's opinion that the world should go on."—Carl Sandburg
Dec 9: "A lot of girls who can dish it out can't cook it."—Vincent Price
Dec 10: Behind every successful man there's a woman nagging him he's not so hot.
Dec 11: "Solo: A loud passage played by the orchestra leader's brother-in-law."—John Doremus
Dec 12: "Every time my mother-in-law comes to sleep at our house, I have breakfast in bed. I sleep in the kitchen."—Bobby Ramsen
Dec 13: "The modern girl marries for keeps; she keeps on working and keeps house."—Paul Fogarty
Dec 14: There's no economy in going to bed early to save candles if the result is twins—Chinese Prov.
---
Whatever it is that girl put a spell on me.
The editors of the Goodtime Weekly Calendar of 1963 have yanked themselves back from the brink. Last week their misogyny had reached an extent that made their ruminations unpublishable, but this week, suddenly, they're back to normal—i.e. teasing but not mean-spirited. Where did the malice come from? We have no idea. Maybe some men are so used to retaining control over every aspect of their lives that the freaky power women have to make them lose their equilibrium spawns a simmering hostility. But sexual power is really the point of life, isn't it? We act like we're firmly anchored, but in reality we're emotionally designed to slip our moorings the moment the right person happens along. That's the fun of living. Lust, fear, risk, reward, failure, sex, heartbreak, love—all pieces of the same lovely puzzle. You gotta embrace it. Insults say nothing about the group we insult, and everything about us.
Well, at least Fernand Fonssagrives understood all this. He's the creator of the image above, as well as one we uploaded in July. Way back in the 1930s his wife Lisa gave him a camera and he began shooting photos with her as his model. He eventually became the highest paid fashion photographer in New York City, while his wife became the world's first supermodel. The model here is not Lisa Fonssagrives—she would have been in her fifties by then. There's no model info in the Goodtime Calendar, so we'll probably never know who posed for this shot. But she's certainly a beauty. The session really sucked for the bear, though. The week's observations are below.
Nov 10: "A penny for your thoughts is still about the right price."—Bob Hope
Nov 11: "A dark corner is where some men get bright ideas."—Freddie Flintstone
Nov 12: Gossip: What no one claims to like but everyone enjoys.
Nov 13: Women's intuition is the ability to read between men's lyings.
Nov 14: "Woman's dearest delight is to wound man's self-conceit, though man's dearest delight is to gratify hers."—George Bernard Shaw
Nov 15: "Love is blind, and lovers cannot see the pretty follies that themselves commit."—William Shakespeare
Nov 16: "A friend of mine always buys from relatives: He says, 'It's cheaper by the cousins.'"—Paul Fogarty
---
Are you still planning to catch and release?
Happy St. Patrick's Day. In celebration here's our second posting from the Good Time Weekly Calendar of 1963, featuring a net-draped model we can't identify shot by a photographer named Shulman who we also can't identify. So there. Calendar text is transcribed below. Boy they sure knew how to get a laugh out of people back then. Or not.
March 17: "Ladies' evening dresses are getting more daring. The front is now daring the back."—Leslie Uggams
March 18: "Running into debt isn't so bad; it's running into your creditors that's embarrassing."—O.G. Zimmerman
March 19: "Would you call a girls' baseball team 'swatter girls'?"—Sam Cowling
March 20: Sweater girls are divided into two classes; those who knit them and those who fit them,"—Paul Fogarty
March 21: "Most men lack imagination and that's why dress designers leave so little to it."—Peggie Castle
March 22: Two things make women slow… first she must make up her mind and then her face."—Keith Preston
March 23: Short dresses do not affect women's appearance much; they just make the men look longer."—Sam Cowling
So, who were all these people? We found nothing on O.G. Zimmerman, Paul Fogarty, and Keith Preston. We already knew Leslie Uggams and Peggie Castle—singer and actress respectively—and they have Wikipedia entries if you're curious. So that leaves Sam Cowling. It's Cowling who gets the lion's share of quotes in the Good Time Calendar, so we expected him to have been quite famous and he was. He was a member of a vocal group called The Romeos, but later became a regular cast member of a radio variety program called The Breakfast Club. The hourlong program, hosted by Don McNeill, ran from 1933 until 1968, and Cowling (below right) came aboard in '37, having
by then transformed himself from a singer into an improvisational comedian. Working off the cuff was a good fit for his new gig, since apparently The Breakfast Club was mostly unscripted. The extemporaneous format was a big success, and helped set a mold for morning radio shows that holds even today. It also made the leap to television as a special event in 1948. Wanna hear The Breakfast Club? Go to the bottom of this page. For video check here. We're off to have a glass or several of green beer.
---