If they aren't in your city already, they'll be there soon.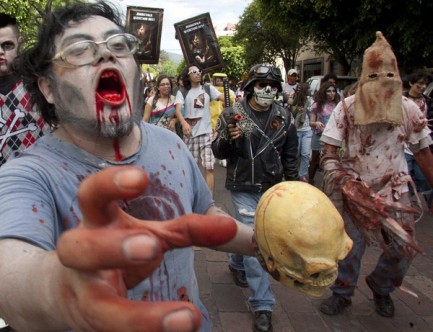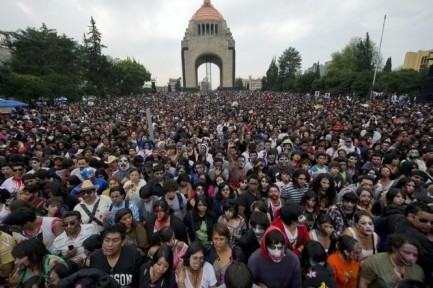 We would love to have been part of this. Yesterday Mexico City had their annual La Marcha Zombie, or Zombie Walk, with the goal of setting a new record for the number of zombies (held by Buenos Aires, which had assembled 25,000 shambling undead just a few days earlier). As you might deduce, zombie walks are growing more popular globally, and have been staged in places as far flung as Vancouver, Pittsburgh, Mar de Plata, Exeter, Santiago, and Singapore. According to Wikipedia, the first walk was held in Sacramento, California in 2001, and now hundreds of cities have them. Perhaps in a decade or two, social scientists will tell us the complex reasons behind the rise of zombie walks, i.e., the trampling of individuality in the modern world, the rise of ravenous greed and the death of caring, etc., and that, ironically, one day sooner than most people think, the masses will rise up and destroy the elite few that have enslaved them. Okay, maybe that last part is just what we think. But complex reasons aside, from our non-scientific perspective, we'd do a zombie walk just because it looks fun. And do you think there's any zombie sex going on afterward? Why of corpse there is.

---
Flame of the Barbary Coast.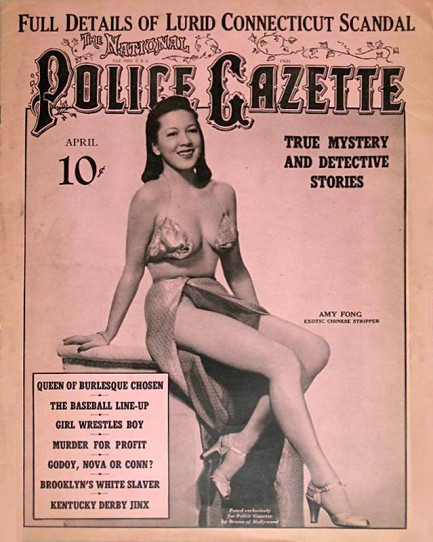 This is the oldest tabloid we've managed to locate so far. No surprise it's The National Police Gazette, which began publishing in 1845. This issue, printed on pink cover stock, is from April 1941 and features burlesque dancer Amy Fong. Fong gained fame stripping at Charlie Low's renowned San Francisco club Forbidden City, starring in a revue called China Dolls. It could have been "doll", singular, because Fong was the only Chinese, or indeed, even Asian, dancer in the show. Forbidden City—located in an area of San Fran that once was home to its infamous Barbary Coast vice district—mainly catered to Chinese patrons, but Fong became popular enough to go mainstream, and toured nationally with revues like Modes and Models, Sunkist Vanities, and Moonlight Maids, always as the only
Asian performer.
We think her story is probably real interesting, considering the time period involved and the probability that many Americans likely did not consider her ethnicity distinct from that of the Japanese enemy they were fighting in the Pacific, but she's one of those figures we lose in the mists of time. We know she announced her retirement in 1942, but she must have made a comeback, because we found a flyer of a performance in Pittsburgh from 1949. After that, nothing. Maybe one day more information will appear on Ms. Fong and we'll learn this pioneering woman's full story. Until then, we'll have to make do with hearsay and a few photos.

---
Like all good businessmen they identified a market niche and filled it—with urine.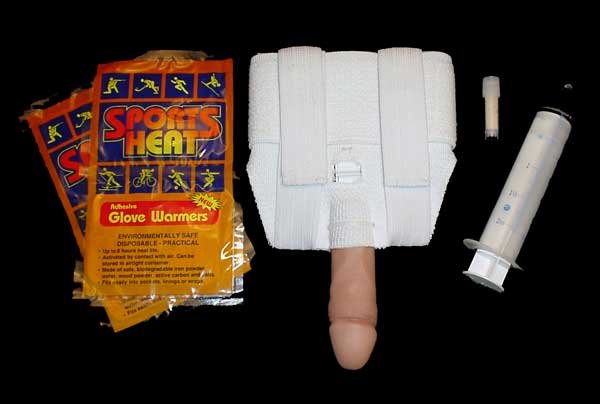 George Wills and Robert Catalano, the inventors of the infamous Whizzinator 5000, pleaded guilty this week to conspiracy in federal court in Pittsburgh, U.S.A. The Whizzinator is a device designed to help drug users beat detection tests, and became popular quickly after its 2005 unveiling. In one embarrassing incident, NFL running back Onterrio Smith was caught with a Whizzinator at an airport security screening. Wills and Catalano's company, Puck Technology, sold the Whizzinator for about $250 in five varieties—black, brown, tan, white, and Latino. While the device conceivably could be filled with apple Schapps and used to delight college co-eds, it was actually sold with something considerably less palatable—synthetic urine powder. Because of this, the product was deemed illegal in various U.S. jurisdictions under drug paraphernalia laws. Wills and Catalano are to be sentenced next February and face up to eight years in prison, where, lamentably, few of the penises are fake.
---