Don't hate the Playa, hate the games.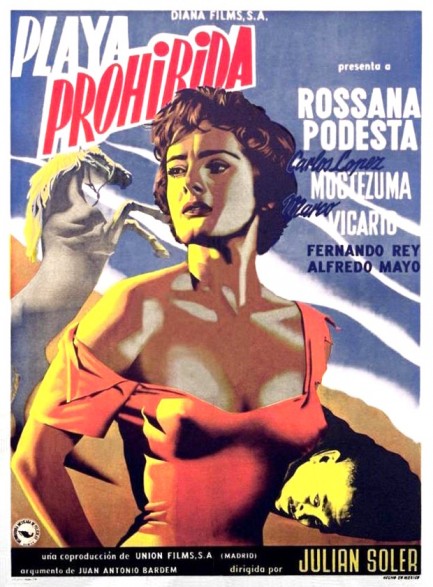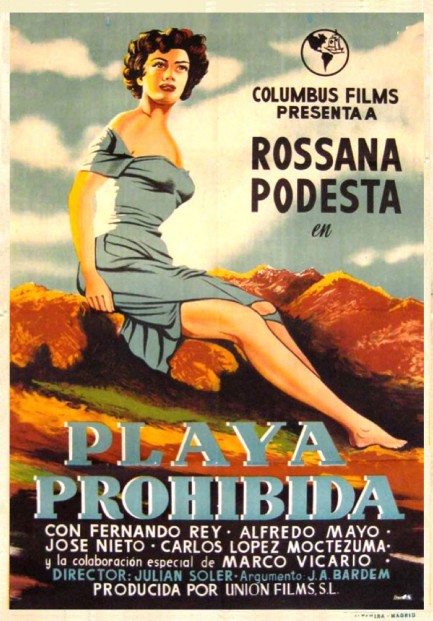 Playa prohibida was a Mexican-Spanish co-production filmed on Mallorca, starring Rossana Podesta, that premiered in Mexico today in 1956 and reached Spain the next year, in March 1957. Above are the Mexican and Spanish posters, both quite nice we think. They're differentiated by the fact that one gives second billing to Carlos López Moctezuma, who was Mexican, while the other gives second and third billing to Spanish actors Fernando Rey and Alfredo Mayo.
Podesta plays a woman living in a beach town, and everyone thinks she's daft. When she's found on the beach standing over a corpse and looking guilty, the cops want to pin the crime on her, but a screenwriter passing through takes up the mystery and—with the help of his story construction skills—tries to figure out what happened. He narrates a significant part of the film, but other characters apply voiceover too, including the allegedly mad Podesta. The puzzle is eventually solved, and as you'd expect it's layered with jealousy, greed, betrayal, and all the usual games.
If you're thinking this sounds a bit familiar, that may because the setting bears some resemblance to Podesta's 1953 Mexican made thiller La red, in which she was also a somewhat enigmatic woman living in a small seaside community. We suppose when Mexican filmmakers thought "exotic beach beauty" Podesta came to mind, and why not? Just look at her. Her presence alone makes Playa prohibida worth a viewing, at least for us. And possibly for you too. For the moment—i.e. while the link lasts—you can watch it on YouTube and decide for yourself. Spanish required.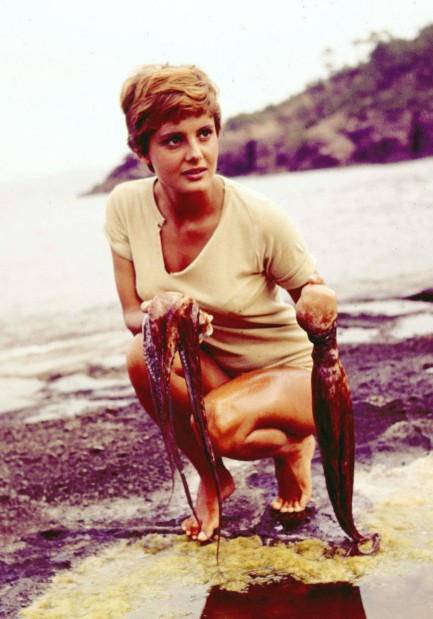 ---