She's the boss of her gang, but not of her panties, apparently.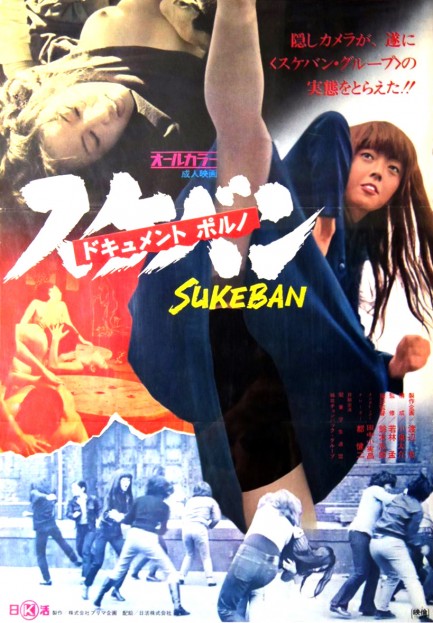 Above are two similar but not identical high kicking posters for Document porno: Sukeban, aka Dokyumento poruno: Sukeban, known in English as Porn Document: Sukeban. At some point the original panty shot must have been deemed inappropriate, because as you can see it was covered with black paint. It's like her crotch went into mourning. And we did too, a little, when we saw it. Was the retouch effort supposed to look like tights? We suppose so, but it's a pretty ham-handed effort. We'd love to know if the second poster is an official promo from Purima Kikaku, the studio that made the film, or a one-off from an individual cinema. We'll never know, we're sure. Document porno: Sukeban premiered in Japan today in 1973. It was the prequel to Dokyumento poruno: zoku sukeban, aka Porn Document: Sukeban 2. You can see that poster here. Also, you can see another high kicking Japanese poster here.
---
You wanna get ahead in this organization, buster? Work from the bottom up.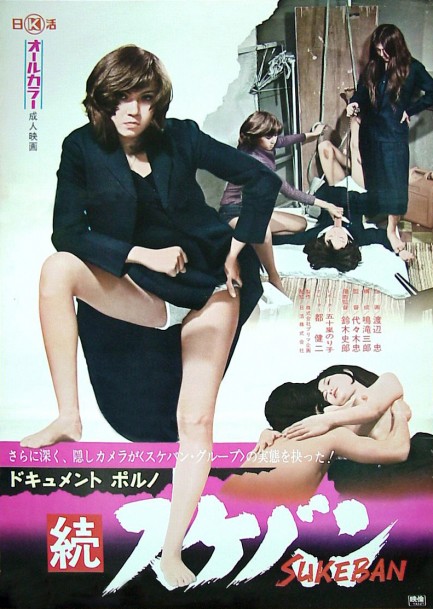 Above, a poster for Dokyumento poruno: zoku sukeban, aka Porn Document: Sukeban 2. This is an obscure one. It starred Noriko Igarashi, who you see brazenly flashing her tighty whities on the poster, and that's all we can tell you except for the premiere date, which was today in 1973.
---