Well, I heard it's a salon tan and her real name is Becky.
PEC, aka Publishers Export Company, was about a low rent as it got for mid-century fiction, and the company left no stone unturned to get at the sleaze underneath. Fred Haley's Black Heat is one of those books designed to get all the characters laid in taboo breaking fashion. The main character, sort of a local kingpin, is shocked when his blonde daughter gets involved with an exotic "negress," and his son has an affair with another man. He then cheats, a blackmailer sends his wife a home movie of it, and so forth and so on.
Haley is actually a bit of a legend in this field, because he wrote Satan Was a Lesbian, beyond doubt one of the most posted and reposted sleaze covers ever. But Haley was a pseudonym—in that case for Monica Roberts. We can't be sure Roberts wrote Black Heat, though, since pen names were often shared. All these books—even the many that try to be progressive about the subject matter—are racist, sexist, homophobic, and all the rest, but they're also fascinating windows onto attitudes of the day. Black Heat is 1966 with an unknown cover artist.


---
Satanic mentoring program expands from boardroom to bedroom.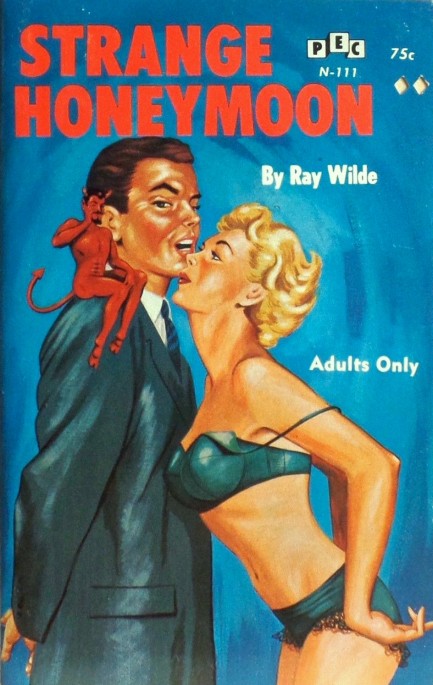 Devil: Now that she's out of her wedding gown, grab it and we'll sell it on Ebay. Snag her ring too.

Man: Get out of my head, shoulder devil!

Devil: Tie her to the bed and use her body until it's a dried out husk.

Man: Shhh... quiet!

Devil: What are you worried about? She can't hear us.

Man: Just stop, devil. It's my honeymoon. Take the night off.

Devil: No can do. Our pact is 24/7.

Man: But that was for you to make me a better businessman!

Devil: Trust me, what you wanna do to her is what big business wants to do to everybody. Now insult her and act like she deserved it. I taught that one to the president and he loved it.


---
Totally lifelike. Just like a real woman. Limited warranty. Do not get wet—shock danger. Possible choking hazard. Vendor not liable for injuries resulting from friction burns.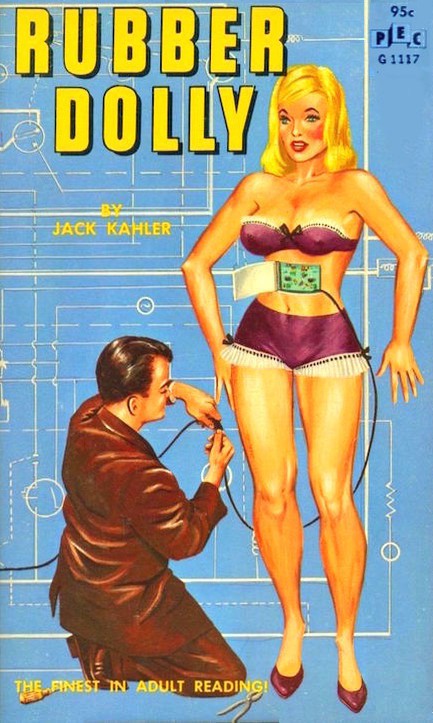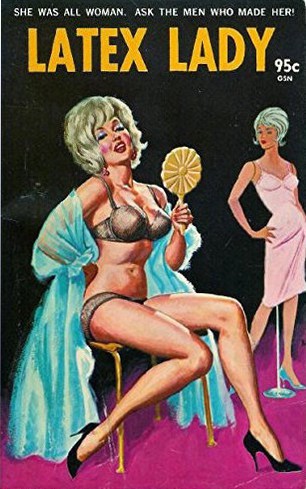 Above, the rather interesting cover for Jack Kahler's Rubber Dolly, published by San Diego based PEC, aka Publishers Export Co., in 1966. So, what you get here is the owner of a Hollywood advertising agency called Premium Art who is surrounded by beautiful women 24/7 yet builds the most lifelike love doll ever made. Why? Well, he's never satisfied. His name is Sam Bollen, after all. Hah hah. Ball-en. Anyway he builds his dolls—"so lifelike in action and substance they shocked even hardened business executives"—and everything is peachy at first, but he soon has problems of various bizarre sorts and even runs afoul of Hollywood communists. Amazing that Kahler could fit that in, but he was a genius—we're talking about the same guy who came up with Passion Sauce (not be confused with The Lust Lotion). Though rubber doll sleaze may seem fringe, Rubber Dolly was actually a reissue of Kahler's successful Latex Lady from two years earlier. And of course this isn't the first mechanical love doll we've had on the site. The art is uncredited. Go figure.


---