The king of tabloids sets its sights on the Queen of Greece.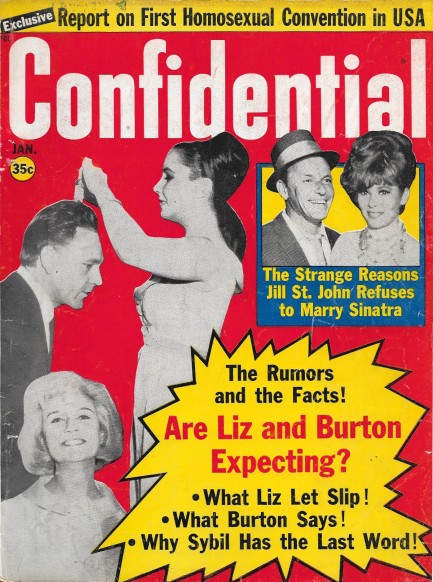 Every month when Confidential magazine hit newsstands, we imagine Hollywood celebrities receiving the bad news that they'd made the cover, and going, "Shit." This issue published in January 1964 features Elizabeth Taylor, Richard Burton, Frank Sinatra, and Jill St. John. The first three members of that group probably took the news in stride, since they were all tabloid staples by then. St. John wasn't quite at their level, but her links with Sinatra kept her in the scandal sheets for a while too.
A person who wasn't used to Confidential's attentions was Frederica of Hanover, who at the time was Queen Consort of Greece—which is just a fancy way of saying she was married to the King of Greece. Confidential says she was a Nazi, a pretty serious charge, needless to say. Was she? Well, her grandfather was Kaiser Wilhelm II, as a girl she was a member of Bund Deutscher Mädel, which was a branch of the Hitler Youth, and she had brothers in the SS. Also, back in 1934 Adolf Hitler wanted to link the British and German royal houses, and tried to pressure Frederica's parents into arranging for the seventeen-year-old girl to marry the Prince of Wales, Edward VIII. And as Queen Consort she made a habit of meddling in Greek politics in ways that made clear she was not a fan of democracy. None of that is a particularly good look.
She had defenders, though, who believed that for a person in her position it would have been impossible not to have been a member of certain groups and to have socialized with Nazis. It's interesting, isn't it, how the rich and powerful always benefit from a special set of excuses? People can't really expect her to have made a stand, can they? But the excuse is hollow. As a high ranking royal she could have avoided anything she wished. Membership in organizations when she was a little girl is one thing, but as an adult she could have denounced Nazism with damage to her reputation the only potential result. A damaged reputation is no small thing, but if we expect resistance from people who'd have been imprisoned or shot for doing so, we should probably expect the same from people who would have suffered mostly dirty looks.
Confidential focuses on Frederica's July 1963 visit to England. The visit was no big surprise—Frederica, her husband King Paul of Greece, Queen Elizabeth, and her husband Prince Philip, were all related. They were all direct descendants of Queen Victoria. Monarchy is a funny thing, isn't it? The visit triggered a protest of about three thousand British leftists that was violently broken up by five thousand police. The protestors carried banners that said, "Down with the Nazi Queen." After mentioning this fiasco, Confidential delves into Frederica's history, some of which we've outlined above, then loops back to the protests, which she blamed on the British press. But she had already reached a level of notoriety that usually brought out protestors who loudly booed her, particularly in Greece. She eventually retreated from public life, became a Buddhist, and died early at age sixty-three.
Confidential's unexpected exposé on Frederica wasn't out of character for the magazine. It was the top tabloid dog in a very large kennel. It had an expansive staff, serious reporters, hundreds of informers spread across the U.S. and Britain, and published stories about heavy hitters from all sectors of society. It had a regressive political agenda, as its article filled with terrible slander against gays and lesbians makes clear, but even with its rightward slant it took pains to keep its reporting framework factual. That makes it a priceless source of contemporaneous info about public figures, particularly of the Hollywood variety. We doubt we'll ever stop buying it, because we never know who we'll find inside. Twenty-plus scans below.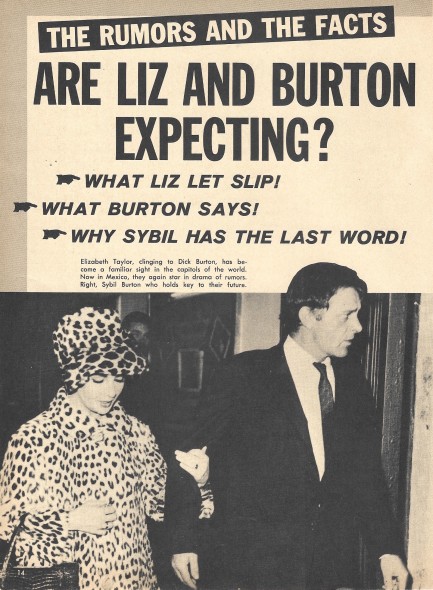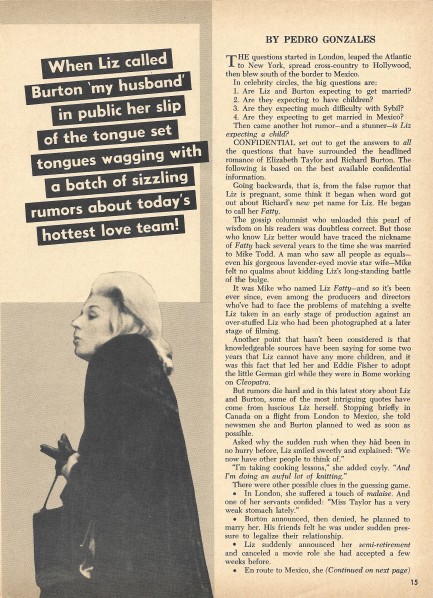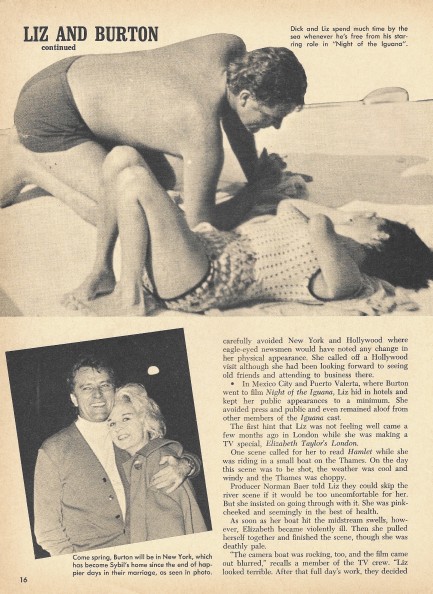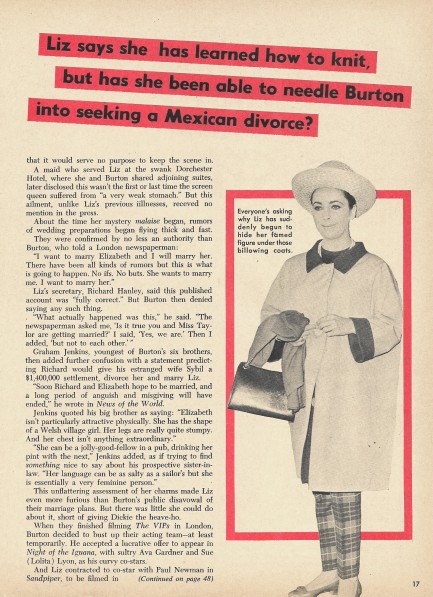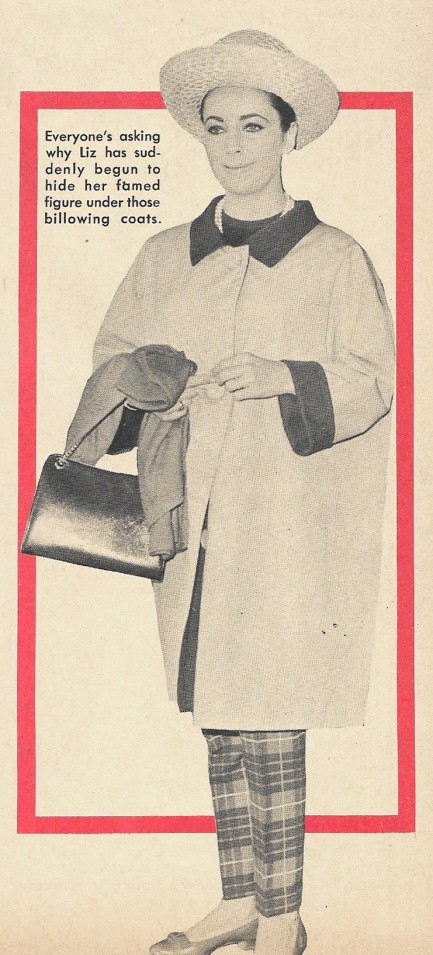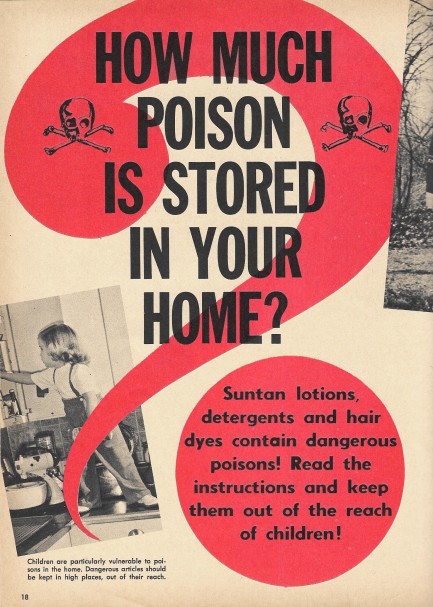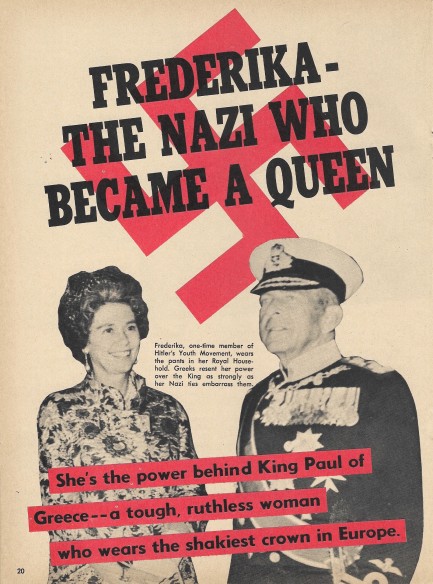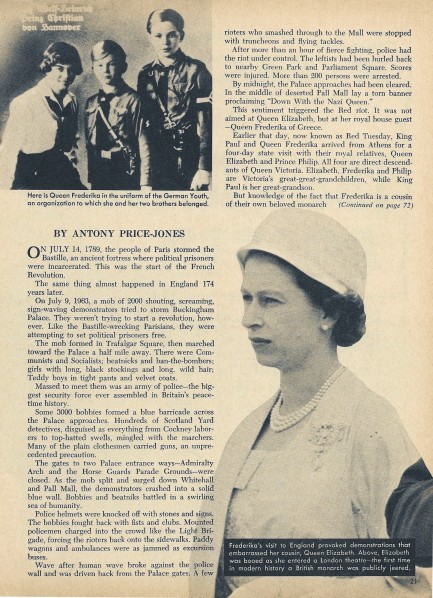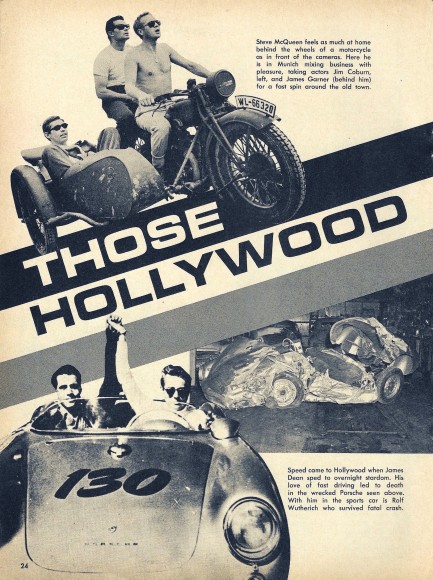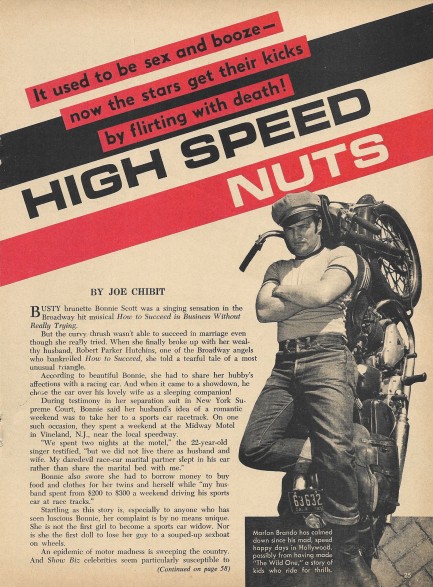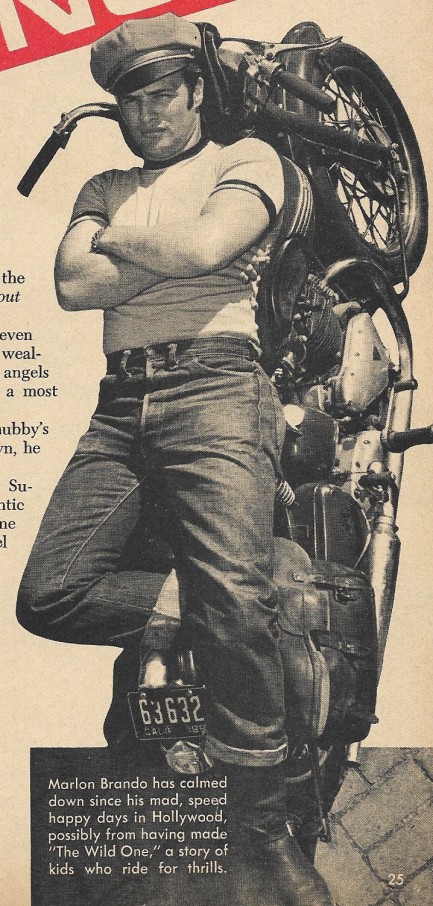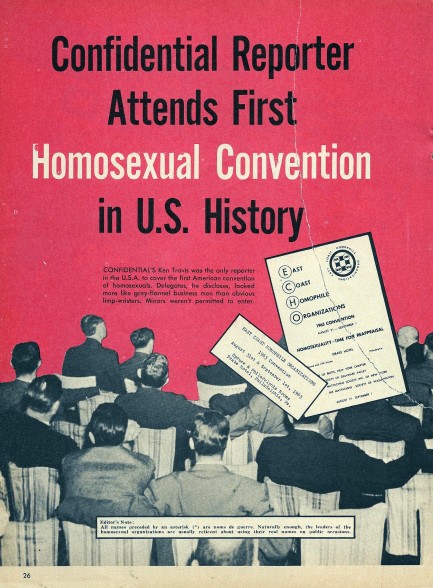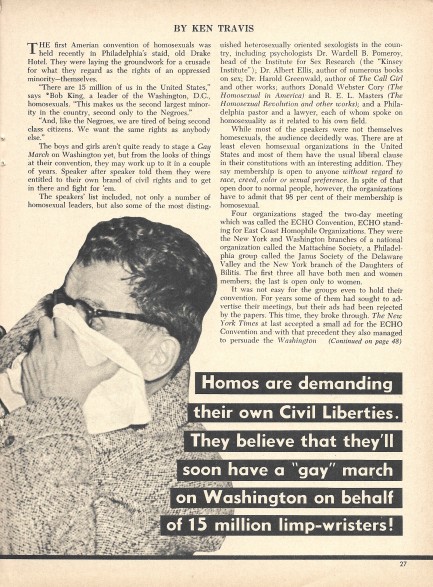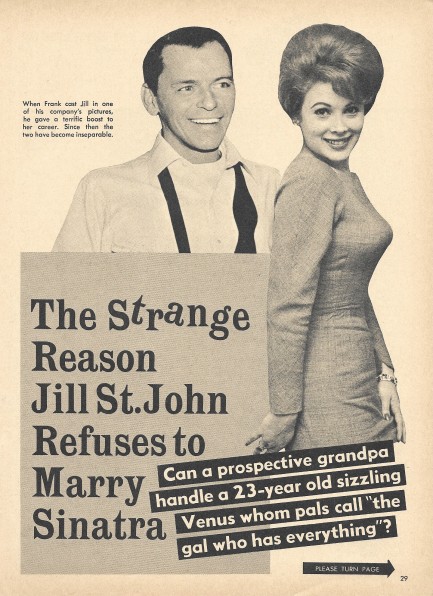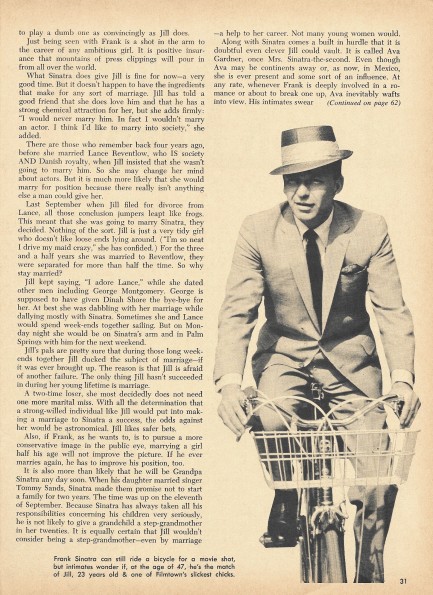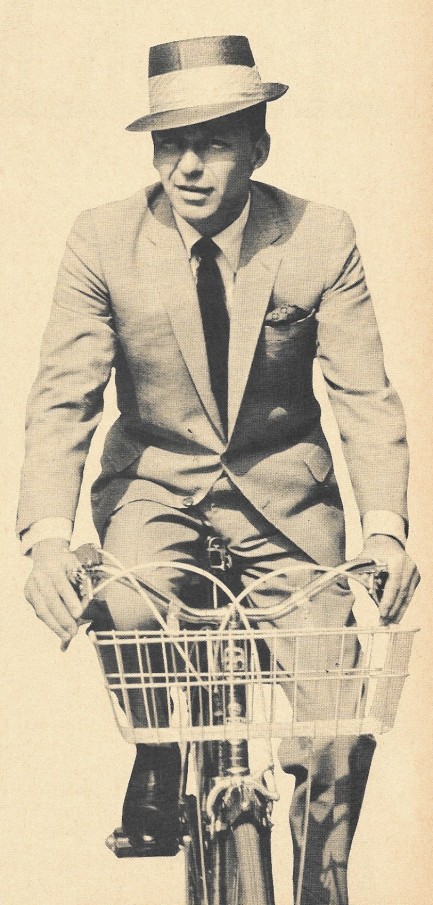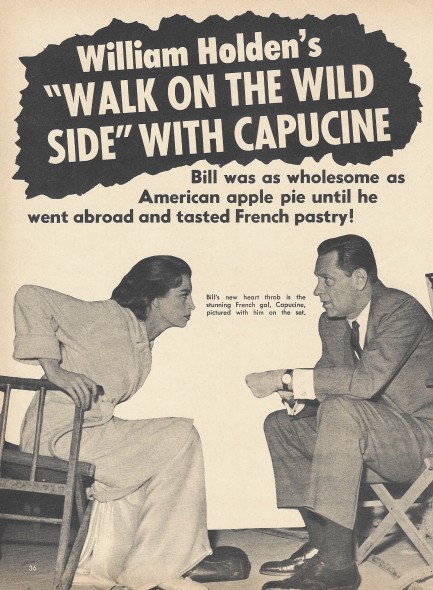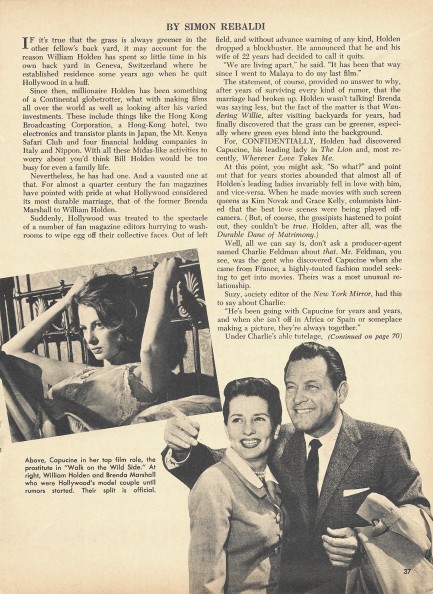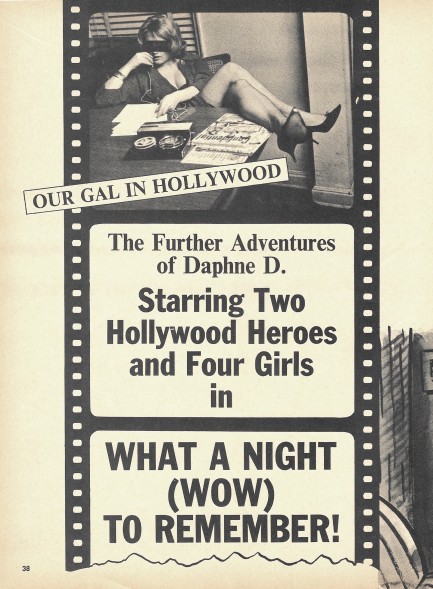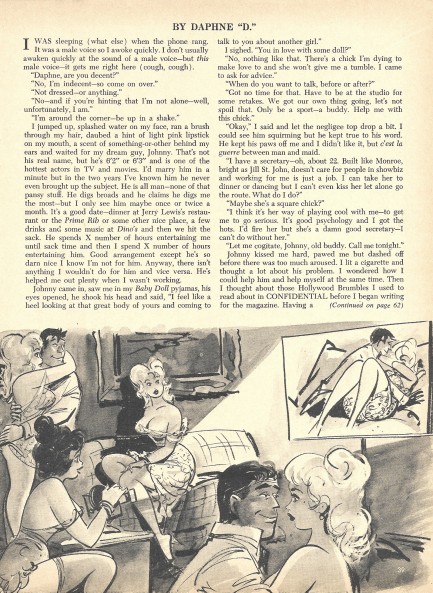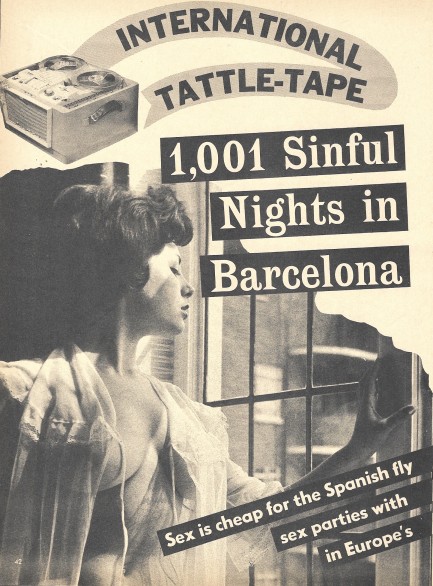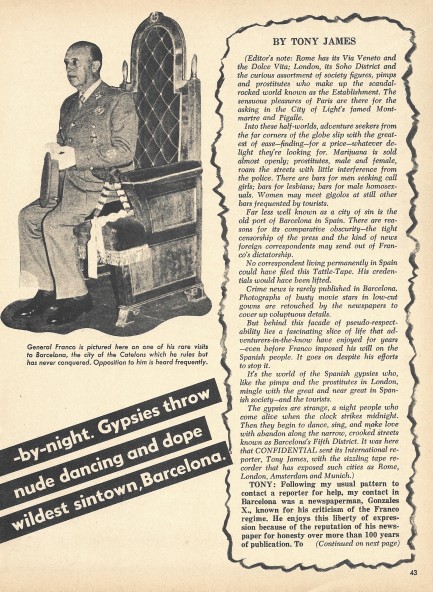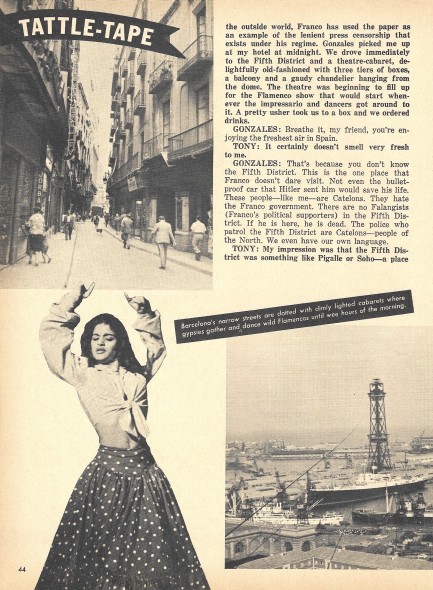 ---
Well, it's not so much a swimsuit as it is a sinksuit, but I love the way it looks.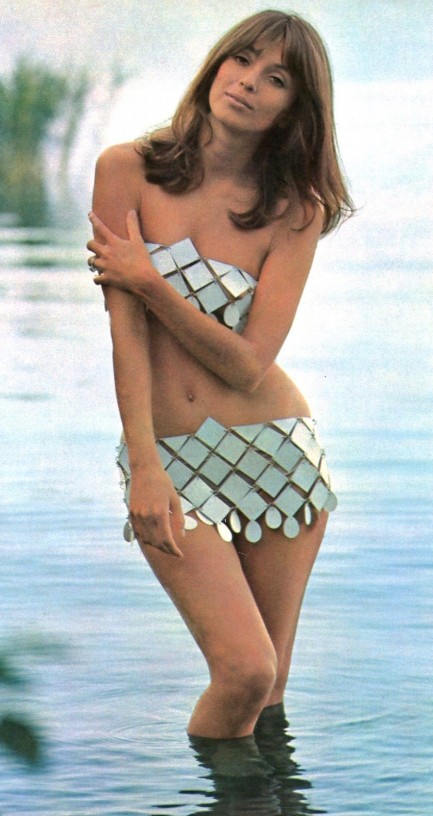 Not only does this swimsuit probably weigh an uncomfortable amount, but we bet it's cold too. Gotta sacrifice for fashion, though, right? Doing exactly that is Canadian actress Joanna Shimkus, who appeared in about a dozen movies between 1964 and 1971, including The Uninvited and The Virgin and the Gypsy. She later married Sidney Poitier, that lucky devil, and since he was knighted by Queen Elizabeth II in 1974, Shimkus is actually a Lady—Lady Poitier, in actual fact, but for today we'll go with Lady Shimkus.
---
Monroe may wobble but she won't fall down.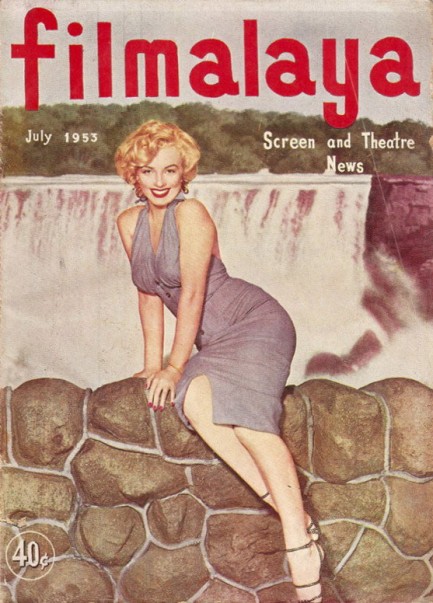 Marilyn Monroe shows up just about everywhere, and here she is yet again where we didn't expect to see her—fronting a Malaysian film publication that appeared today in 1953. The magazine, called Filmalaya, is in English, which marks it as aimed at the British colonial community that occupied the upper stratum of society in Malaysia and Singapore. The cover photo is from a publicity series made when Monroe filmed the movie Niagara in Ontario, Canada in late 1952, and let's just assume her perch is not as precarious as it seems and there's a handy ledge or lawn behind her in case she goes heels up. But if she does, there are other stars in the magazine, such as Joan Collins, Betty Grable, Rhonda Fleming, Ava Gardner, and Nat King Cole.
Filmalaya represents an interesting snapshot into colonial society, as in the article about Queen Elizabeth's coronation in London, which describes the thrills and excitement in Malaysia during the event. Doubtless, the mood around the Commonwealth probably seemed festive when viewed from inside the colonial bubble, but we doubt actual Malaysians were particularly moved. Needless to say, this magazine is rare, but luckily items from Asia are often a bargain, so this cost a mere six U.S. dollars. While the inside is nothing special visually speaking, that doesn't matter when the magazine has this great cover and is such an informative slice of history. We've uploaded a few of the best pages below. Enjoy.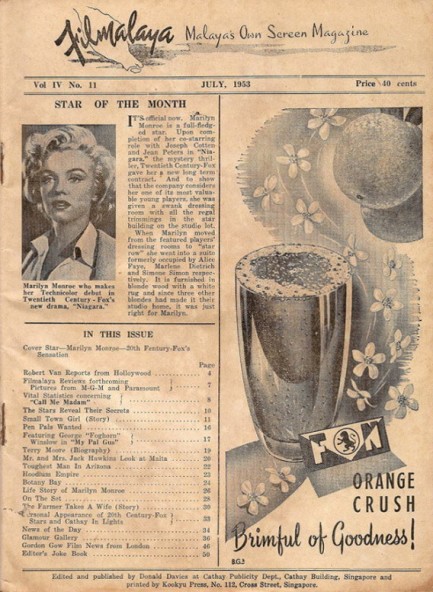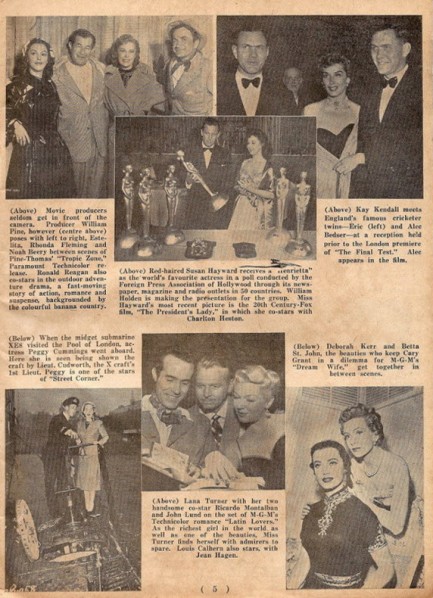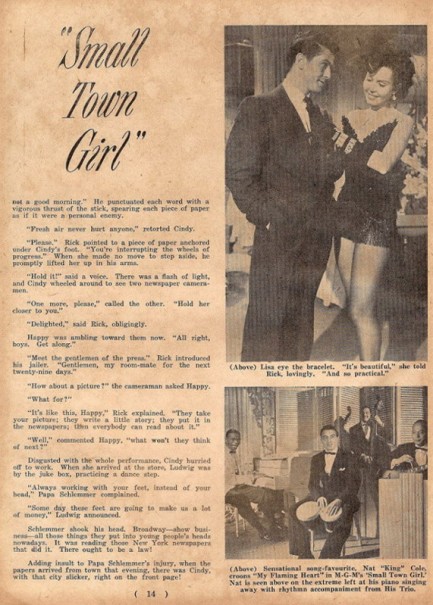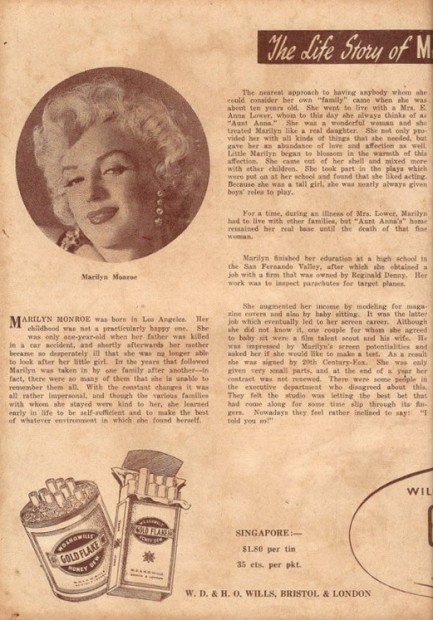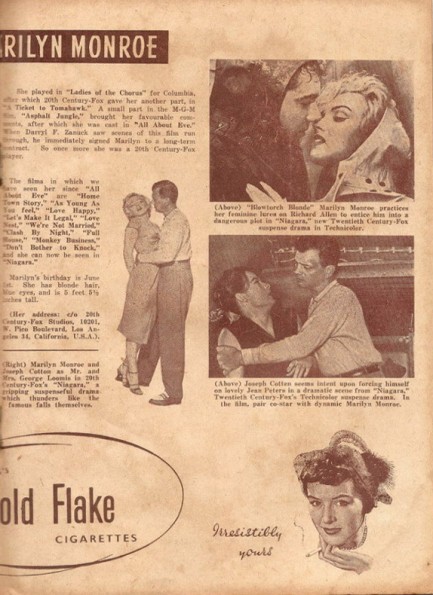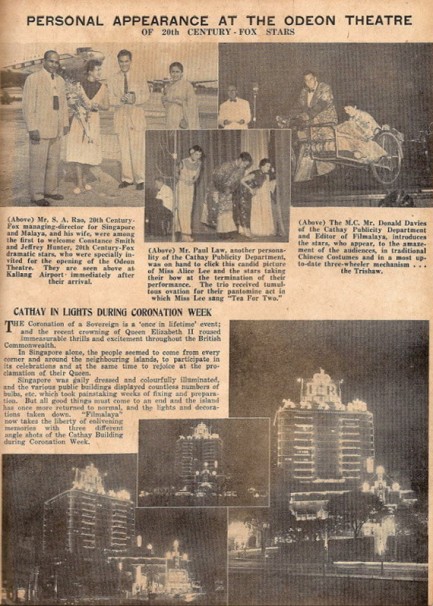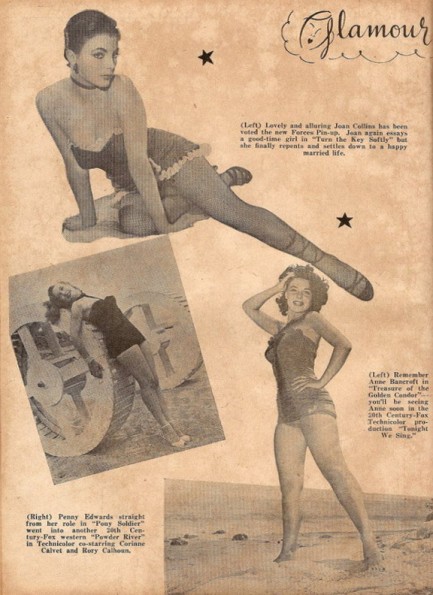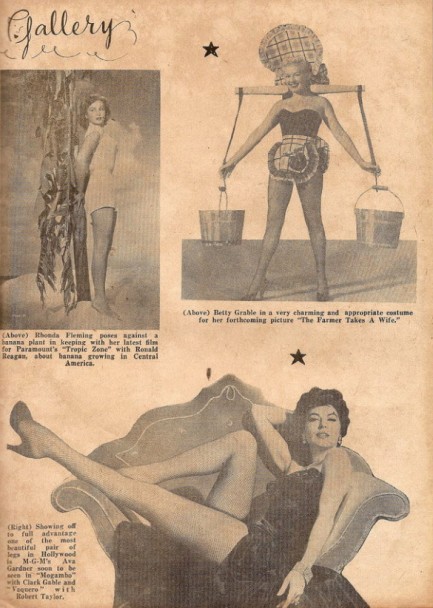 ---