Ex-mayor of Cancún tagged on drug charges.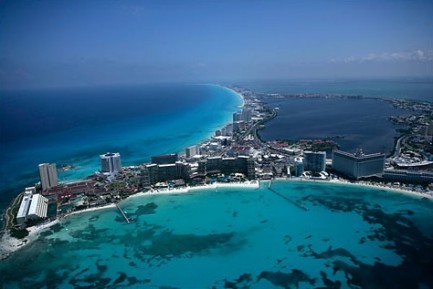 Yesterday in Mexico, the former mayor of the resort city of Cancún was arrested for allegedly laundering millions of dollars of drug money through a group of secret bank accounts. Police detained Gregorio Sanchez Martinez—who is in the midst of a campaign for governor of the state of Quintana Roo—at Cancún International Airport after he had arrived on a flight from Mexico City. The Federal Attorney General's Office has formally accused him of selling information and protection to two drug gangs—the Zetas, and the Beltran Leyva Cartel—both of which control drug distribution in Quintana Roo.
However, Sanchez says he is being victimized by blackmailers. On his website he claimed he had been threatened, and that one of the messages he received stated: "Resign from the race, or we are going to put you in jail or kill you." At least one high-profile politician has come out in defense of Sanchez, agreeing that he was likely set up, and an article posted on the site this morning attempted to drum up citizen support, and promised that Sanchez would fight the good fight in opposing the charges and still needs votes come July, when the election is scheduled.


Sanchez's arrest is yet another embarrassment for Mexico, however, it's also a blow for the U.S., which pretends—publicly at least—that the American demand for drugs is not the true driver of Mexico's cartel troubles. Often, Mexican politicians will point out this dark symbiosis, but in this instance officials south of the border have so far been circumspect. Current Quintana Roo governor Felix Gonzalez Cantu said only that, "This takes us all by surprise—it is unprecedented."


---