Good thing we're in a district that opted for in-person classes. This wouldn't be nearly as pleasurable via Zoom.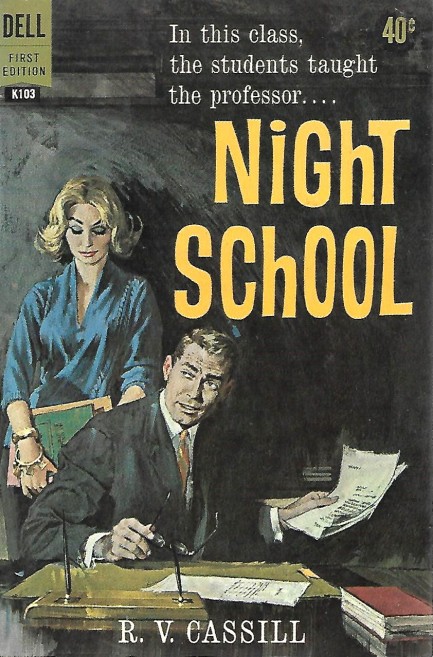 With R.V. Cassill's 1961 novel Night School we return once again to the time-honored pop fiction subject of teachers engaging in extracurriculars with students. Such affairs are nearly always frowned upon in these books, so don't go thinking these explorations represent any sort of endorsement. The authors generally come up with creative ways to get their protagonists into (and sometimes out of) seriously deep shit.
But as it turns out Night School isn't even teacher sleaze. It deals in serious fashion with a once-acclaimed novelist whose run of recent hard luck finds him teaching a dead end night school course where he must deal with an assortment of students and their various issues. There's sexual content, but not much. Sleaze novels can be quite fun, but there's little more disappointing than a novel that promises then doesn't get there.
But we weren't actually surprised Night School was more literary than the teaser suggests, because the legendary Robert McGinnis—the cover artist here—has never to our knowledge had his work front a sleaze novel (his romance covers don't count). We've shared several teacher sleaze covers over the years. If you want to see the best examples look here and here. And here too.


---