Crime goes around, crime comes around.
Well, we're back from Madrid, none the worse for wear. Here's a 1 euro find—a Circulo del Crimen with bloody cover art by Florencio Clavé and fiction by Bill S. Ballinger. The story here is based on the novel Rafferty, aka The Beautiful Trap, which Ballinger wrote back in 1953, but this translated and illustrated version dates from 1985. The 21 in the lower corner tells us there must be a lot of these Circulo del Crimen books floating around. We'll keep our eyes open for more.
---
And while you're at it can you nuke me a cinnamon roll?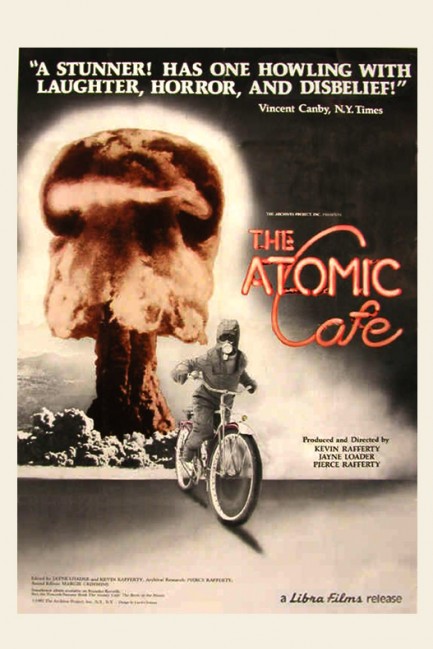 Put together by co-directors Jayne Loader and Kevin Rafferty, the documentary Atomic Café consists entirely of 50s and 60s-era film clips—many of them U.S. Army-produced—compiled into a sometimes hilarious, but ultimately devastating indictment of the American government's deliberate (and successful) attempt to control public opinion about the nuclear bomb. It features archival footage of everyone from Ronald Reagan to J. Edgar Hoover, all of them doing their part to manipulate the citizenry, and shows us government-produced public service films so filled with fallacies you marvel that people were capable of believing them. Our favorite moment comes when an obese man is shown falling in his shower to illustrate that daily life has plenty of risk, thus there's no need to fear a nuclear bomb. And we also get a doofus turtle named Bert advising us to duck and cover in the event of an attack, which is pretty glib advice coming from a creature born with nature's bomb shelter on its back. But the most revealing and poignant part of this film is seeing America's elation at having an atomic bomb turn so quickly and so overwhelmingly to terror upon learning the Soviets had figured it out too. The Atomic Café opened in the U.S. today in 1982.
---