Well, your health coverage looks comprehensive, so I've decided to give you top notch care.
Yet another medical cover today, this one for 1967's The Doctor's Decision by Kerry Mitchell. The art is credited to someone named only Kalin. We think it's safe to conclude that's Victor Kalin, the veteran Dell Publications illustrator behind such classic fronts as Somerset Maugham's Rain and John D. MacDonald's Soft Touch. The author, Kerry Mitchell, was a pseudonym used by several writers, including Lee Pattinson, Ray Slattery, and Richard Wilkes-Hunter, and this tale deals with a plastic surgeon named David Barron who pioneers a radical new surgery, while simultaneously seeing his reputation threatened by scandal. We've run across Mitchell before. Remember Bush Nurse? That's our fave.
---
Wisdom, chivalry, serenity, honor—these are not those kind of samurai.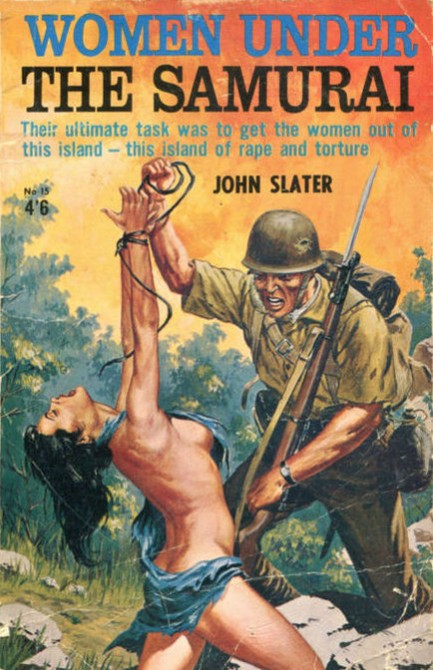 A different type of paperback today, an example of World War II sexploitation, in this case John Slater's Women Under the Samurai, from Stag Modern Novels, which deals with, well... this is not the kind of book to be proudly displayed on a shelf. More like tucked in the back of a closet. The women here are nurses and are believed by the Japanese to know the location of Allied soldiers on the Pacific Island which they all inhabit. Pretty much every torture you can imagine is used, with the whole spectacle serving to both titillate and horrify the reader. Slater, who was a pseudonym used by Ray Slattery (as well as R.L. Taylor, and others) dipped into these murky waters regularly. Some of the titles that resulted: Island Slave, Brides of Terror, Women of Warsaw, Love Slave of Paris, The Captive Women. And so forth. More than eighty times. You can understand these selling during the war and post-war period, but the amazing thing about this genre of fiction is that it lasted until well into the 1970s. This example is from 1964.
---
Boy, are we glad you're finally here. Our women have gotten really hairy.
Bush Nurse, written by medical novel specialist Kerry Mitchell, aka Richard Wilkes-Hunter, Ray Slattery, and Lee Pattinson, has nothing to do with women's bushes, but it'd be cooler if it did. What you actually get is the story of a pretty nurse who takes an assignment in the remote Aussie outback to heal from a broken heart, but finds herself in a love triangle with two doctors who have their own difficult histories. The action eventually centers on rains, floods, and a wave of medical cases that threaten to overwhelm the little clinic. The above paperback appeared in 1962 with uncredited art, and as you can see at right, there was another version, which is actually from two years earlier (and shows how the nurse's horse was replaced by an automobile), also uncredited art-wise.
---