Photographer fatally shot by movie star while staging publicity photo.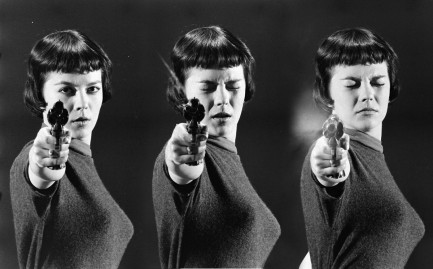 This unusual triptych shows actress Natalia Nikolaevna Zakharenko, better known as Natalie Wood, not watching as she fires off a round. You'll see these photos described simply as Wood shooting a pistol, as if she used a real gun, but we doubt it's real. We don't think the photographer Ralph Crane would have risked having her fire a real gun anywhere in the direction of either himself or an expensive remote operated camera—especially considering the shaky aim involved.
Wood is almost certainly using a Hollywood prop pistol designed to shoot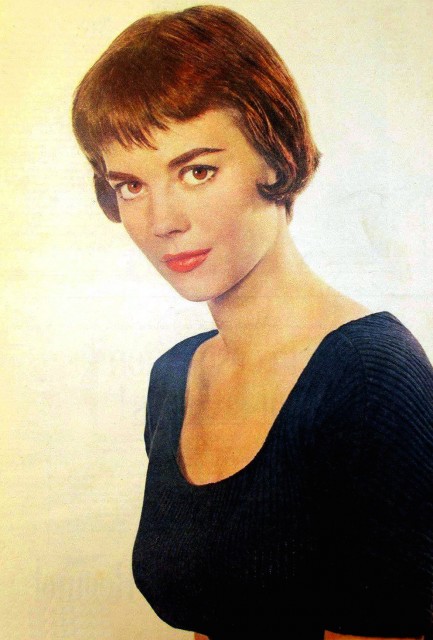 blanks. Crane probably set up about thirty feet away, where he'd be at no risk from superheated gases, blank cartridge debris, etc. On the other hand, maybe the bullet was real—because you never know what sort of crazy shit
someone
will do with a gun.
Second matter that needs clearing up—some websites say this isn't Natalie Wood. They're wrong. She was eighteen when the photos were made, and was already a big star thanks to 1955's Rebel without a Cause. We mention the film only because Wood's fame means there were hundreds of photos of her from the period, and we've uploaded a nice color one here as well. There's zero doubt. Same eyes. Same haircut. Same mouth. Natalie Wood.
The shooting photos first appeared in Life magazine, and both those and the color image are from 1956. As we've noted in the past, sometimes the narrow column width on Pulp Intl. means images are smaller than we'd like them to be, so we took the liberty of rearranging the black and whites vertically in order to offer a better look at them, and you see the result below. Interested in seeing more rare Wood images? Look here, here, and here.

---
Sal Mineo was never able to escape his image.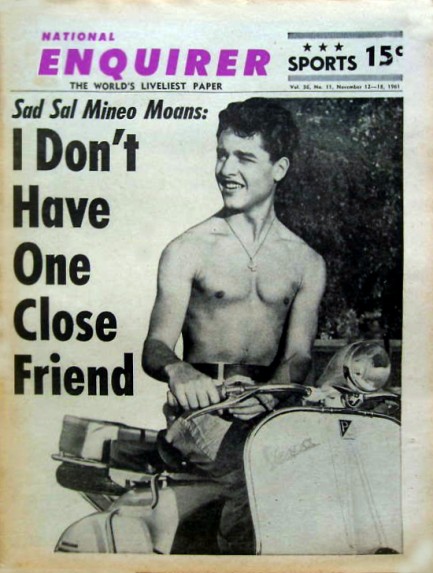 Above is a National Enquirer from the week November 12—18, 1961, with cover star Sal Mineo. Mineo had been a major Hollywood presence who had scored two Academy Award nominations, one of which was for his bravura performance as Plato in Rebel without a Cause. But by 1961 the roles had dried up. The problem was his boyish appearance: he had made his reputation playing volatile youths, but now he was older and studios didn't believe he could play other types of roles. At the time of the Enquirer cover, Mineo hadn't worked for eighteen months. The article was simply another variation on the troubled
youth theme, riffing on how Mineo had the world at his feet but had no real friends and nobody he could trust.
Soon it became clear Mineo did not have the world at his feet. He languished on the fringes of Hollywood, managing only eight roles—some of them mere bit parts—in the next ten years. However, by 1971 he had begun to make a mark on stage, starring in the gay-themed Fortune and Men's Eyes with a young Don Johnson, and in 1976's P.S. Your Cat Is Dead. Both plays were well-reviewed, for the most part, and Mineo seemed to have reached a point where he might vault back into the Hollywood mainstream. But his comeback was cut short when he was murdered behind his L.A. home in February 1976, stabbed in the heart. We looked for a better version of the above shot of Mineo on a Vespa, to no avail. But we'll keep our eyes open—it's out there somewhere.
---
The man who went looking for America.
Promo photo of Dennis Hopper, actor in Rebel without a Cause, Cool Hand Luke, and Apocalypse Now, also co-writer, co-star and director of the eternal Easy Rider, seen here circa 1955. Easy Rider's official tagline was: A man went looking for America—and couldn't find it anywhere. It was meant to describe Peter Fonda's character Captain America, but it is real-life maverick Hopper for whom the line always seemed more apt
---