I see dead people. Not next week's lottery numbers. Not future stock fluctuations. Just useless, creepy dead people.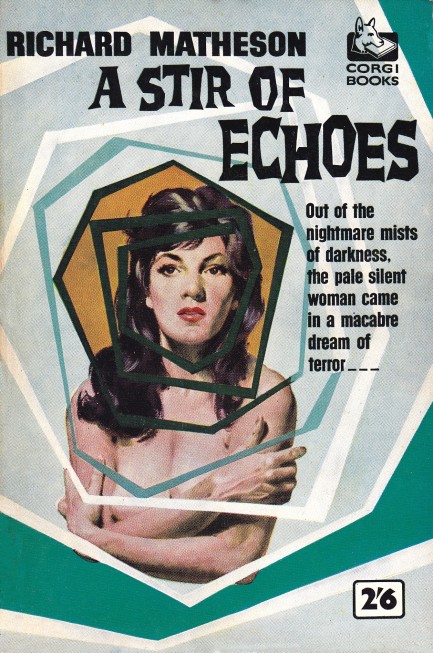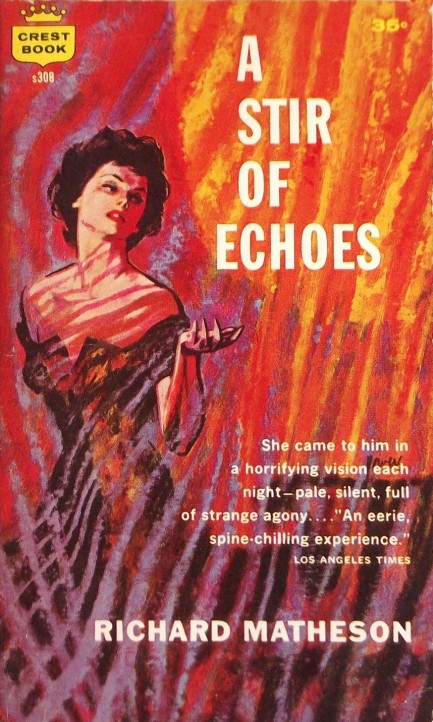 Richard Matheson was a well known writer who published many novels and short stories, penned teleplays for The Twilight Zone, and wrote the novel Psycho—which later became Alfred Hitchcock's classic thriller—but his 1962 supernatural novel A Stir of Echoes is a bit obscure. It's probably better known as a 1999 movie starring the ubiquitous Kevin Bacon. The story here deals with a man whose talent as a medium is accidentally unleashed when he's hypnotized at a party. The book isn't elegantly written. A typical sentence: He walked weavingly toward the door. But you don't have to be a master stylist to tell a good story and that's what Matheson did over the course of his long career, churning out great concept after great concept, here unspooling the tale of a man who can't control his unbidden psychic talent. With the power to see the future, the protagonist gains unwanted knowledge of kidnapping, adultery, a shooting, and other violent and nightmarish occurrences. It defies belief that all this happens in a week or two on a formerly quiet suburban street, but A Stir of Echoes is an entertaining story with a nice twist ending. We haven't seen the movie but we're curious now.
---
Spielberg's debut film about an everyman who battles a homicidal truck driver gets better with each passing year.

Stephen Spielberg's road thriller Duel was a made for television movie. Watching it, you'd think Hollywood would have immediately taken notice that this was a guy who was going places. But surprisingly, it took another three years for Spielberg to get his first shot at the big screen. He's since made twenty-five films and become one of the most celebrated directors in history, having created iconic films like Jaws and Schindler's List. But Duel remains, in our opinion, one of his best efforts. If you haven't seen it, the Richard Matheson penned script tells the story of a lone driver menaced by a demonic Peterbuilt eighteen-wheeler guided by a trucker we never quite get to see. Dennis Weaver absolutely nails his performance as a terrified man who reaches the end of his wits, only to push through his own fear to fight back. With little dialogue, no real subplot, and a desolate desert setting, Duel is a brutally straightforward movie that has aged well. Highly recommended. The two-panel poster above was made for the film's theatrical premiere in Japan in 1973.
---