Special edition Boogie Nights poster is an explosion of color.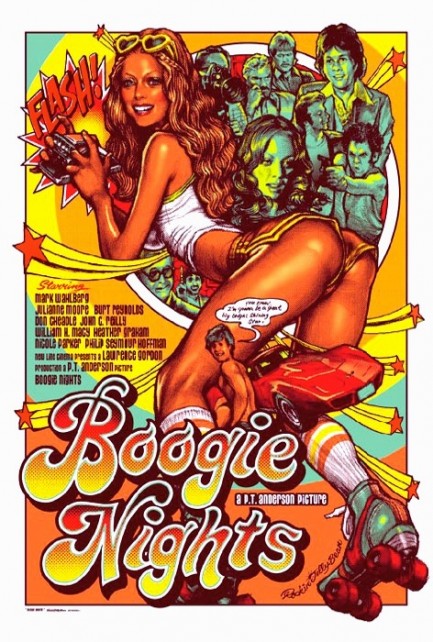 This promo for Boogie Nights was made last year for a Paul Thomas Anderson film retrospective hosted by the company Mondo, which markets limited edition screen printed posters for classic and contemporary films. The artist is the Japanese illustrator par excellence and constant enigma Rockin' Jelly Bean. You can see this poster around the web with little difficulty, but we have a friend in Los Angeles who actually owns one and it really shocked us how off the colors are on every scan we've seen online. The above image, as oversaturated as it may seem, is close to correct. Even so, what appears as red is fluorescent magenta on the real poster, and the pale teal colors are closer to bright turquoise. Compare it to the shot below, which comes from the Mondo blog. The mild skin tones of the presenter tell us the colors of the entire image are true. Which means this is one blazingly garish poster, no? We love it. We could get one for as little as $300.00, but that's still too rich for our blood. We wanted to share the image anyway, though, because Boogie Nights made its world premiere at the Toronto Film Festival today in 1997.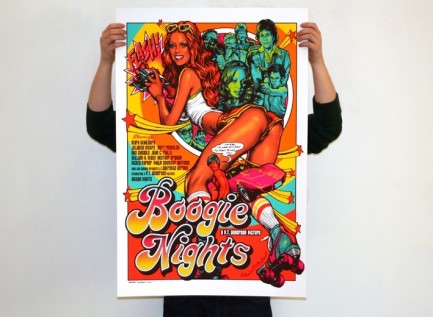 ---
Who you gonna call? Yakuza busters.
And speaking of amazing posters, check out this masterwork for the neo-pinku actioner Sukeban hantâzu: Sôkatsu nagurikomi sakusen. It was released internationally as Yakuza Busting Girls: Final Death Ride Battle, is known in the U.S. as Yakuza Hunters Final Death Ride Battle, and was released on DVD as Yakuza Hunters 1: The Ultimate Battle Royale. That last title implies more films are to come, and in fact we understand there's already a sequel, but we haven't seen the first one yet. However, the poster, painted by the genius Japanese graphic artist who calls himself Rockin' Jelly Bean, has convinced us to seek the movie out. We'll get back to you.

---
Japanese chopper show borrows Nazi terminology.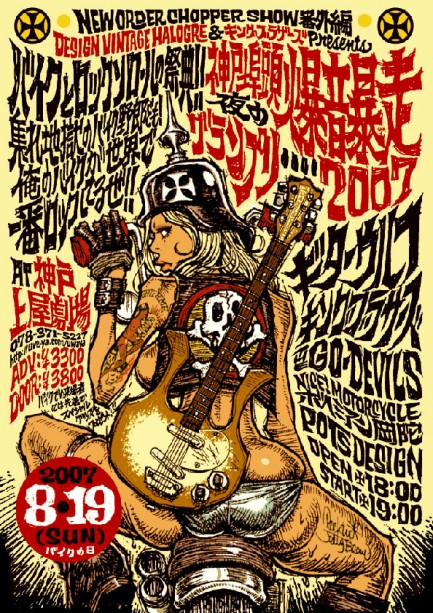 Now this is interesting. In our constant digging for pulp from all countries, we are always struck by how symbols, images, and terminology are appropriated by different cultures or subcultures, and how the meanings of those images mutate from their original form. So here we have a promo poster for Japan's New Order Chopper Show, this year's version of which takes place tomorrow, August 9.
Anyway, you'll notice the above figure is sporting a Prussian helmet, or Pickelhaube, emblazoned with a Prussian Iron Cross. Or at least that's what they look like, but a biker will tell you these are entirely different symbols that have nothing to do with Prussia or Germany, save that the shapes were borrowed, much like Hitler borrowed his swastika from a similar Hindu shape. So, symbols evolve—we get that. The Pickelhaube was phased out during World War I and was just a relic by the time World War II arrived, so the many people who associate the helmet with Nazism are mistakenly mashing up two distinct eras in Prussian/German military history.
But here's the question—when people already tend to think your symbol has something to do with Nazism, why call one of your biggest events the New Order show? After all, that was the name of Hitler's grand vision of world domination. And since Japan was neck deep in this scheme, via an agreement to evenly divide Asia, millions of Japanese, as well as Westerners, know what the term means. Bikers tend to get bent out of shape about these kinds of discussions, but the reaction strikes us as hollow indignation. Which is to say, even though they pretend otherwise, they're deliberately mindfucking us and we know it.
Okay, enough of that. We only brought it up because it would have seemed strange to post the art without addressing the point. And what art it is, by the way, painted by one of Japan's foremost illustrators, who goes by the name Rockin' Jelly Bean. Jelly Bean specializes in these sorts of voluptuous cyberbikers and has built a worldwide cult following. He's often imitated, but never duplicated. You can see more of his work
here
,

and below.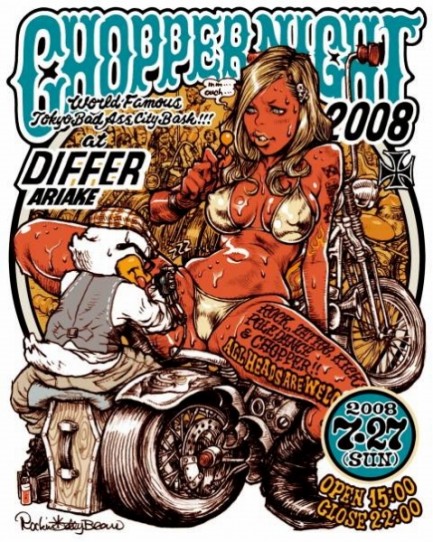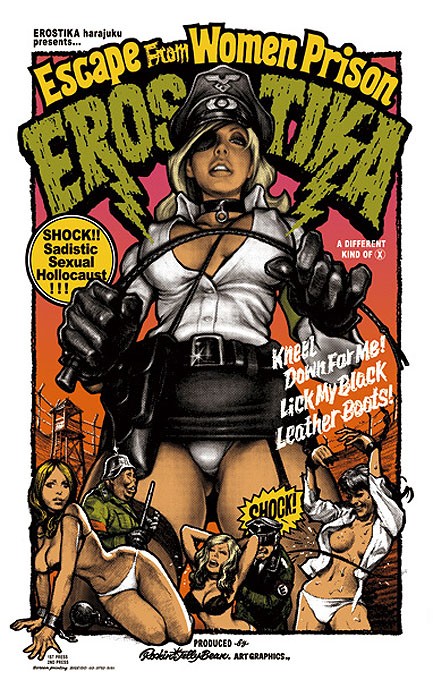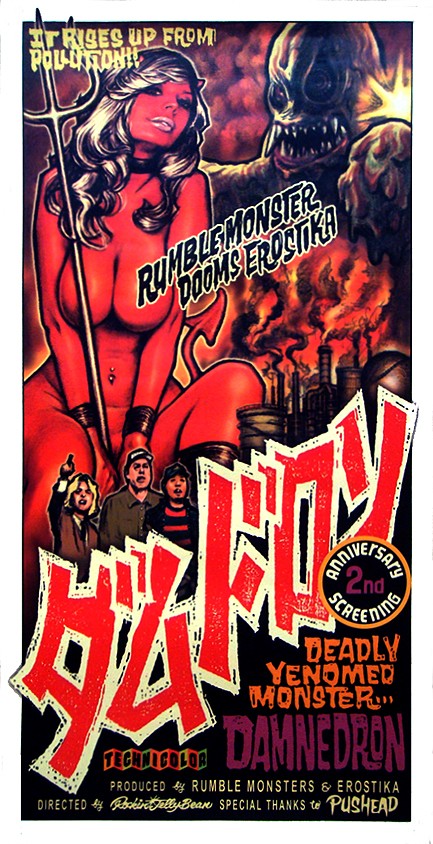 ---