S*H*E* spies with her little eye a low rent plot to destroy the world.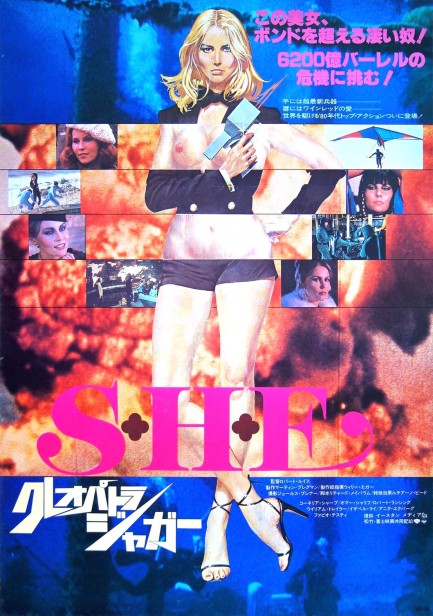 We're doing the acronymic spy thing a third day in row because we have this amazing Japanese poster for the 1980 U.S. film S*H*E*. This shows that the idea of imitating James Bond's acronymic and numeric organizations continued for many years after the trend peaked during the 1960s. Cornelia Sharpe stars as a Security Hazards Expert who battles an international crime ring that threatens the global oil supply.
Interestingly, this was written by Roger Maibaum, who wrote more than a dozen Bond screenplays, including Dr. No, Goldfinger, and Licence To Kill. Which tells you that he may have been envisioning the same sort of high gloss action as in his Bond movies. But we're telling you that his vision was thwarted by a low budget, flat acting from Sharpe, less than compelling music, and the fact that this was a CBS television pilot. For now you can watch it on YouTube at this link—if you dare.
Those with sharp eyes, or Sharpe eyes, will have noticed that the poster was painted by Robert McGinnis. Since it was a made-for-television movie, the U.S. promo art obviously doesn't feature the cut away sections of costume that reveal breasts and midriff. Those subtractions make this piece rare and expensive. Our question immediately became whether the skin meant the international version of the movie had nudity. It actually does, briefly, but that's no help at all.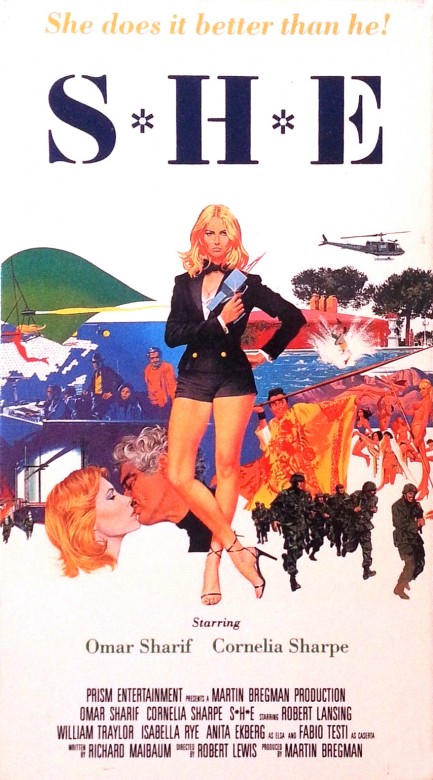 ---