Two of pinku's biggest stars headline a special film festival in Tokyo.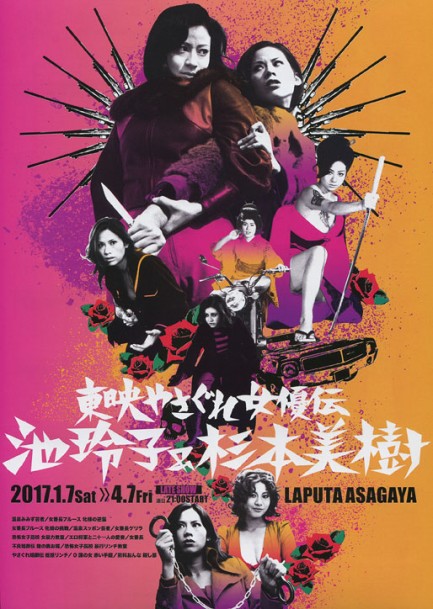 If you find yourself in Tokyo today, Cinema Laputa Asagaya is hosting a retrospective of films featuring two of the biggest pinku stars of the 1970s—Reiko Ike and Miki Sugimoto, who are not only big stars but also Pulp Intl. faves who we've discussed many times. A new film will be featured every weekend until April 1, with all the pair's most legendary efforts appearing on the program, including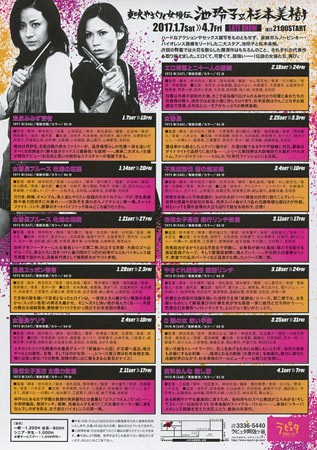 Yasagure anego den: sôkatsu rinchi, aka Female Yakuza Tale (discussed here and here), Zenka onna: koroshi-bushi, aka Criminal Woman: Killing Melody, for which you can see the badass promo poster here, and of course Furyô anego den: Inoshika Ochô, aka Sex & Fury, which we talked about way back in 2009. There will be thirteen films in all, and the festival represents the best chance to see all these movies on a big screen in many years, and in a pretty cool location too. If you're in the vicinity, don't miss it.
---
He may not be the best shooting gunman in the Old West, but you can't fault his fashion sense.
This cover scan of Archie Joscelyn's 1950 western Border Wolves was sent over from National Road Books, which is good timing, because the art is by George Gross and we featured one of his very best pieces back in October and said we'd get back to him. Gross (who should not be mixed up with German painter George Grosz) was a prolific artist who, as we mentioned in that previous post, was incredibly diverse, producing covers for Argosy, Baseball Stories, Bulls Eye Detective, Northwest Romances, Wings, Fight Stories, Saga, and many others. He was born in 1909 in Brooklyn, New York, began painting pulp covers in the 1930s and worked steadily through the 1980s, dying at the ripe age of ninety-four. You would suspect, looking at the shooting technique of the cowboy on the cover of Border Wolves, that Gross didn't know much about guns. While that's possible, we think the weird shooting position is a result of wanting to fit the cowboy's entire arm on the cover. But he must have liked the result, because he used this awkward stance twice (see below). There are quite a few web archives of Gross art, so if you want to see more, let your fingers do the walking.
---
Boys, the bad news is we're totally lost. The good news is, I've got a great new recipe to try out on you.
Above, a November 1957 cover of the pulp adventure magazine Saga, with art depicting John Charles Frémont, whose disastrous expedition through the U.S. Rocky Mountains scouting a route for a St. Louis/San Francisco railroad led to deaths, desertion and cannibalism. However, Frémont survived and later became the first ever Republican candidate for president, running on a radical anti-slavery platform.
---