Everything is working perfectly—for the killer.

Above is a beautiful alternate poster in the elongated style known as a three-sheet for the thriller Green for Danger, which we talked about last year. We love this piece. The movie deals with medical mishaps—or is it murder?—in a London hospital during World War II, and stars Alistair Sim, Trevor Howard, Sally Gray, and Rosamund John. It premiered in England today in 1946. You can read more here.


---
Medical malpractice reaches epidemic proportions in wartime murder mystery.
This poster for the thriller Green for Danger, which was made in England and premiered there today in 1946, asks about its central syringe image, "Murder weapon or clue?" Psst! It's both. That's not a spoiler. We call attention to it because it's strange that the question even made it onto the poster. It's not as if one answer precludes the other. In any case, there's more than one murder weapon. But the weapon used in the central murder is not a word that rolls off the tongue, so we guess the filmmakers opted to focus on the syringe used in a later murder because it was simple. That isn't a spoiler either.
Green for Danger, which is based on a 1944 novel by Christianna Brand, is set in World War II era London, when the city is being besieged by German V-1 buzz bombs. These bombs, actually more akin to missiles, couldn't be aimed, so instead were designed to run out of fuel over a general area and fall wherever. The point was terror. In the film, when people hear the devices flying somewhere overhead they don't panic, but if the sound of the engine stops, everyone knows death is coming down and runs for cover.
When a victim of one of these bombings dies in surgery in a London hospital, a staff member comes to think it was murder. She voices her suspicions, foolishly as it turns out, and is the next to be dispatched. At that point in comes the shambling detective to solve the crime. He's played by Alistair Sim with considerable humor, which may seem inappropriate in a thriller, but this the movie is also a bit like a wartime soap opera, young doctors in love, that sort of thing, so Sim's wry personality sort of fits.
But it's still mainly a whodunnit, and such movies usually end either with the dick explaining to the assembled suspects who committed the crime, or with him concocting some baroque scheme to cause the killer to unmask himself. This one ends with Sim doing both, which leads to a preposterous set-up for the finale, but we won't spoil that either. In the end Green for Danger—equal parts thriller, melodrama, whodunnit send-up, and comedy—was good fun.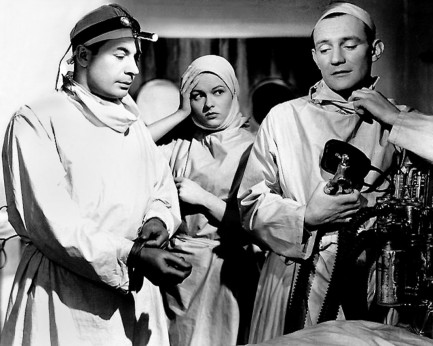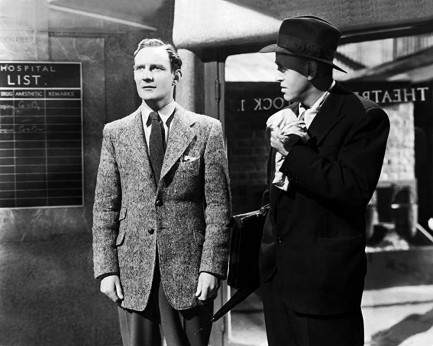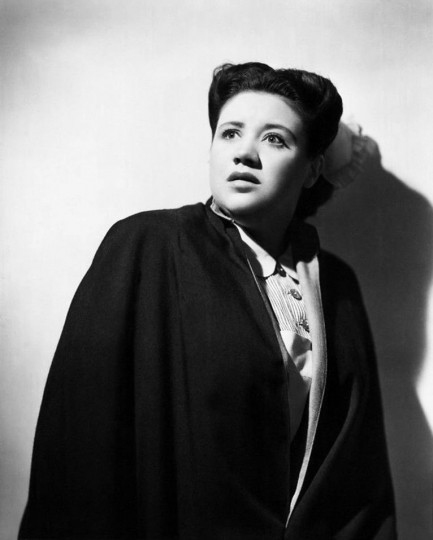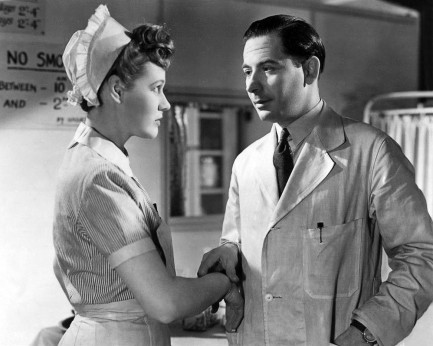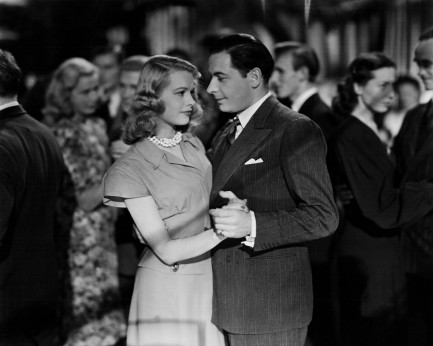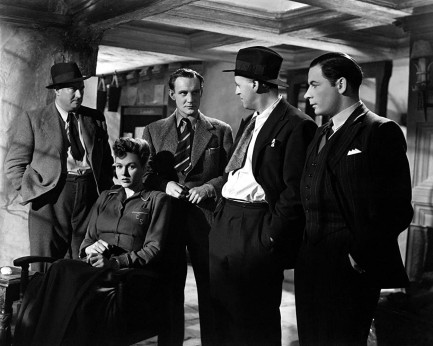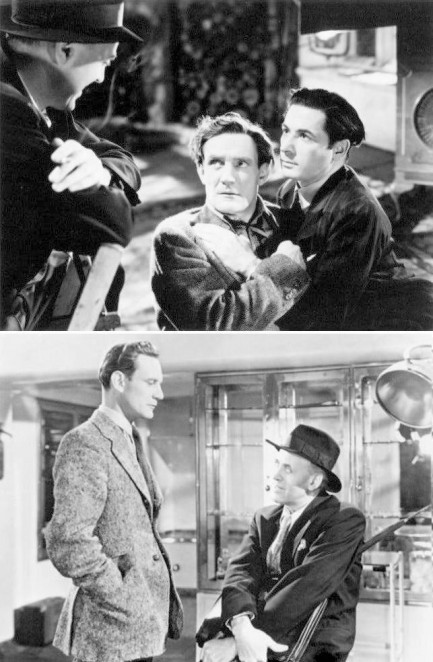 ---
Stuck between noir and a dark place
London born Sally Gray has an interesting aka—she was Constance Vera Browne, Baroness Oranmore and Browne. From 1930 to 1952, billed as Gray, she appeared in more than twenty films, including Danger in Paris, Green for Danger, I Became a Criminal, and the 1949 film noir Obsession. We don't have a date on this photo but the noir style of it, Gray's youthful appearance, and the fact that she made no films between 1942 and 1945 leads us

to triangulate it to around 1946. Don't quote us on it.
Edit: Some sources have since claimed the photo was made for Gray's 1949 film
The Hidden Room
, but we've found one with a press sticker on the flipside and it says this:
Just right for informal evening wear is this emerald green jumper in fine silk with wool crepe with its well-cut simple black skirt and bright gold buttons; seen on Sally Gray appearing in the new Two Cities Film of Compton Mackenzie's "Carnival", starring Sally Gray and Michael Wilding, with Stanley Holloway and Bernard Miles; directed by Stanley Haynes at Denham Studios
.
Carnival was a period movie in which Gray wore no modern wardrobe, so this is not a shot of her in character from the film. It may be one of those promos unassociated with any film. Actors shot sessions all the time just to keep their visual material current. However, in either case, Carnival was made in 1946, so our guess about the year was spot-on.


---