All I want for Christmas is a clean slate with the county.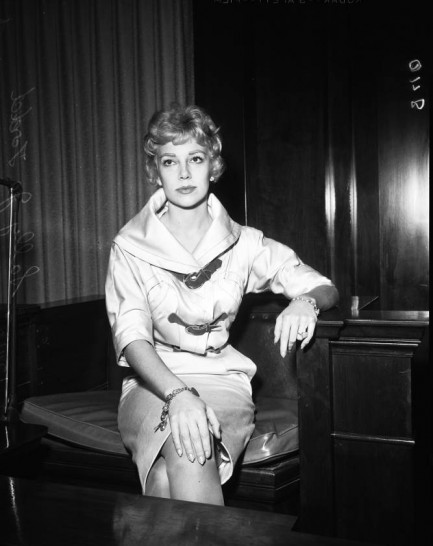 This photo shows actress and Playboy centerfold Sally Todd in L.A. County Court, where she was answering for drunk driving charges. Todd had triggered an August 1958 traffic accident, a five-car smash-up so violent that she was ejected from the passenger window of her sports car, but survived with minor injuries. A miracle? Perhaps, if you believe in such things. What may be even more miraculous is that charges against her were dropped, though she admitted having had drinks. Most accounts say that happened in September, but this photo, which is from the digital archive of the Los Angeles Examiner, is dated December 1, suggesting either charges were not dropped until later in the year than most sources say, or that Todd made a return trip to court for a second driving offense. We're going with option one—the photo, which we have no doubt is correctly dated, was made when she appeared in court and learned that August's drunk driving charges against her had been dropped. That was today in 1958.

---
Mad scientist cops a cheap fille.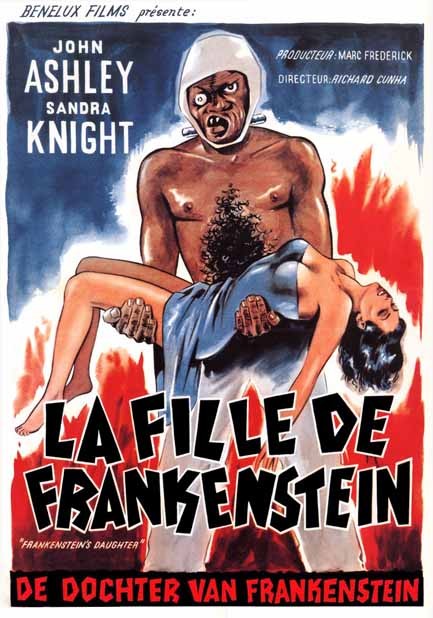 In Frankenstein's Daughter Victor Frankenstein's grandson Oliver lives in Los Angeles, but the perfect Southern California weather has done nothing to cure his gloomy familial obsession with creating life from dead body parts. The poor monster he constructs has both male and female chunks, most notably the head of Playboy model Sally Todd. Sally doesn't look as hot here as she did in her nudie layouts, but that's because those magazine photos are mostly make-up, lighting and airbrushing—oh, and she got fatally run over by a car, which is why her head is available in the first place. Anyway, Oliver's creation mainly shuffles confused and inarticulate through a film that is itself confused and inarticulate, and which many claim is the worst Frankenstein flick ever made. We don't think so and we can tell you why with one word—Frankenstein Meets the Space Monster. Okay, five words. The point is, Frankenstein's Daughter, filled with rich, creamy badness though it may be, is merely a worthy runner-up. Always the bridesmaid, never the bride. It premiered in France and Belgium as La fille de Frankenstein today in 1962.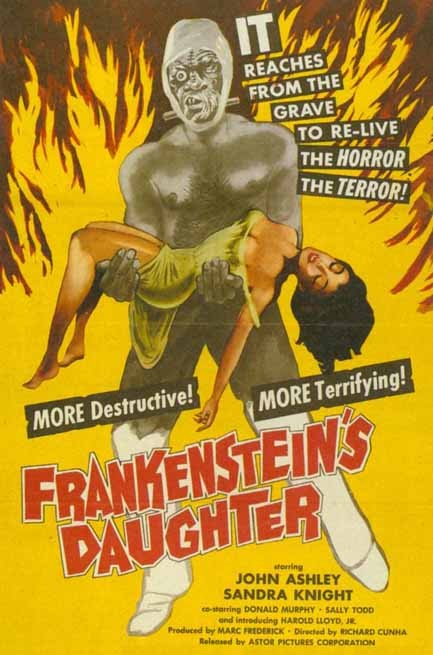 ---