Don't! That's only for salads or desserts!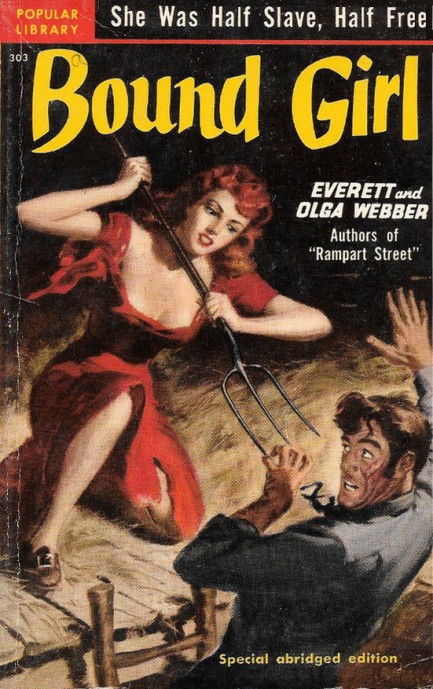 This is very nice cover work for Everett and Olga Webber's U.S. Civil War novel Bound Girl. The art is by Sam Cherry, one of the best. After a 1949 hardback debut the book came out as this Popular Library paperback in 1950. The bound girl of the novel is an indentured servant living on the Kansas-Missouri border who experiences both war and various romantic ups and downs. Possibly her love problems stem from bad manners. After all, who'd want to date someone who doesn't even know that a three prong fork isn't for meat courses?
---
Oh, I need the gun, trust me. You'd be surprised how people react when I deny their coverage.
There are more than a few gun toting insurance investigators in mid-century literature, and they tend to be as tough as any regular private eye or cop. In Cleve F. Adams' thriller What Price Murder insurance stud Steve McCloud is tasked with recovering a fortune in stolen diamonds insured by his company West Coast Indemnity. Along the way he deals with crooks, cops, and assorted women, including one named Kay Mercedes—which we think is one of the better handles for a femme fatale. Originally published in 1942, Popular Library issued this paperback version in 1952 with highly effective cover art by Sam Cherry.
---