Louisiana territory proves extremely inhospitable in 1957 manhunt thriller.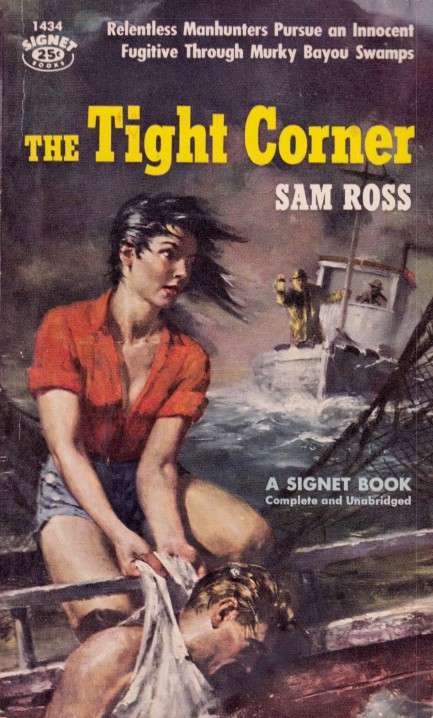 We bought The Tight Corner by Sam Ross because it was cheap. We knew nothing about Ross, and the uncredited cover art is decent but not special. But price sometimes wins, so we found ourselves reading a five dollar paperback about an ex-boxer named Tommy Berk who gets tangled up in a gambling scam gone wrong, is hunted by police for a murder he didn't commit, and after being shot and falling off a ferry in the Mississippi River Delta near New Orleans, is rescued by a Cajun fisherman and his sister as they take their shrimp boat out to sea.
Meanwhile, back on land, Berk's partners in the scam are looking for him to kill him. They're a diverse trio. Steve is a cold, calculating sociopath, but one with a secret weakness; Willy is an addle-brained killer, a trained attack dog; and Vi is a femme fatale who serves as the plot's honeytrap but is looking for a way to get out of the criminal life. It doesn't take long for them to realize Berk is somewhere at sea and has no choice but to come back sooner or later. When he does, they'll be waiting.


The Tight Corner is why we love buying vintage books. It's well written. Its bayou and ocean setting, simple but believable plot, and hard luck main character you end up liking all work in its favor. In addition, the prose has a lyrical style that's pleasing to read:
It was all mixed up in him and he saw himself swirling in her sea-green eyes. All at once, in the way she gazed at him, he seemed to plunge into them. He found himself close to her. And when he kissed her, he felt the sun she had been under all her life melt through him.
There are page-long passages written in that style and they're mostly interesting, though the book's dialogue suffers from name overusage. You know what we mean:
"It takes a lot of living to grow up, Jo."

"Why'd he leave us, Adam?"
"Animals in a trap do strange things, Jo."
"But I don't understand, Adam."
People don't talk like that, so we generally take it as a sign of a bad ear for dialogue, but Ross does well with Cajun vernacular. He doesn't try to write their accents. Instead he uses careful word choices to lightly infuse their speech with the correct flavor. It works, and in the end, that and other positives outweigh the negatives, making The Tight Corner a saga that entertained us greatly. If you see it somewhere at a reasonable price, we think it's worth a read.

---
Well, technically I belong to Lester back there, but if you've got the money I'm available for lease.
Sam Ross was the pen name of Samuel Rosen, a Russian born writer who was brought to the U.S. by his parents, attended school, joined the army, served during World War II, and turned both his immigrant and war experiences into journalism, fiction, and screenplays. He was immediately successful, and later shared his valuable insights by teaching at UCLA. You Belong to Me is a wrong-side-of-the-tracks tale of a married man who gets involved with another woman while his wife is out of town and finds himself in all sorts of trouble. The backdrop for his descent into craziness and danger is Manhattan, and often Harlem, which rarely fails in literature to provide writers the tools they need to craft a picturesque tale. Ross takes his protagonist through jazz clubs and all the rest. The book appeared as a paperback original from Popular Library in 1955, and the top notch cover art is by Owen Kampen.
---