If they aren't in your city already, they'll be there soon.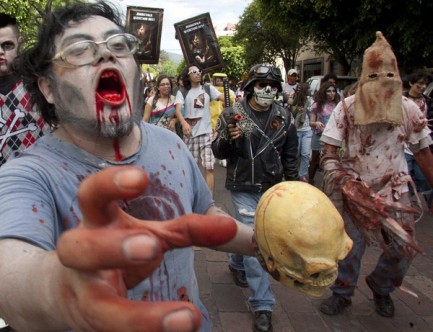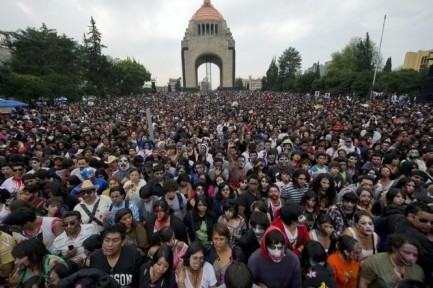 We would love to have been part of this. Yesterday Mexico City had their annual La Marcha Zombie, or Zombie Walk, with the goal of setting a new record for the number of zombies (held by Buenos Aires, which had assembled 25,000 shambling undead just a few days earlier). As you might deduce, zombie walks are growing more popular globally, and have been staged in places as far flung as Vancouver, Pittsburgh, Mar de Plata, Exeter, Santiago, and Singapore. According to Wikipedia, the first walk was held in Sacramento, California in 2001, and now hundreds of cities have them. Perhaps in a decade or two, social scientists will tell us the complex reasons behind the rise of zombie walks, i.e., the trampling of individuality in the modern world, the rise of ravenous greed and the death of caring, etc., and that, ironically, one day sooner than most people think, the masses will rise up and destroy the elite few that have enslaved them. Okay, maybe that last part is just what we think. But complex reasons aside, from our non-scientific perspective, we'd do a zombie walk just because it looks fun. And do you think there's any zombie sex going on afterward? Why of corpse there is.

---
I've done the early to bed bit, now if you'll handle the early to rise part, this day should work out just fine.
Above, two great, provocative covers by Jean David for Pedro Alvarez's Bonjour, Princesse... and Dora Christobal's La maîtresse de Santiago, published by Seine Editions for their collection Plume au vent, 1956/1957.
---
Holy pozole, this guy is off the charts crazy.
We thought this guy was hardcore for dissolving one corpse in acid. We stand humbly corrected. The ever-shifting hardcore bar has been reset at a new, quite possibly unsurpassable height by the gentleman you see at left. His name is Santiago Meza Lopez, but he's known as el pozolero—the pozole maker. Pozole is a Mexican stew made from corn, except Meza made his stews from people, as many as 300 of them, who he dissolved in acid for his employer, Tijuana drug trafficker Teodoro Garcia Simental. Meza claims to have concocted his brews over a period of years, though he remembers December 2007 as a busy month during which he melted and dumped 32 bodies. Mexican police have begun the tedious process of digging in various locations around Tijuana for human remains, and about 100 families have come forward with photos of missing relatives, hoping—and certainly fearing as well—that Meza can identify them. Meza has asked for forgiveness from the families, and stressed to authorities that he is no woman killer—he only dissolved men.
---