Seventh movie in famed sexploitation series has plenty to report.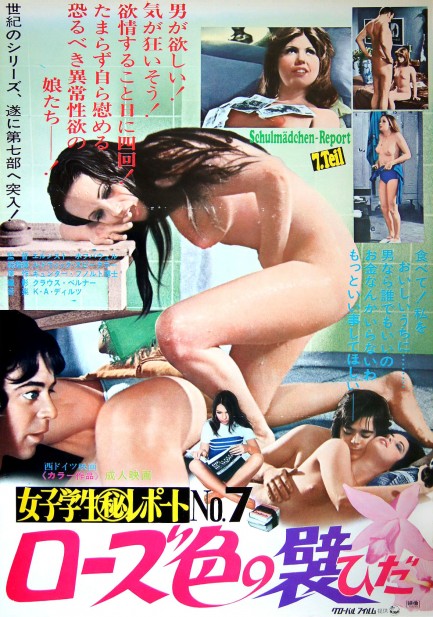 After taking a little break you can be sure we'd return to posting by showing you something unusual, so above you see a beautiful Japanese poster for the West German sexploitation comedy Schulmädchen-Report 7. Teil - Doch das Herz muß dabei sein. It's a mouthful, we know. The title would translate as "schoolgirl report part 7 - but the heart must be there." This word salad was changed for the film's English language release to merely Teenage Playmates. It was the seventh of thirteen films in the Schulmädchen-Report series and is generally regarded as one of the better entries—though having not seen all of them we can't corroborate that. Among its large cast are Elke Deuringer, Ulrike Butz, and Puppa Armbruster. The movie is also said by various websites, including IMDB, to feature Christina Lindberg, but she's not in it. It would be better if she were, but no such luck, and we aren't even sure how that rumor sprouted, except that the cast is uncredited and people have bad eyes.
Plotwise, when a bunch of high school aged brothel workers are arrested they tell a judge and court filled with scandalized spectators how they ended up in such circumstances. Thus the entire film is just a framework for sex vignettes. Our favorite quote: "Naturally I touched my breasts in the shower. Which are erogenous zones according to The Atlas of Sexual Education. My nipples got hard and my... my... my... how should I describe it? My pussy became aroused." Movies like this fall into the could-not-be-made-today category, which is a good thing—though we should note that all the alleged high schoolers were actors in their twenties, some considerably so. Which will be obvious when you look at the promo images below. After premiering in West Germany in 1974 Schulmädchen-Report 7. Teil - Doch das Herz muß dabei sein reached Japan today in 1975.
Update 2020: The movie still doesn't have Christina Lindberg in it. She did not magically appear. We actually sent a note to IMDB about it with a
link
to Lindberg's correct Swedish Wikipedia filmography, and it went ignored. Not a good endorsement for internet accuracy, nor the responsiveness of crowd sourced sites.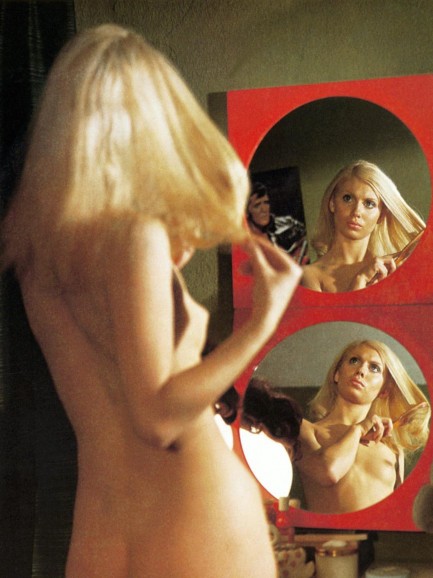 Fuck—I look at least twenty-five. I guess it's true what they say about this life aging you.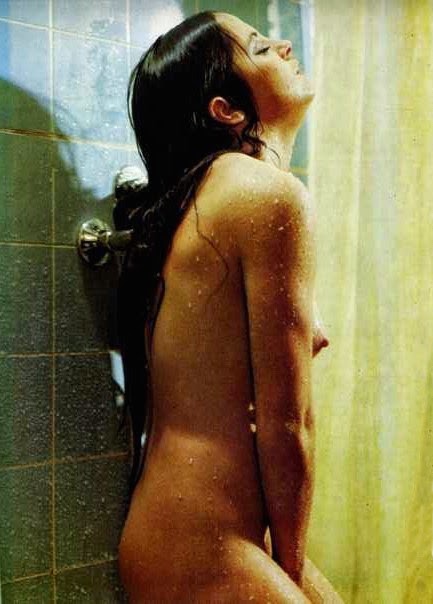 Oh, ah, the fact that some people mistake me for Christina Lindberg is a real turn on!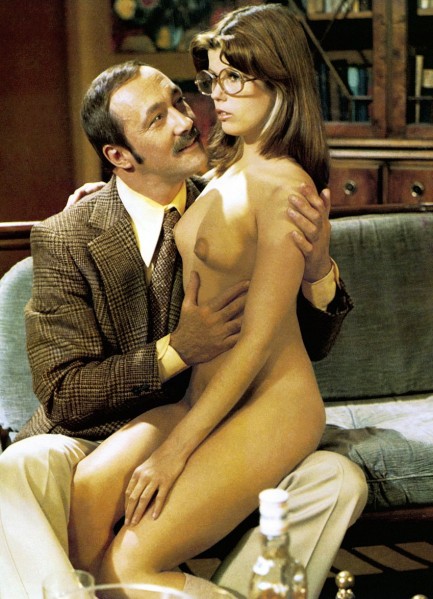 I'll leave the glasses on, if you don't mind. When this all comes out in court later I'll need to describe you accurately.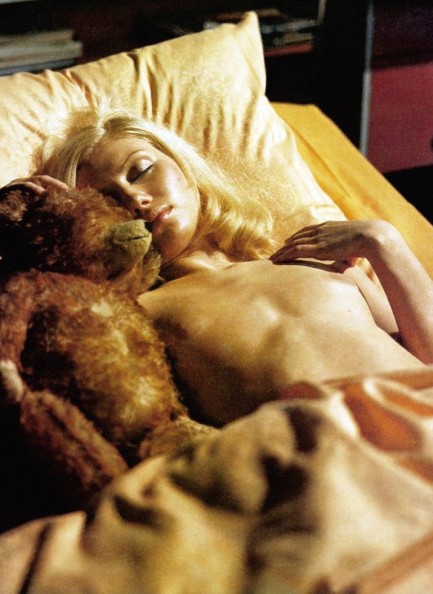 Mmm... fuzzy. I love you Mr. Zwetschgenkuchenbear.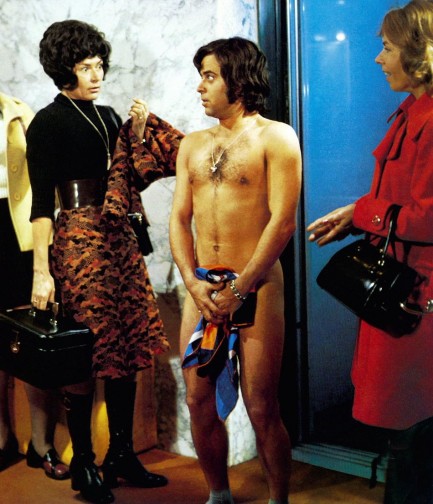 The teen brothel is on the third floor. This floor sells designer handbags. Buy one for a woman and you'll get laid even faster than going to a hooker. You'll learn that later in life.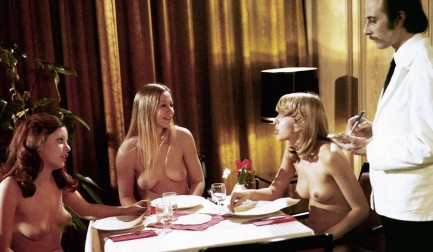 Who's in the mood for kochwurst? Kochwurst, everyone? Okay, kochwurst for all of us, please, waiter. Thanks.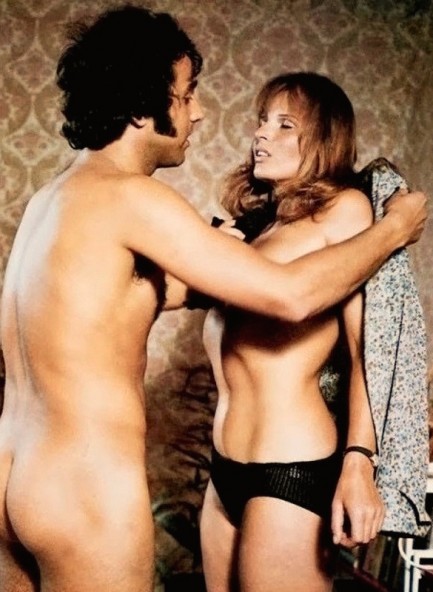 The Atlas of Sexual Education says we're rounding second base. Next stop—deeply unfulfilling sex for pay.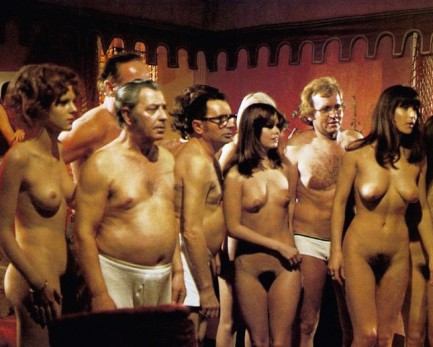 Police! This is a raid! Girls—you're all under arrest! Men—all of you go home and revel in the fact that male privilege lets you off scot-free!


---
Your high school was never like this.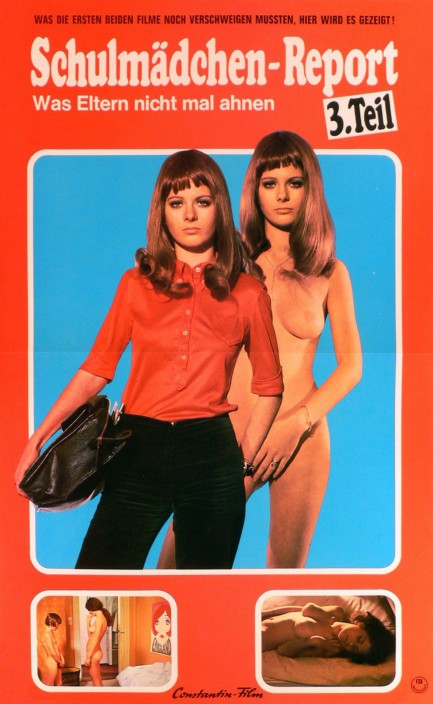 Let's double up on the sexploitation today. The Schulmädchen-Report, or Schoolgirl Report series tries to pass itself off as an educational exploration of different aspects of youthful sexuality, but really it's about as informative as an abstinence class, except much more likely to turn you celibate. The third entry, Schulmädchen-Report 3. Teil—Was Eltern nicht mal ahnen, aka Schoolgirls Growing Up, aka Schoolgirl Report Part 3: What Parents Find Unthinkable, is racy stuff, far beyond the pale for casual filmgoers, some of it undoubtedly illegal to film today. To get an idea, consider that the U.S. version of this is twenty minutes shorter than the uncut international version. And yet, it isn't a porno film. There's no actual sex—just relentless stretching of the deviancy envelope, for example a chapter dealing with incest, and another dealing with the sexual urges of two underage kids. So really, the cut version is better because it doesn't make the hair on the back of your neck stand up. Trimmed, you get a film that's harmless, if occasionally tasteless, but fun in parts. We can't go so far as to recommend it, but doubtless some will like it—the series had twelve iterations, after all, which tells you that it did have redeeming qualities. Schulmädchen-Report 3. Teil premiered in West Germany today in 1972.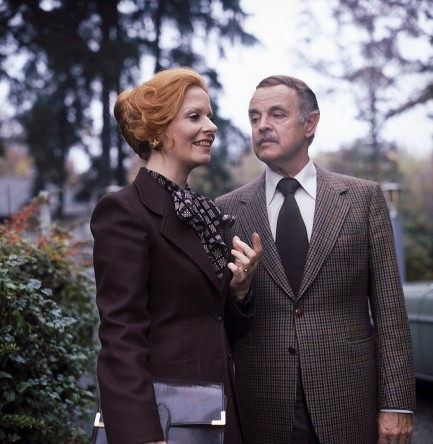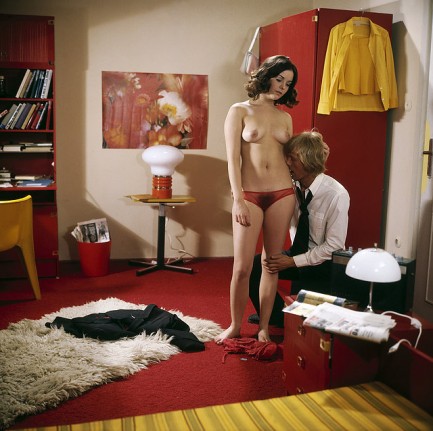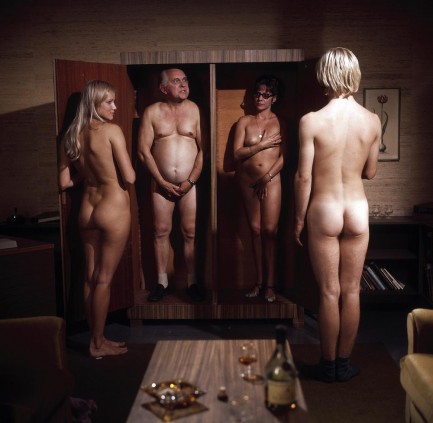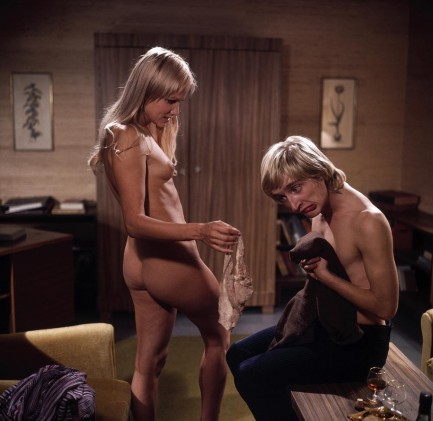 ---
Let this be a lesson to you.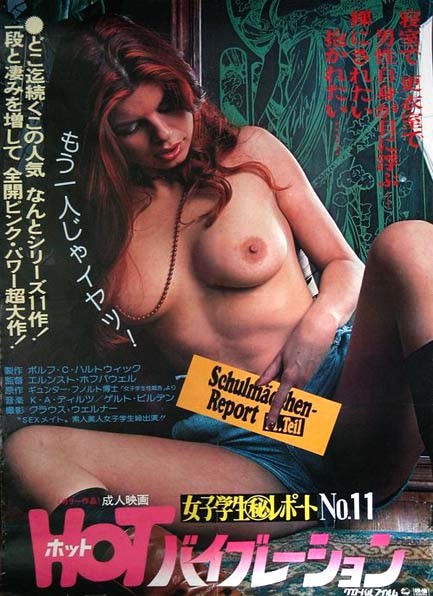 It may look like porn, but the Schulmädchen Report series was a cinematic franchise that attracted hundreds of millions of moviegoers worldwide and spawned numerous sequels. Made in West Germany, the films were fake documentaries feigning outrage at the sexual practices of promiscuous youth. The films were such hits they were openly imitated by other filmmakers, and the chilled out soundtracks are popular even today. As always, we're amazed how open and freewheeling the '70s were. The only way people would see something like this today is if cinema management provided disguises and new identities with each purchased ticket. Schulmädchen Report 11: Teil—Probieren geht über Studieren, aka Confessions of a Naked Virgin, premiered in Tokyo today in 1977.

---