New memoir outs pretty much everyone in 1940s Hollywood.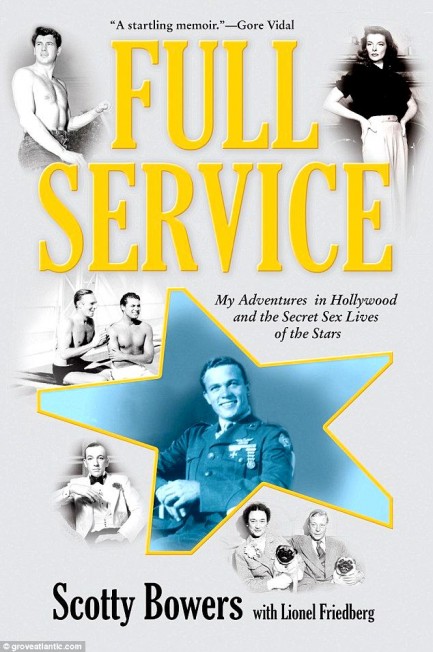 Every year, a raft of Hollywood tell-alls hits the newsstands, all claiming to be filled with juicy revelations, with only a scant few actually delivering on that promise. Scotty Bowers' newly published Tinseltown memoir Full Service falls into the latter group. We think it's destined to be one of the most remembered show business memoirs ever written.
Bowers was a World War II vet-turned-bartender who arrived in Hollywood in 1946 and quickly found that his striking looks opened doors for him. Those doors allegedly led to the bedrooms of such varied personages as Edith Piaf, Spencer Tracy, Cary Grant, Vivien Leigh, and the Duke of Windsor.
Bowers soon became known on the Hollywood fast track as a guy who could arrange trysts for stars too cautious or too shy to manage it themselves, and located sexual partners for Vincent Price, Katherine Hepburn, Rock Hudson and scores of others. Some of his claims are just jawdropping. Among them: he says he procured about 150 women for Katherine Hepburn, had threesomes with Cary Grant and Randolph Scott, and learned Spencer Tracy was bi-sexual only when, in a drunken stupor, the star "began nibbling on my foreskin."
There's always a degree of scepticism aroused by books like these, but Full Service dovetails with rumors that have been floating around Hollywood for decades, and has been endorsed by Gore Vidal, who claims to have been privvy to much of what Bowers describes and has called the book "as revelation filled as Hollywood Babylon." Predictably, the relatives of some of the stars mentioned in the book are not happy with its content, but Bowers steers clear of any true libel and probably can't be sued. As to why it took him so long to reveal his many secrets, he said in an interview with the New York Times, "I'm not getting any younger and all my famous tricks are dead by now. The truth can't hurt them anymore."

---