There's nothing not to like about Mari Atsumi.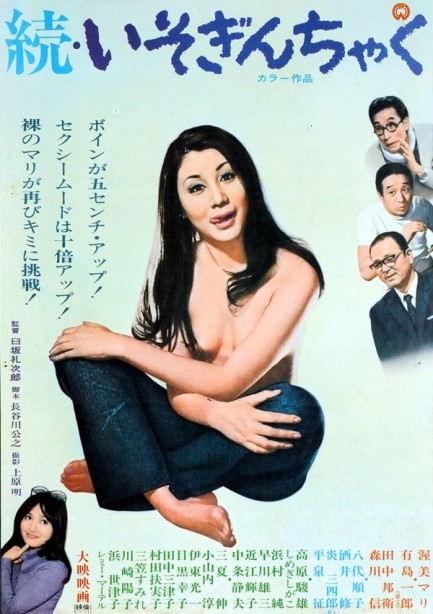 Above is another poster for Zoku Imokinchaku, aka Sea Anemone Girl Continued, starring Mari Atsumi. We shared the tateken sized promo earlier this year, and this is the hansai promo, which we tend to call merely standard sized. The movie premiered in Japan today in 1970, and you can see the other poster here.
---
If anybody can recover the ancestral farm it's Mari.

Zoku Imokinchaku
*, for which you see the poster above and which premiered in Japan today in 1970, was the sequel to the previous year's
Imokinchaku
, but shot in color. Atsumi plays a high school girl named Hamako who tries to save enough money to buy her family's ancestral land. Her plan to obtain it through work seems sound enough, but trouble in finances and love, including the theft of her money and a doomed infatuation with a dreamboat who happens to be gay, present serious obstacles. Of course, if the previous film taught Mari anything it was to persevere, and she makes forays into nude modeling and singing in efforts to cobble together a sufficiently large nest egg to buy the land. Do any of these schemes actually work? You'll have to add this one to your queue if you want to find out.
On a related note, we learned that Daiei Co. released an Atsumi record in conjunction with this film, and that it also engineered the publication of a photo book. Cross promotion of pinku films was a common tactic back then. In fact, many stars performed live in cinemas between double features, either singing, dancing, or reenacting bits from the films. Japanese law was strict about nudity onscreen, but we've been told these live performances sometimes featured full nudity, which is interesting to contemplate. Atsumi made a lot of public appearances. Below, for example, she's in Shimizu Park in Chiba, where a gaggle of photographers shot pictures of her in her undies. We have images from another Atsumi public appearance we'll share
later.

*We can't find a romanized title for this film anywhere, but Zoku Imokinchaku is probably right. It's at least close. If anyone wants to correct us feel free. The official title is 続・いそぎんちゃく.
---