Water, water everywhere but not a drop to drink.
The explosion and mushroom cloud you see here were generated by the Soviet nuclear blast Chagan, which took place at the Semipalatinsk Test Site today in 1965. You notice we didn't describe this as a "test" like we have with the other explosions we've posted. That's because it wasn't. The explosion was designed to create an artificial lake. It worked, but the lake is of course still radioactive today. You have to laugh. Where could the Soviets have gotten such a crazy idea? Well, they got it from the Americans, who three years earlier had investigated the use of nuclear explosions for earth moving purposes with their Sedan test. What were the results? That experiment dumped more radioactive fallout on U.S. residents than any other nuclear test ever conducted. Below, two shots of lovely Lake Chagan.
---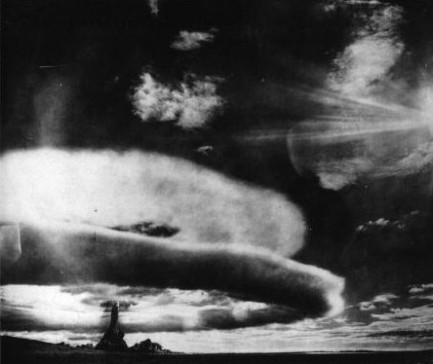 Photo of Soviet nuclear test RDS-37, a multi-stage hydrogen bomb similar to Joe 4, airdropped at the Semipalatinsk Test Site, Kazakhstan, U.S.S.R., today 1955.
---