What she does in the shadows.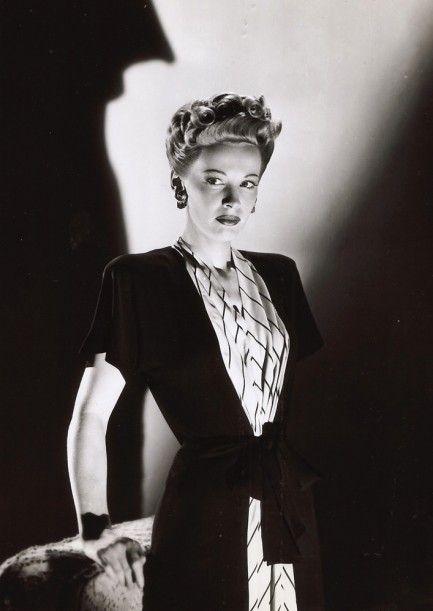 We saw Signe Hasso recently. In fact, we used her for a pro-vaccine PSA. So we brought her back without any messaging. Though we messaged just by mentioning the previous message, didn't we? Anyway, you see Hasso here in probably her best promo image, which like the earlier shot was made when she filmed The House on 92nd Street. There are some pretty bad femmes fatales in film noir, but Hasso, with her cabal of deadly thugs and penchant for dangerous chemicals, is close to the baddest. We'll talk about it in a bit. The photo from 1945.
---
Getting a vaccination can really be a Hasso.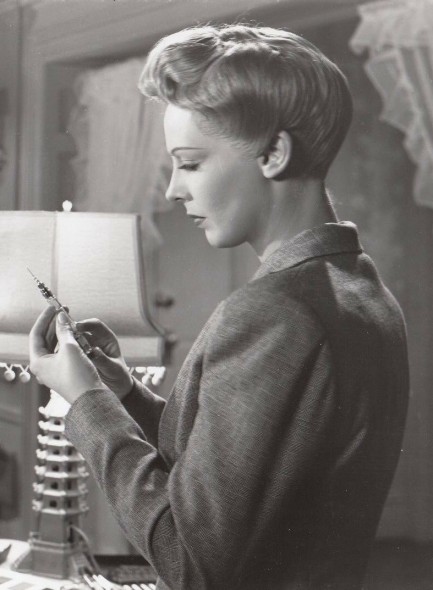 Above is a photo of Swedish actress Signe Hasso from her 1945 spy thriller The House on 92nd Street. We think that if the COVID shot givers looked like Hasso there'd be very few holdouts. But the shot she gives, sadly, is not of the helpful variety—though it was probably easier to administer than convincing some Americans to get their jabs. First the guy's smacked out of his chair, then kicked across the room until he's insensate.
Hasso was born Signe Larsson in Stockholm, was acting in Swedish films by age eighteen, made the leap to Hollywood seven years later, and from that point added many highlights to a career that would turn out to be long and distinguished. Among her notables: Heaven Can Wait, Johnny Angel, and A Double Life, as well as television roles on shows such as The Green Hornet, Magnum P.I., and The Fall Guy.
For the record, we think skepticism against government is healthy. Hell, in a couple of the countries we've lived it's a survival trait. But believing that tens of thousands of scientists are aligning with governments to betray the global population for nebulous goals of control is an outlandish fantasy. Healthy skeptics can be convinced with evidence; unhealthy skeptics can never be convinced, and that's a psychological disorder.


---