Sightings of bizarrely garbed figures have South Carolina residents baffled and worried.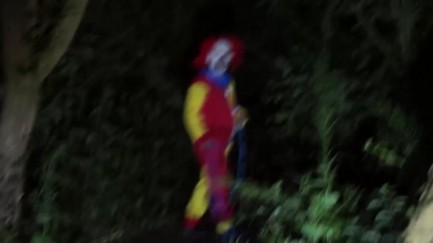 A rash of scary clown sightings have occurred in the U.S. in the last week in the state of South Carolina, mainly in Greenville and Spartanburg counties. The encounters have varied from clowns attempting to lure children into the woods, to a pair of citizens chasing two clowns into a waiting car driven by a third clown. The photo above is an actual shot made by a man in Greenville, which he posted to Twitter with the caption, "Just spotted a major freak behind Fleetwood Apts." The building happens to be ground zero for some of the clown sightings.
The favored explanation online for all this weirdness is that it's a publicity stunt for the new Rob Zombie horror movie 31. If that's the case, we've done our part for Rob by sharing the promotional poster just below. But assuming these sightings are publicity stunts, doesn't that seem like a very serious risk to take? American cops are trigger happy, and it isn't glitter and confetti that comes out of their guns. Let's say instead of a clown getting ventilated, though, he was arrested. For what, we aren't sure, since it isn't illegal to offer kids candy, which is what reports say one of the clowns did—but whatever, clown gets arrested. All the suspect would have to say is, "I'm a clown, it's true, but not that clown."
Absent fingerprints ("No prints, sir, he must have worn gloves."), shoe prints ("The casts are finished, sir—he wore size 37.") or DNA (best not to think about that), only an admission of guilt could connect the arrested clown to the previous clowns. Or maybe police could stage a line-up. Of clowns. Bring in a tearful witness. "Yes, officer it was the one on the far left. I'm sure of it. I'll never forget *sob* his big red nose."
Our guess is that these sightings are one of those instances of bizarro cultural programming, like the one that causes UFO or Bigfoot sightings. Rogue clowns have been reported lately not just in South Carolina, but in Ohio, Wisconsin, California, and even jolly old England. For our part, we hope the sightings simply stop. We don't need to get to the bottom of them. If they're real, we don't want to know who (doubtless one or more smug white guys, though) figured it was a perfectly fine idea to dress in a weird costume and terrify bystanders—this in a country where people wearing nothing more than dark skin end up shot for jaywalking. Which raises the question: if a clown were to be shot, would it be tragic, tragicomic, or just plain comical? Guess it depends on how you feel about them.


---
Olympic inspiration Phelps embroiled in weed scandal.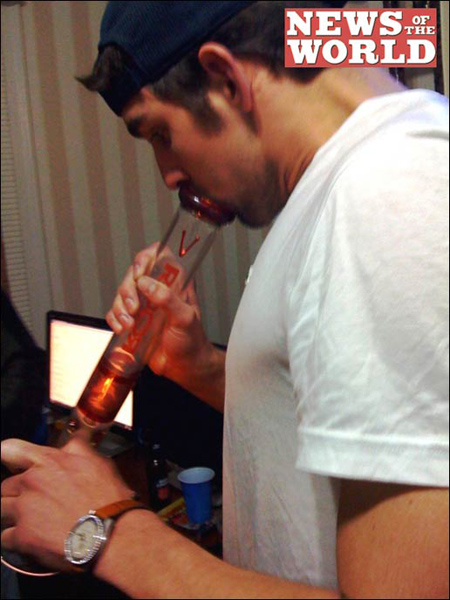 U.S. swimmer Michael Phelps, who won eight gold medals at the Beijing Summer Olympics last year, was at the center of a scandal yesterday when a photo of him using his superhuman lungs to suck a bong load appeared in the British tabloid News of the World. The photo was snapped at a party he attended at the University of South Carolina during a four-month break in his swimming schedule. Phelps didn't bother with a denial. Instead he admitted that, yup, he was smoking out with some friends. Got higher than a kite in fact, and got rather memorably laid that night too, but not before snorting several fat rails of coke off the waxed montes veneris of two eighteen year-old Croatian exchange students.

Mere hours after Phelps' admission, the U.S. Olympic Committee voiced concern for America's impressionable children in a statement describing Phelps as a role model who was "well aware of the responsibilities and accountability that come with setting a positive example for others, particularly young people." In a seemingly coordinated move, conservatives in the U.S. Congress introduced a bill that would require American cities to restaff all police and sheriff's departments with children. Republican Mitt Romney said, "We have conditioned Americans to feel such anxiety for the well-being of children that we believe crime will virtually vanish for fear that an all-child police force might potentially encounter it."

At Pulp Intl. we're just happy we can put anything into our bodies we wish. In fact, the only time people here in the third world really panic over children is when they're late for their sixteen-hour shifts at the Puma sweatshop. On behalf of all those trapped in less-enlightened countries than ours, we sympathize, because this "set a good example for the children" routine has truly reached levels that verge on the comical. Have a few drinks too many and it's "please, set a good example for the children." Drive your car through a hedge and into a swimming pool and it's "please, set a good example for the children." Shoot someone in the head with a bottle rocket because you want to see if their hair catches fire and it's "please, set a good example for the children." It's gone way, way too far.
---