And now I'll demonstrate proper fingering technique.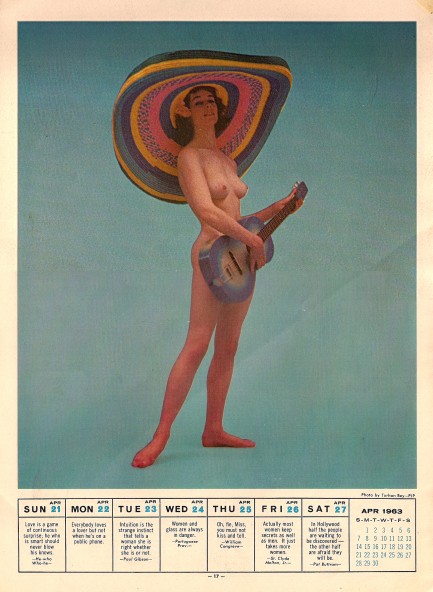 The Good Time Weekly Calendar of 1963 offers up an excellent Mexican-themed image for the week beginning April 21. We don't know the model, but the photographer is identified as Turhan Bey. The name sounded familiar, so we looked him up and found that before he stepped behind the lens he was an actor known as The Turkish Delight. His career began in 1941, and he appeared in many movies, but that wasn't why he sounded familiar. He sounded familiar because he appeared on television as recently as 1998 in a recurring role on the sci-fi series Babylon 5. It was in the mid-1950s that Bey decided to try his hand at photography, and we can't argue with the results.
This week's quips come from some of the usual suspects, but also include an observation from 15th century playwright William Congreve. In Congreve the folks at Good Time Weekly have finally chosen a wit worthy of respect. Congreve not only popularized the expression "kiss and tell," but also originated the lines, "Music has charms to soothe a savage breast," and "Heaven has no rage like love to hatred turned, nor hell a fury like a woman scorned." But our favorite Congreve is this one: "Uncertainty and expectation are the joys of life. Security is an insipid thing." We remind ourselves of that every moment we go without internet service. But insipid security looms, finally—we're told service will be established in our new place within seven days.
April 21: "Love is a game of continuous surprise; he who is smart should never blow his knows."—He-who Who-he
April 22: Everybody loves a lover but not when he's on a public phone.
April 23: "Intuition is the strange instinct that tells a woman she is right whether she is or not."—Paul Gibson
April 24: Women and glass are always in danger.—Portuguese Prov.
April 25: "Oh, fie, Miss, you must not kiss and tell."—William Congreve
April 26: "Actually, most women keep secrets as well as men. It just takes more women."—St. Clyde Melton, Jr.
April 27: "In Hollywood half the people are waiting to be discovered—the other half are afraid they will be."—Pat Buttram.


---