Need to spice up your book cover? Try a splash of color.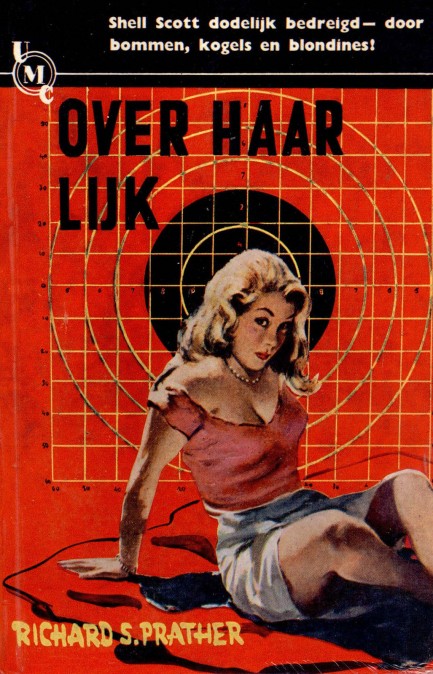 Over haar lijk was published in 1960 by Rotterdam based Uitgeversmij, and it's a Dutch edition of Richard S. Prather's 1959 thriller Over Her Dead Body. This caught our eye because the cover has the same art that was used on Steve Brackeen's Baby Moll, except with the background changed to an eye-catching blood red. Uitgeversmij often took U.S. covers and colored them. It sometimes led to cheap looking results, but occasionally, such as here and with Henry Kane's Snatch an Eye (which we showed you a while back), they lucked into beautiful results. We've seen this cover around, but we suspect it came from Flickr, so thanks to original uploader on this.
---
The only thing that can stop a bad guy with a gun is a worse girl with a gun.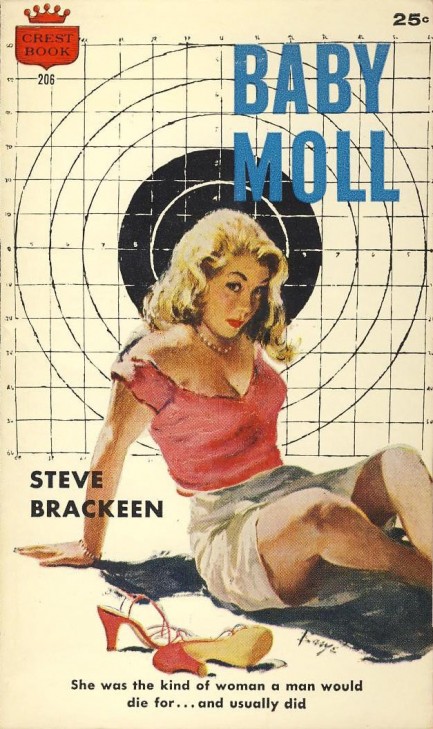 Steve Brackeen's, aka John Farris's, Baby Moll tells the tale of a former mob tough guy who's dragged away from the normal life he's built for himself to help his former boss survive the attentions of an assassin. It seems that years ago the bossman torched a building and a young girl survived with burns. The girl has grown up and is presumably behind the murder attempts. But the book isn't really focused on her, which makes Barye Phillips' excellent cover art and the accompanying tagline a bit misleading. The various women spend little time on the page. Baby Moll is really about how the protagonist goes about his investigation. There's a good amount of action and an assortment of interesting characters, but we wouldn't go so far as to call the book either exceptional or well written. It's okay. It goes in the South Florida crime bin, so the setting might be enough to put it over for many readers.
---